With an industry size of $215 billion, CAGR of over 10%, employing over 25 million people; the Supply Chain industry is the backbone of India's economy. The pandemic accentuated supply chain weaknesses, with nearly 75% of companies worldwide experiencing disruptions when their supply chain juggernauts came to a screeching halt. Therein, lies both the problem and the opportunity for India's skilled professionals.
For a change, the logistics sector has now become the engine of the economy; whether it is supplying life-saving pharma products or essentials and groceries. As per a recent report by A. D. Little India in collaboration with the CII, the logistics cost in India stands at 14% of GDP, compared to the global average of approximately 8%. This creates a competitiveness gap of $180 billion for India, which will increase to $500 billion by 2030. No wonder that the Indian government is focusing on a $1.3 trillion plan to boost the infrastructure and reduce logistics costs. The potential for disruption in logistics has been attracting investors over the last few years—total funding grew by 77% to over $2.8 billion in 2018-19.
With increased funding, the government's attention, and a tech revolution in the making, India's Supply Chain industry is growing in size and resilience. And with it, the demand for skilled professionals in this industry is also rising sharply; by 7% every year. If you are looking for a successful career in a billion-dollar industry that will offer you exciting opportunities across industries like FMCG, Retail, Pharma, E-Commerce, etc., look no further.
With a curriculum designed by SPJIMR and live lectures on SCM delivered by India's top academia and faculty from SPJIMR, this program will prepare you for a stellar career in one of the most exciting and high-growth industries, Supply Chain Management.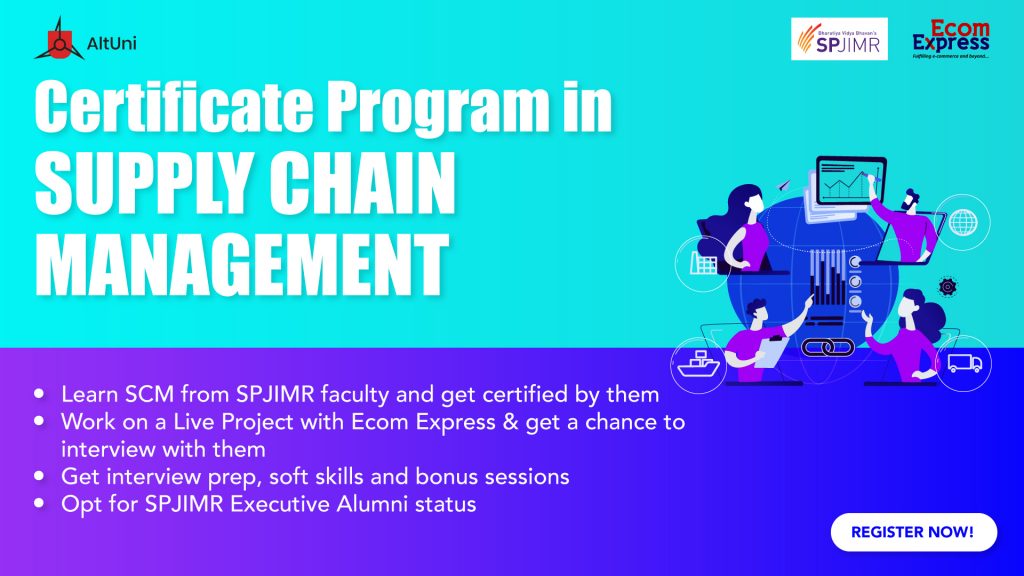 Why Should You Sign Up?
Get

65+ hours of live and recorded learning

sessions with SPJIMR faculty & industry experts

Get 40+ hours of live & interactive

learning sessions by SPJIMR faculty on Supply Chain Management concepts with case studies and simulations

Stand a chance to

interview with Ecom Express

for a full-time job opportunity

Work on a

Live Industry Project with Ecom Express

to get invaluable industry exposure

Get

a chance to earn SPJIMR Executive Alumni status

and get access to a host of benefits

Get certified by

SPJIMR, Ecom Express, and AltUni

Benefit from the access to

AltUni Career Services like 1-on-1 live sessions

for CV editing, mock interview, and career coaching

Get

job search assistance as an AltUni alumnus

with access to exclusive job opportunities.
Who Should Apply?
Eligibility: Any Graduate / Diploma (10+2+3) holder / Post Graduate with a minimum of 6 months of work experience as of 31st December 2021.
Job-seekers in the Supply Chain Management domain

Entry or Manager level Supply Chain Management professionals

Category Managers / Category Leads

Professionals in the Logistics, Sourcing, or Operations domain

MBA Operations students (min. 6 months work experience)

Entrepreneurs in the E-Commerce or D2C industry

Engineers in Buying / Purchasing / Sourcing departments