India — home to the world's largest youth workforce — is hiring at a rapid pace. The quantum of jobs in the corporate sector is expected to go up by 31% this year. The IT workforce alone is predicted to double to 1 crore people by 2023. And startups have added 6 lakh jobs in the last 6 years.
And where there's a hiring spree, can HR Management professionals be left behind? Not at all! If the government's stated objective of creating 1 crore jobs every year is met, it instantly creates a demand for at least 1.4 lakh HR Management personnel (at the ideal ratio of 1.4 HRs for 100 employees) who will hire, manage and work with the future of India's skilled workforce! And there's no better way to be the master of this sector than with,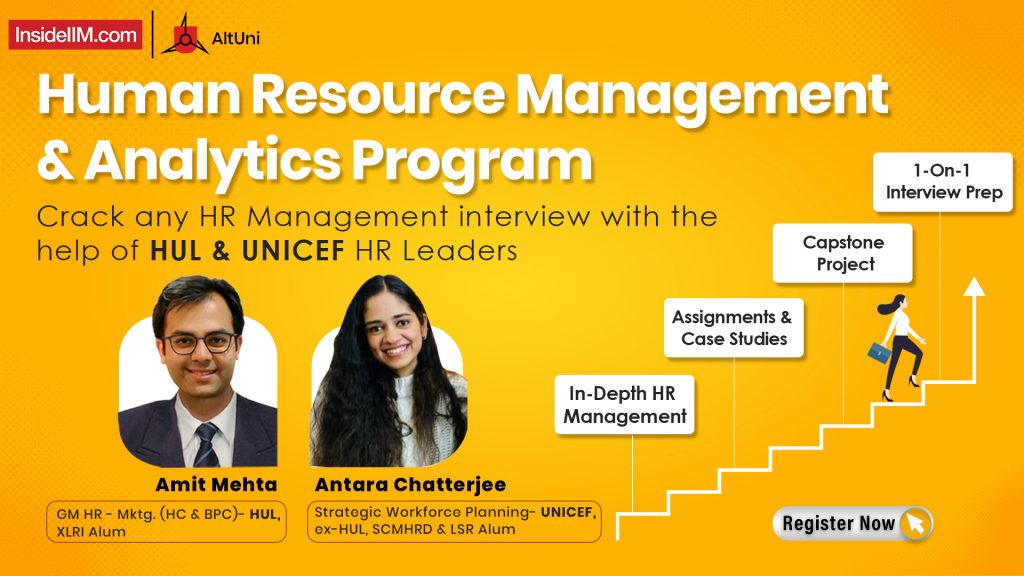 Who Are The HR Leaders Who You'll Learn From?
1. Amit Mehta
GM HR - Marketing (HC & BPC) and Head - Employer Brand - Hindustan Unilever Ltd. (HUL)
XLRI and VJTI Alum
2. Antara Chatterjee
Strategic Workforce Planning at UNICEF, ex-Hindustan Unilever Ltd., ex-Reckitt
SCMHRD & LSR Alum
What Will You Get?
40+ hours of learning sessions with HR leaders of HUL & UNICEF
Follow-up sessions by guest HR experts from top companies
Get hands-on experience with Capstone Project and showcase it in your CV
6 hours of dedicated soft skills learning & interview prep from industry experts.
Master the interview techniques with AltUni Career Services - 1-on-1 sessions on profile building & mock interviews
An interactive & omnichannel learning environment with live classes, capstone projects, case studies, & assignments
Obtain an industry-recognized AltUni Certification and outplay other candidates.
On top of this, when you become AltUni alumni after this program,
you get a list of exclusive, curated job opportunities every week in your inbox,
get a direct entry to Klub AltUni without ZERO extra charges, and
grab exciting discounts on every program that is launched!
Why Should You Sign Up?
An aggregate program rating of 4.7 out of 5
Every 3 out of 4 participants rated the sessions 5 out of 5 in terms of informativeness
70% of the participants rated the sessions 5 out of in terms of interactiveness
85% of the participants would surely recommend this program!
So, if you're looking to ace that interview, or climb up the ladder in your company, or make a career shift, or even kickstart a career in the HR Management sector, then this is it! AltUni's well-crafted program with industry exposure and personalized career services is the big boost your career has been waiting for!