About the Webinar
Every b-school student is expected to start working towards one particular thing from Day 1 of their b-school lives; the behemoth of MBA - Final Placements. It is like that storm that you can see incoming from far off; you can either run for cover, reinforce your defences or go headfirst & attack! It might even change course, gather more strength or weaken; you never know because a lot of factors affect it.
Let's take a look at what affects the Placements at a b-school?
Pedigree of your b-school - The better your b-school's brand, more effective industry relations and thus more successful placements. Only in 20 schools is the starting salary more than the fees paid
Personal educational background - Your past matters; specifically your academic background. Most b-schools consider past academics as a shortlisting criteria for further processes
Changing industry landscape - Is your b-school curriculum industry-oriented? The best and the smarter schools have to make this as an inherent part of their curriculum—plan for the unplanned," said S.K. Munjal, governing council member of IIM Ahmedabad in a Mint article
Macro-economic indicators - Events like the pandemic or economic slowdown might affect placements and hiring sentiments. Tier 2 & 3 b-schools bore the brunt and were left with many unplaced students. Even some of the IIMs reported a decrease in the salaries offered.
So what is it that you, as a b-school student, can do about these things? Nothing. But what you can do about this is that you accept the reality and prepare well for it! Be mentally ready, upskill yourself wherever required, take up live projects, network with industry experts & build a personal brand.
That is exactly what InsideIIM AltUni's MBA Placement Bootcamp helps you do! In this 40-day long program, you can learn from experts who've worked in Reckitt, Coca-Cola, Pay-U, Morgan Stanley, Samsung & HDFC among many others and amp up your placement readiness!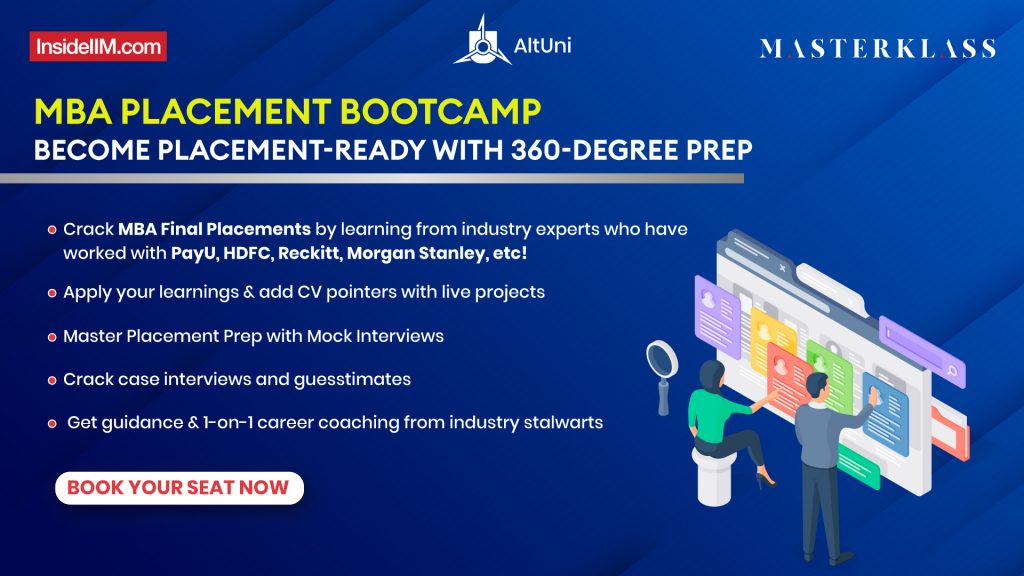 Crack placement processes of your dream companies and bag top offers in the 2021-22 Placement Season
Apply your learnings & add important CV pointers with live projects in the program & with the add-on electives
Add electives & get domain prep from experts who've worked in United Spirits, Merrill Lynch, TAS, HUL, Bain & Co., etc.
Learn interview hacks, how to crack case interviews and guesstimates & get 2 mock interviews with experts
Get access to InsideIIM's curated list of refresher study material & interview FAQs
Get guidance & get 1-on-1 career coaching from industry stalwarts with in-built Kounsel
Get your resume & SoPs enhanced by experts working at your dream companies and roles
Learn how to build an online presence, your personal brand on LinkedIn and use it to network and find jobs.
or call us at +91-75065-72579 / +91-97686-46464 / +91-62922-33878