The Red Building Of Dreams – Sophia Dhawan, FMS Delhi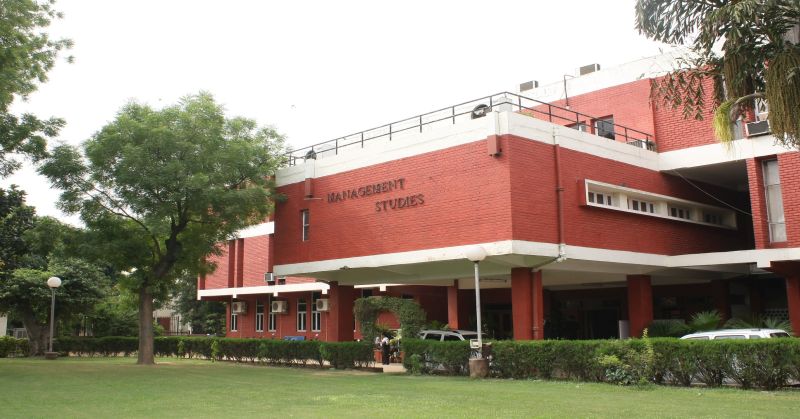 What makes my campus unique?
Faculty of Management Studies is one the premier B Schools of our country. On day one when all the introductions were going on, I could see how each one of them had stellar profiles and personalities that differentiated them from the rest of their peers. There were freshers with extraordinary talent pool, experienced students with skill set from different domains, girls who are the definition of empowerment, and boys who had their ambitions just in place. I was intimidated and through my interactions with mentors from various different b-schools across the nation, there was one common feedback I had received: next two years are going to be my toughest and the people are going to be backstabbing each other, running a dirty race and competing like I would've never seen.
As and when days passed, I saw our seniors toil day and night to arrange things for us, not only for our induction but also tried to solve our personal problems. We could see the coordination among them, and how they were working parallelly on multiple things yet everything was perfect. There were days when one of them would defend another senior with so much passion. All of this made my fears fade off a little. As and when we started getting our team tasks, I saw that all of my batchmates were following the footsteps of our seniors. I worked with around 30-40 different teams during my first few weeks and the participation and contribution by my teammates were incredible. Everyone had their own perspective and valuable inputs nobody shied away from giving. In a matter of days, we all were laughing together, whining together, crying together and practically living with each other. There are people who don't understand my mother tongue and I don't get theirs. There are people who are elder to me and some who are younger. There is so much diversity in our class, yet I feel these people are my family. I have never felt so safe with 200 people before. We all look out for each other. I can safely say, the relationship I have with my college mates is something no other B school must be having.
A memorable classroom experience in my B-school?
It was a communication workshop when a teacher was trying to get the concept of persuasion in our heads. Essentially talking about how marketeers communicate with target customers and try and persuade them into buying or trying their product. Suddenly she points at one of our friends, who is really shy as a person, and asks him to describe how he would persuade a girl, he really likes into going out with him.
Now, being the kind of introvert that he is, only the thought of talking to a girl had baffled him and it was all over his face. He started struggling with his answer, stammering and stuttering a little and saying stuff like he would draw her attention to her qualities, try and make conversation and what not.
Everyone kept teasing him and giggling at whatever he said and just then blurted out that he would play hard to get and not persuade anyone at all. Needless to say, everyone burst into laughter.
Introducing some of my crazy batch mates: 
I have always been interested in people from different backgrounds and culture. One of my classmates who has completed his undergrad from IIT Madras and subsequently worked for a few years is one person I've found the craziest personality. His profile might not say so, but believe me, he had the audacity to quote "Shopping is his cardio" in a session by the sports society.
One of my very good friends happens to be from IIT Bombay (engineer again!), with a stellar finance profile. He left his job at Price Water Coopers to start up on his own only to realise an investment of 3-4 Crores is not something one might achieve in a couple of weeks. The amount was risk was crazy but his idea was also very innovative. The interesting part is when I asked him if he regretted starting up on his own, risking so much, he said he didn't and blamed his genes for being business oriented! Needless to say the kind of experience that he has is also unparalleled. Makes me wonder if I should be open to taking more risks in my own Life.
Placement Cell FMS Delhi
Established in 1954, FMS has been a pioneer in India offering management education. FMS has the unique advantage of being a premier 'B-school' in a University milieu and in the national capital, thus offering valuable opportunities for our students in interdisciplinary learning and to undertake live projects from national/ international organisations. FMS is proud of a long list of illustrious alumni. It has rich legacy and history of producing World Class Business Leaders who are ranking stalwarts in Top MNCs across the globe.