IIM Visakhapatnam – Rich In Learning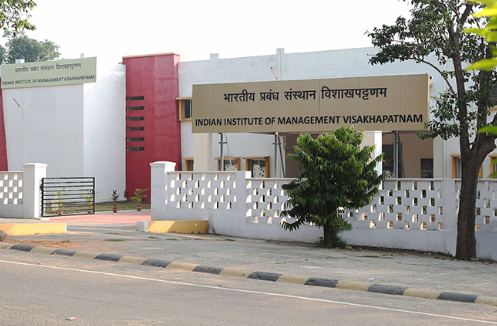 I am DEVARAPALLI SUDARSHAN.  I am from Vijayawada, A.P.
Indian Institute of Management Visakhapatnam is a public sector business school and one of the twenty IIMs that were established across the country. It was established along with other six IIMs in the year 2015.
Even though it is a new IIM, Indian Institute of Management Visakhapatnam is mentored and guided by IIM Bengaluru which is one of the top institutes of management in India. The institutional processes such as admission, academic, evaluation etc. of IIM Visakhapatnam are therefore aligned with those of IIM Bengaluru, ensuring high standards. This makes certain that I will be getting a good exposure wholly.
There are several reasons why someone chooses to study in a particular college. Few reasons are location, faculty, placements and infrastructure. Among these reasons faculty is given the most importance. IIM Visakhapatnam has best faculty, recruited through a detailed process, coming from IIMs and IITs, having admirable academic and research credentials. The next comes placements. IIM Visakhapatnam has achieved a good percent of placements with good averages. These two things, faculty and placements will play a vital role in choosing a college and I am confident that at the end of the programme I will be in a good position both academically and in terms of getting a good placement.
IIM Visakhapatnam also has different clubs which include sports club, entrepreneurial passion and innovation (EPIC), information technology club, Vatsalya (the social activities club) etc. There are so many events and fests such as CONFLUX (business conclave), EXORDIA (annual entrepreneurship summit) and TEDx talks etc.. These events will help me to interact with the best minds across the country, exposing me to the knowledge they share with us.
To conclude, even though IIM Visakhapatnam was established only three years ago, no doubt, it is on the way to become one the best IIMs in India. By accepting the PGP programme I am confident that at the end I will be rich, rich in educational and academic knowledge, rich in industrial knowledge and will be in a position to help other people.
I would really like to work in Aditya Birla fashion and retail. My inspiration for this reason is Tom Ford, former creative director of Gucci and now has his own label. I am always eager to learn new things which will help in learning new processes and production techniques that are required for the company to grow. I can work under pressure and meet the goals before deadline. I cracked IITJEE in 2013 and received B.Tech degree from IIT Guwahati. The academic and extracurricular challenges I faced in IIT Guwahati helped me to acquire excellent management and problem-solving skills. I like travelling and this will serve as an asset as we have to travel a lot to meet the clients and suppliers.