Summer Placements – Class of 2015-17 : IIFT Delhi & Kolkata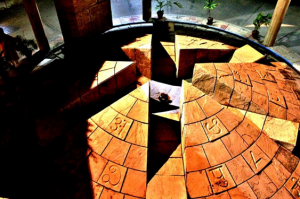 We continue our Season #5 of Summer Placements Reporting with IIFT today. IIFT exam is due next month and a lot of aspirants would be desperate to know more about this school headquartered in New Delhi. Kolkata campus is a more recent phenomenon but the placement report is a combined one for both campuses. Current students and recruiters would also be keen to know the state of affairs with other campuses and other companies respectively.
Bigger batch, faster placements – A theme you will see repeated in many reports this year (though its just 4 more students than last year at IIFT). One thing is for sure – there are few signs of a slowdown on business school campuses especially for summer placements – One note of caution – there is always a bit of a lag when it comes to placements and the general economic climate. IIFT has done a fabulous job placing 262 students in some of the top companies in India. Notably, the technology and e-commerce sector offers and the international trade offers stand out. FMCG is very impressive too in terms of the sheer number of companies visiting the campus for a batch of 250 odd students. When you compare with last year's list here, Amazon seems like a notable addition to the list(although they had visited during the finals a few months earlier). IIFT says 20% of the batch is interning with e-commerce – that's a significantly large number. The other names that catch the eye are global organizations like WTO and OECD. These aren't name you will see in most other reports. The only observation being that not many of these internships translate into full-time roles if you analyze final placement reports.
Boeing is another name not found in many reports.
(The final placements of the most recently graduated batch can be found here)
Highlights as per IIFT Placement Team
– The summers of 2015 saw the largest batch ever at IIFT placed in the shortest time span
– Overall 96 companies participated in the Summer Placement season and the Average stipend saw a rise of 30% with highest stipend on offer being 4,00,000 INR for the entire internship duration
– This year's summers also saw good participation of companies rolling out 12 international offers across locations such as Latin America, China, Singapore, Africa, Paris & Dubai
– Sales & Marketing roles continued to be the most sought after ones with 41% of the batch opting for them. Finance & Consulting were the other more sought after roles accounting for 20% each
– Goldman Sachs, JP Morgan, ITC, Godrej Industries, Shell, Flipkart, Amazon and Vodafone together made a whopping 58 offers
– S&M space had marked diversity in new associations comprising FMCG major Dabur, Marico, Pidilite, J&J Consumer, GSK Consumer. GE opened its coveted FMP program and Shell offered Sales & Marketing role. Boston Scientific, Becton Dickinson visited IIFT for the first time from Healthcare industry
– More than 53% batch received an unprecedented 6 digit stipend amount for the entire duration
– WTO continued to show faith in IIFTians and came back to recruit summer interns. OECD also hired for its Paris office.
– E-Commerce firms like Flipkart, Amazon, eBay, Zovi, Shopclues etc made their presence felt by offering a multitude of roles with around 20% students opting to intern with them
– Variety in roles on offer in Finance domain was a major highlight. HSBC Bank offered its prestigious Consumer – Banking role after a brief hiatus. Axis Bank and ICICI Bank retained their trust in IIFTians.
– Microsoft offered a niche role in Market Research and Trade Analytics
– World's largest container shipping company, Maersk Line, visited IIFT for Supply Chain & Logistics roles and World's largest Aerospace company Boeing offered Strategy and Business Development roles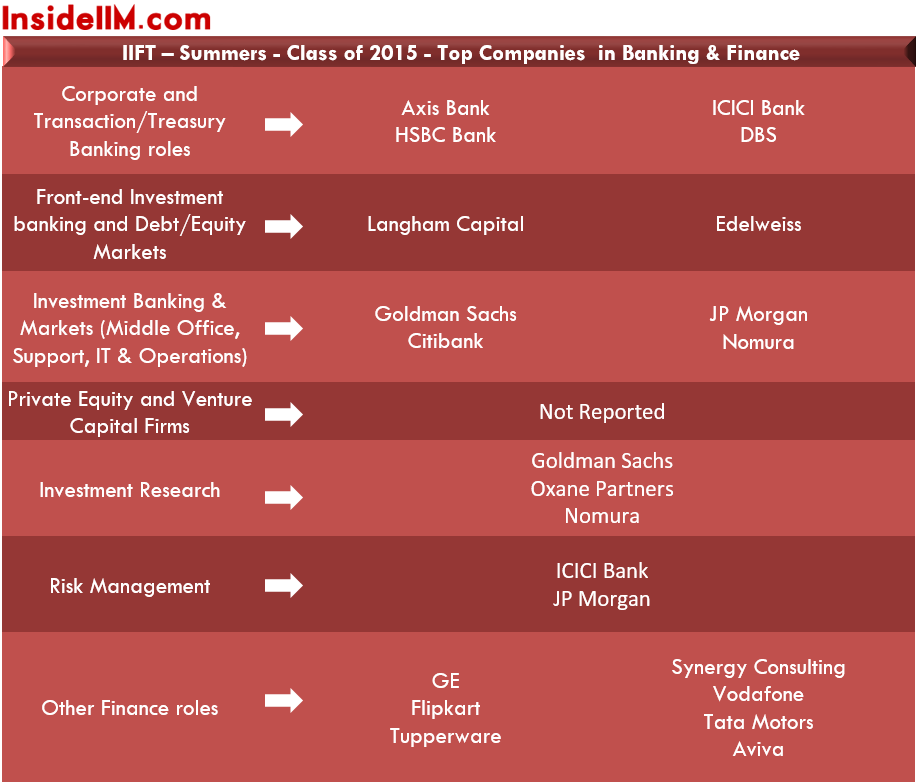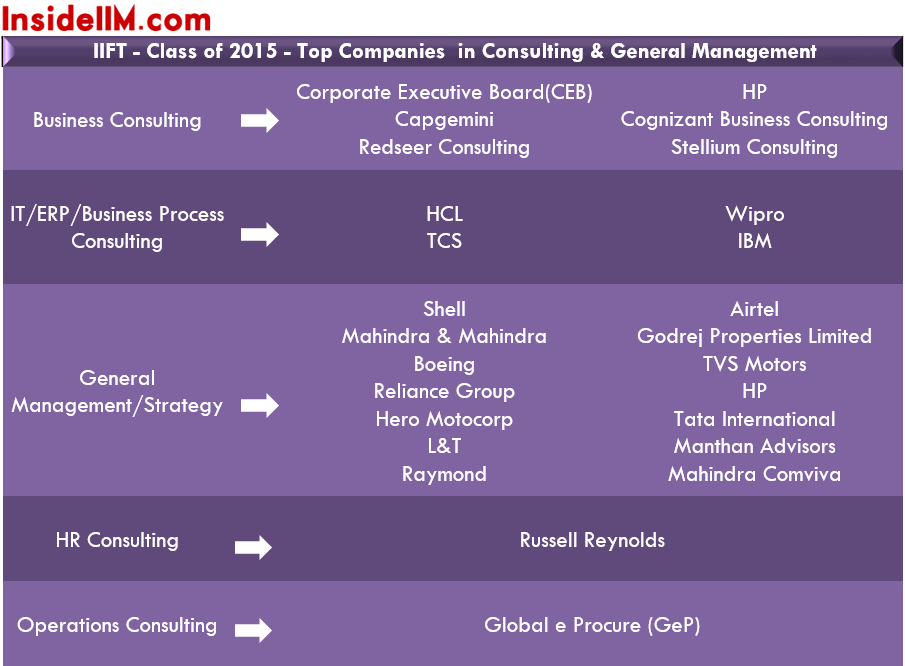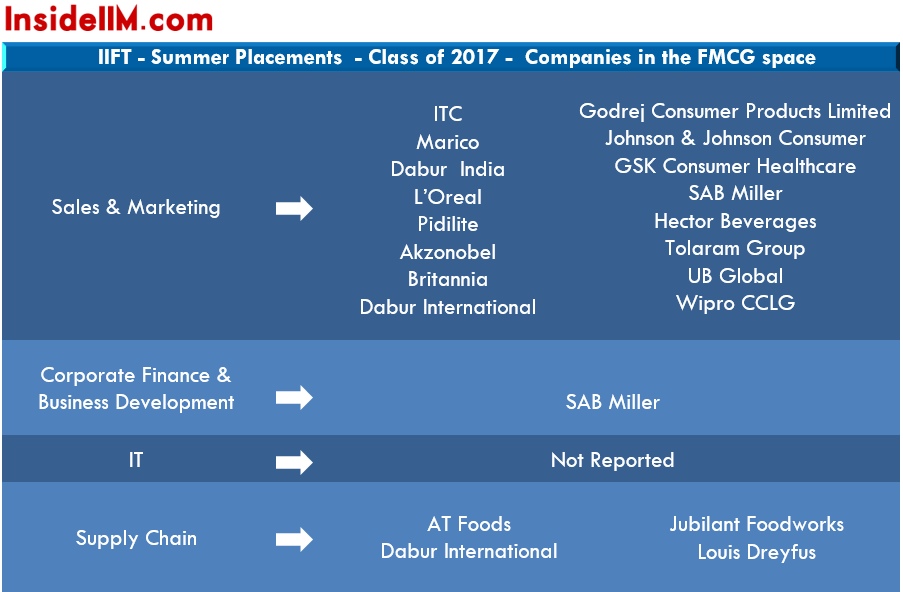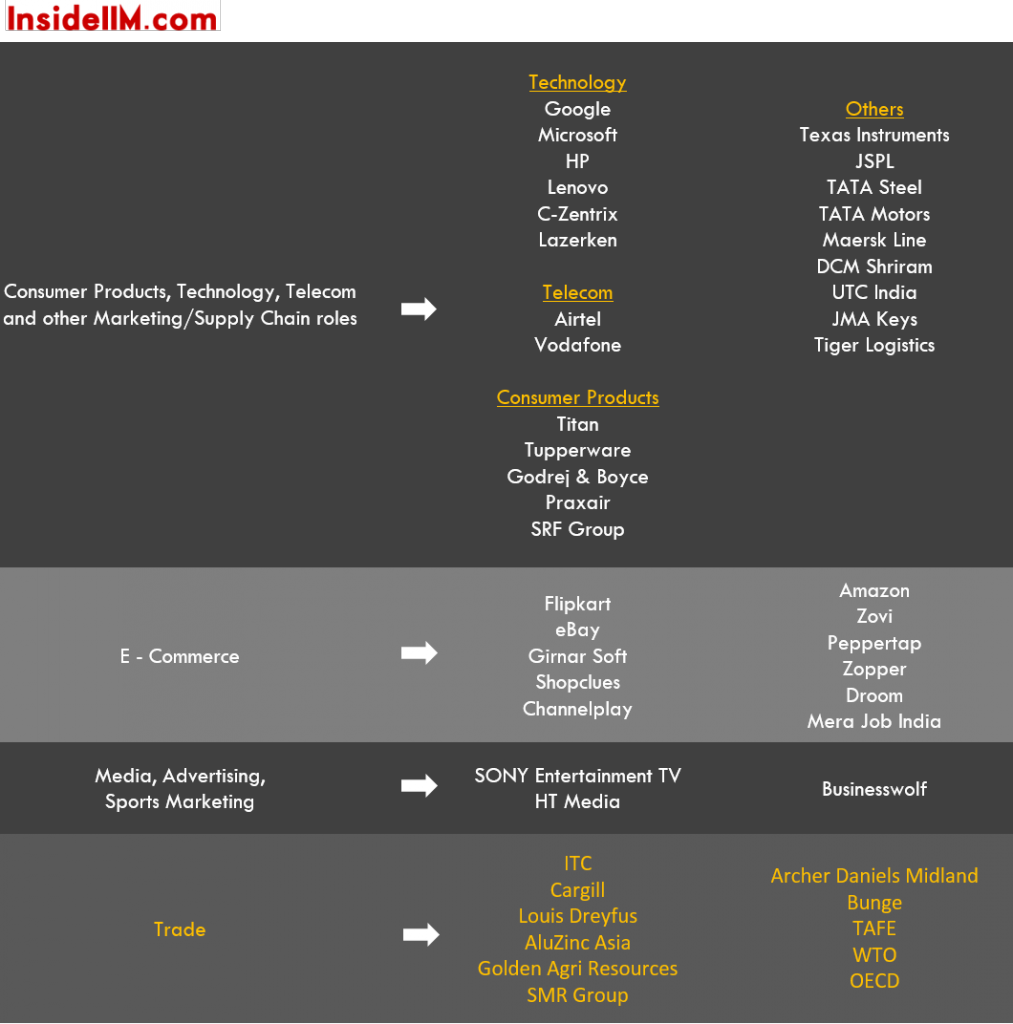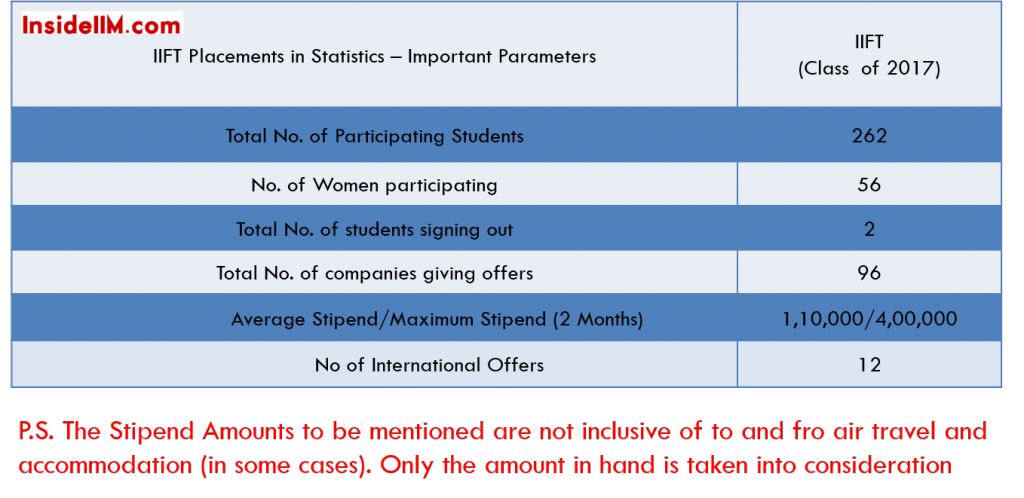 In case you wish to point out anomalies in the report, do write in to us at editor(at)insideiim(dot)com. We will try to clarify it with the placement committee/company. Anonymity will be ensured.
Follow IIFT at iift.insideiim.com
Summer Placement Reports for the Class of 2017 across schools can be found here
Summer Placements – Class of 2016