Why IIM Nagpur Will Make It To Top 5 (IIMs) – Sankalp Kohli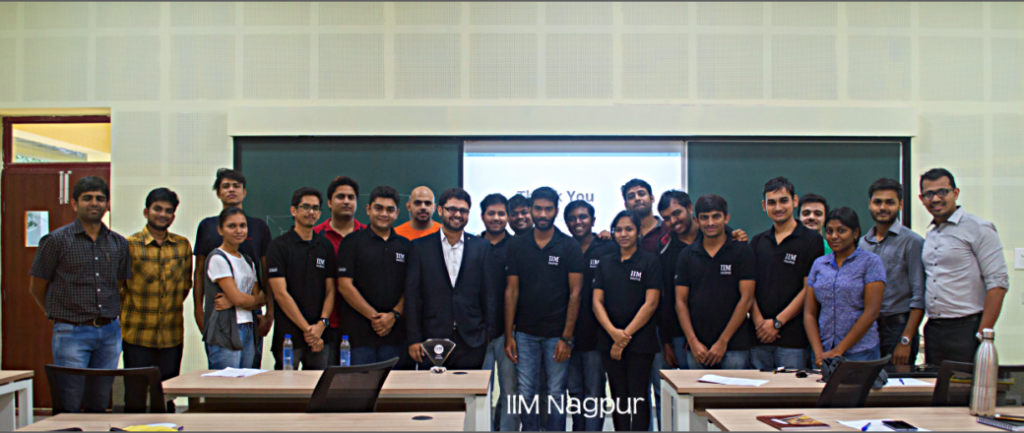 Guys let me be very blunt here, getting admitted to one the new IIMs have many repercussions (currently), like no in-house faculty, lack of infrastructure, no brand name in the market, lack of quality jobs etc, but you do get a brand IIM attached to yourself. And believe me, this will make up for all the shortfalls that you will witness during your MBA.
Things ought to smoothen out for these new breed IIMs in the coming years. And when they do, be rest assured that some of these new IIMs will be giving a tough fight to IIM A, B and C.
In fact, let me go a step further and claim that amongst most of the new IIMs, IIM Nagpur has bright chances to become one of the most sought after management institute of the country. And, I am saying this because of the following reasons:
The ruling BJP government in Maharashtra had scored huge wins in the Vidarbha region, that was one of the major reasons for Fadnavis (who belonged to Nagpur) being named the Chief Minister. And with Fadnavis at the centre, development is on the rise in Nagpur. In fact, grapevine tells me that IIM (for Maharashtra) was initially destined to be in Pune, but then someone within the government pulled the strings and brought it to Nagpur.
Any guesses who did that?
One big disadvantage which Nagpur faces is that it doesn't have a developed IT sector like Pune. But as the government is putting in efforts to develop Nagpur, lots of IT companies have started pouring in and taking space for building offices. On my recent visit, I saw huge areas taken by TCS, Accenture, Infosys etc. A couple of years down the line, if things go as planned, you might see loads of students and young professionals swarming in Nagpur for their studies and jobs.
IIM Nagpur, as against any new IIM, has got a separate campus – they have got a separate place within Visvesvaraya National Institute of Technology (VNIT) campus. Believe me, it's an amazing campus, it's huge, calm and quite serene. Three cheers to the caterer for the awesome food that they serve in the mess. I just loved the (Indian) Chinese that they served.
Now coming on to the most important part – Studies. And I won't say much here, I will just tell you that they get to study for 3 months (a trimester) in IIM Ahmedabad. Yes, you read it right. Apart from being taught by faculty of IIM A, they also get to spend one whole trimester in IIM A. This alone becomes an incredibly lucrative offer for students opting for anything below IIM A, B, C, L and I to reconsider their choice.
Lastly, IIM Nagpur is the first IIM to introduce 'Field Immersion Module' – an innovative medium for Industry-Student interaction (I always believed that our education industry needs a platform for healthy and fruitful interaction between Industry and students). In this 4-5 weeks interaction period, students apply their learnings in real-life scenarios at MSMEs and NGOs including governmental, agricultural and environmental organisations. This helps both students and industry, while students get to practice their learnings in real life scenarios, industry gets readymade solutions to their problems. A win-win situation for all. Don't you think it's an ace by IIM Nagpur!
Now let me talk about my trip to IIM Nagpur. It started with an early morning 4 'o' clock flight (as I had to finish the 4-hour session and get back on the same day). As soon as I landed, I was welcomed by my organisers i.e. members of Marx – Marketing club of IIM Nagpur at the airport and while on our way back to college, they talked about their campus life. I must tell you that at that moment a Bombay college passout in me did envy them. Throughout my stay, my organisers were kind enough to take my care throughout my stay and catered to my demands in a jiffy.
My session on 'Marketing through Storytelling' started at around 11:30 am and went on till 4:00 pm, I really loved the way the students participated and made the entire session far more engaging. Their intellect was good, their attitude was great and lastly, their urge to learn was tremendous.
Post my session, I took a stroll around their campus, played a few games of Table Tennis, gazed at students playing badminton and guided a few placecom representatives on how to approach companies from placements and interns.
With the memories of my college days revived, I then took my cab back to the airport after bidding IIM Nagpur a heartfelt goodbye.
(This article was first featured on Sankalpkohli.com)
————–
About the Author:
Sankalp Kohli is a MBA Graduate from NMIMS Mumbai. He is a Self-Driven Management professional and a storyteller with over six years of managerial experience and around 4 GB of stories from the corporate world. He believes that his success in the corporate world is a direct function of his storytelling skills. An Ex-speaker at IIMs (IIM Lucknow, IIM Indore, IIM Ranchi, IIM Sambalpur) and IITs (IIT Bombay, IIT Jodhpur), he has conducted various highly interactive events and seminars on 'Get Placed : The Storytelling Route,' 'How to Lead with a Story' and 'Art of Storytelling' in colleges across India. An entrepreneurial soul with an imprint of a perfectionist, he is a workaholic who believes in turning every single moment of life into something more constructive and fruitful.