The Vinod Gupta School of Management, IIT Kharagpur had the privilege of hosting Mr. Pushkar Gokhale, Vice President – Head B2B, Godrej&Boyce, on February 6th, 2020, as part of its guest lecture series - Vaarta. An alumnus of Great Lakes Institute of Management with more than 25 years of experience in effective and accountable executive roles across multiple domains, Mr. Gokhale delivered a captivating session wherein he shared insights on strategies for professional success, the importance of a value system and commercial acumen.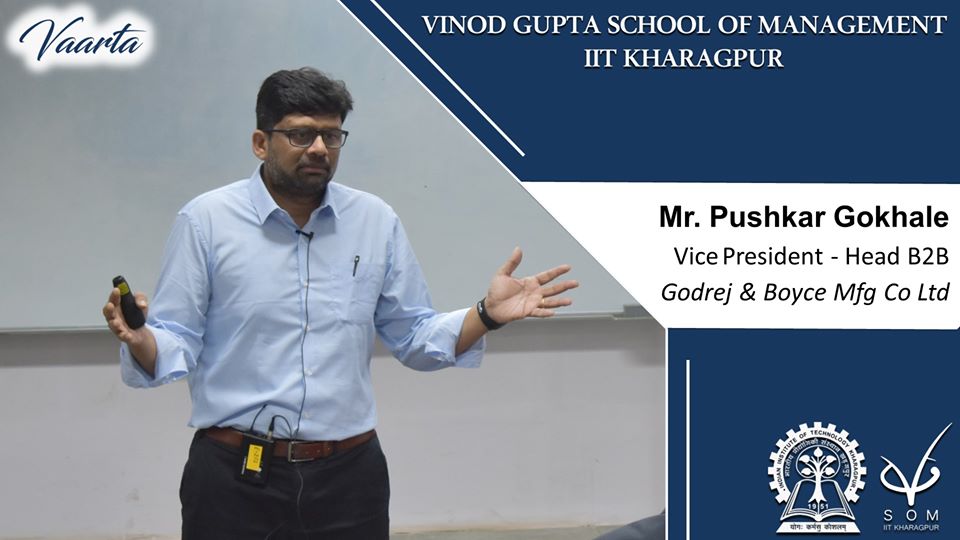 Mr. Gokhale commenced the session on a patriotic note, by playing the national anthem. He first asked the audience, what success meant to them and explained how this definition differs for each one. Characterizing success as a constantly shifting goalpost, he explained that as we always aspire for more, we need to be in the present to have peace of mind and live a balanced life. He then explained that as we move up in our careers, integrity takes on great importance, and the set of value systems we choose to live by plays a pivotal role in our life.
He broke down the professional career of an individual into three phases:
Induction Phase: This is when you initially start your career. In this phase, try to assimilate knowledge about the company you work for and the industry you are in. The Business Excellence Model can help you understand an organization and its framework.
Initiative Phase: Here the innovation you bring to your work becomes the key and taking ownership of your actions is crucial. It is imperative to stand out and be noticed for your work.
Sharpen the Axe Phase: Here it's important to introspect and identify your development area. In this phase, the major question is can you transition from being a leader to a role model.
He further reminded us of some eternal truths that have stood the test of time - effective time management by understanding the difference between urgent and important work, the constant nature of change and the art of responding and not reacting, and so on.
The session was peppered with intriguing questions to the audience and it concluded on a high note with the students engaging in Q&A round during which Mr. Gokhale answered several queries encompassing the strategies for professional success, commercial acumen, managing internal and external customers. The Vinod Gupta School of Management, IIT Kharagpur extends its gratitude to Mr. Pushkar Gokhale for such an invigorating session and for sharing his fascinating insights with the budding managers of tomorrow.