'I Need Atleast 6 Hours Of Sleep To Function Properly' – Avneet Pal Singh – First Year Topper, IIM Ranchi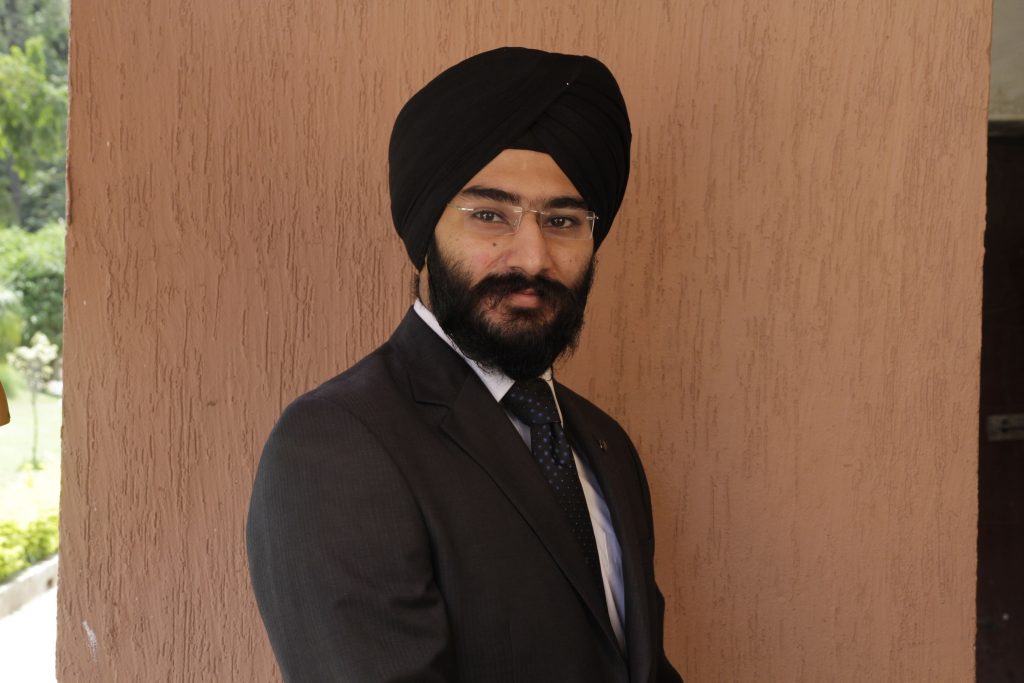 This is a continuation of our series on First Year MBA toppers at elite b-schools. IIM Ranchi is quickly gaining prominence as one of the best new IIMs in the country. With the stellar bunch of candidates it attracts, topping the exceedingly competitive first year of MBA is no mean feat.
Avneet Pal Singh completed his schooling from Delhi. He was consistently among the top Academic performers throughout School. A Basket Ball enthusiast, he follows the NBA regularly. He completed his B. E from Delhi College of Engineering in Civil Engineering. During his Engineering, he organised workshops and participated in several Inter College Competition.He then worked with J P Associates where he was involved in a Bench-marking Project along side Boston Consulting Group , who were the Strategy Consultants to Jaypee. After gaining some rich experience working directly under one of the directors of the company, Avneet decided to pursue an MBA. He scored 99.09 %ile in CAT 2013 and joined IIM Ranchi. He is a First Year Topper at IIM Ranchi. He spared time out of his crazy schedule and spoke to our student team about his first year in MBA.
How and why did you decide to pursue a management degree?
Ever since my graduation days I was not inclined towards the technical side of things but towards the business as a whole. During my job I worked alongside some consultants of one the top 3 well-known strategy consulting firms. The job that I was doing was no different from the job that they were doing and I was only an engineer. But what I gained from that experience was that to progress in the company and to move up the ladder you have to know more. It is not about the pay or the job but about your knowledge and ability. MBA for me is a way to gain knowledge on the working of a business so that I can use it to contribute towards the growth of whichever company I join.
How was your MBA Entrance exam experience?
What I learnt from taking CAT was that the more relaxed you are and the more you think that you don't have anything to lose and only to gain, the better you are able to perform.
How has your IIM Ranchi journey been so far?
The journey so far has been the most fun and happy for me. I have made some great friends. I have partied hard and gained a lot of knowledge. I have really gotten the best out of my stay here.
What were your expectations before joining this college and how different has the experience actually been?
My expectations from IIM Ranchi were exactly what I got when I got here. I got and am still getting value from every day here, and this kind of value addition and knowledge gain was what I had hoped for.
The first year of PGP is really hectic. How did you manage your time effectively?
I have always known that I won't be able to function properly if I don't get at least 6 hours of sleep so even if in some cases I sleep less I make up that sleep later. What has really worked for me is that the more you pay attention in class and participate, the less time you have to spend to study the subjects later and the better is your understanding. That for me is the key to everything. You have to know your limits and set deadlines accordingly. You cannot cheat yourself and keep delaying something. As soon as you get some work you have to finish it at the earliest otherwise somewhere you will have to cut corners or you will miss out on something.
Can you state a few qualities or habits that have helped you thrive in your first year?
Act or be acted upon. Take initiative and be proactive. Stay determined, don't give up even when things look bad. Believe in yourself but also believe in the abilities of your friends. You cannot achieve everything alone. Don't rely on others but believe in them. Trust them and help them improve. You will see the change if you follow these principles.
What aspects do you like the most about your college?
The best thing about my college is the students and the camaraderie they share. The environment really brings out the best in you.
What were your favourite subjects/areas of academic interest in the first year?
My favourite subject was without a doubt Strategic Management during the 3rd term. This subject made us look at things from a different perspective. It was by far the most fun and value adding experience in which there was no class that felt boring. The subject itself was very interesting and focused on what kinds of strategies firms have adopted and how they are affected by strategies of other firms. The pedagogy and the tasks, assessment and criteria for evaluation brought out the competitive drive of everyone. Also this was a course in which students from PGDM and PGDHRM sat together which made it much more fun and interesting.
How was your summer internship experience?
My summer internship experience was great. I interned at TATA Steel and was given a project with the Industrial By-products Management Division. The people at IBMD were really helpful and they made my internship experience that much greater. I worked on a real live project with great immediate impact on the top-line and bottom-line of the company. The project was focused on the setting up the sales and distribution channel of a new product which was a value-added by-product. Aside from the main project I was also involved in the organization of the annual business plan meet of the division which was a great learning experience. Overall the internship was a great mix of fun and learning.
Any advice for our readers/ other MBA aspirants?
Don't let things happen in their due course but make them happen by your own will and hard work.
We wish Avneet all the best in his endeavours!
Meet other First Year MBA toppers