'My batch is extraordinarily talented' – Ajatshatru Kaushal PGPX at Myra School of Business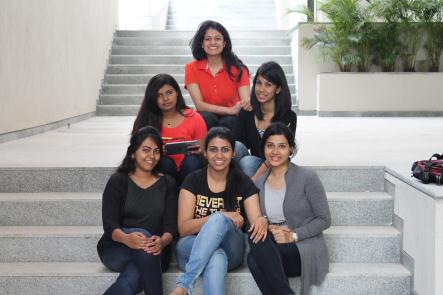 Time flies!! It has been ten months and our session is near completion. We didn't even realize that we have completed 15 core courses and two electives. 56 students, 13 states (Mini India- memorizing names of some of the students was a real challenge) different cultures and languages, though it was not that tough to gel with all as a team, as it appeared earlier.
My class comprised two parts reflecting what Indian population today is—PGPX- a set of industry experienced professionals with average experience of 14 years (or 8 years if we exclude an individual's experience of 30 years- Statistics do lie) and PGDM- mixed set of experienced (majority year or two, a few more than 3 or 4 years), fresher, enthusiastic students, both raring to go and set new benchmarks through the business and social learning they gain at MYRA.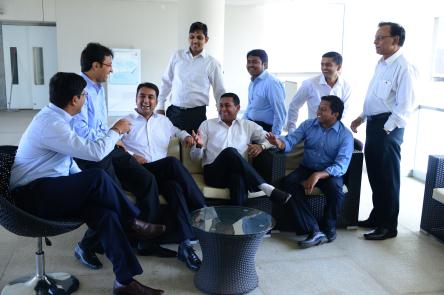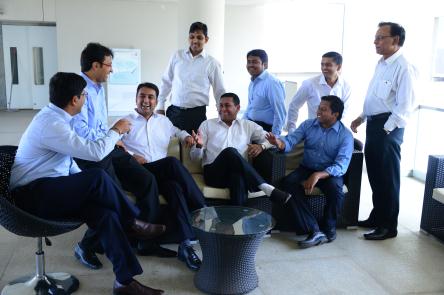 MYRA School of Business- PGPX Class
Our group of 9 students from diverse industry backgrounds Cement Business, Alminium Manufacturing, Internet Security, IT Consultancy, Healthcare, Shipping, Import consultancy, Learning and Development, and Education made the founding PGPX Batch.
I knew the batch strength for a founding batch will be small, but I hadn't imagined it would be so diverse. Everyday there's a new learning and definitely a great experience of different cultures, different kind of teaching system with a new teacher every fortnight, lots of assignments, projects. Sometimes even 24 hours per day appear to be low.
Every fortnight our teams were changed, with one PGPX and 5-6 PGDM students, working on different case studies, carrying out group and individual assignments. Some of the PGDM are really good and their IQ level is unbelievable. The sheer hard work and speed they bring in is exemplary. Always ready to take head on, the challenge posed by the visiting faculty, they are quite good in networking with the faculty as well. I had a great learning experience while working in team with them as few were experienced professionals and few were fresher, making the team as a mini organization.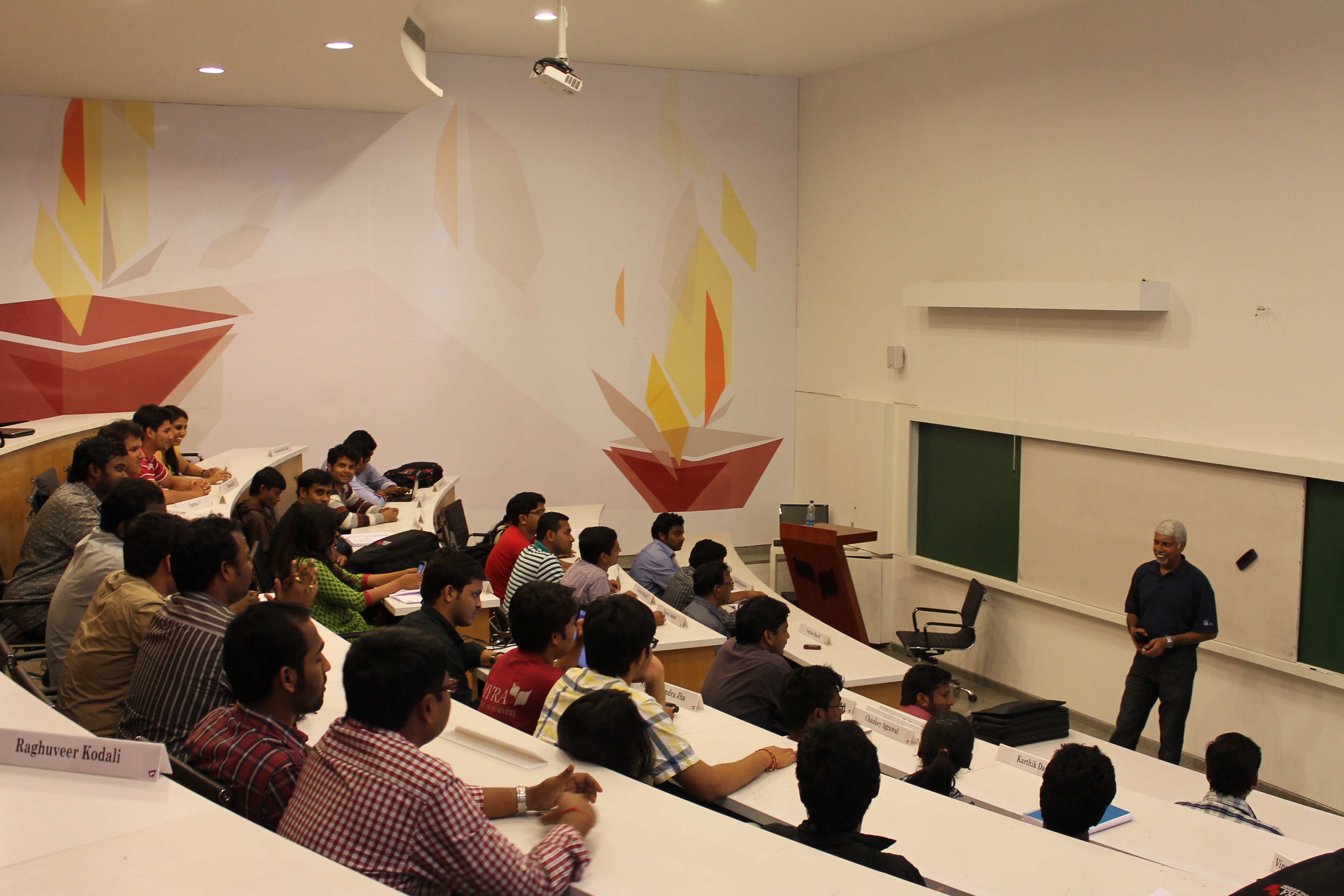 Dr.Radha Radhakrishna, Principal, FAV Partners, Family Office Fund and Professor of Financial Accounting
Every two week new faculty is there, a new style, new learning however the only similarity is commitment, professionalism, attitude and confidence which have come from rigorous hard work. I think this is what makes business schools of US great.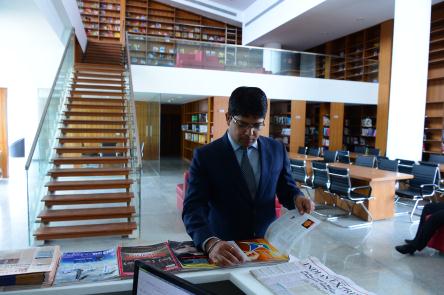 MYRA Library
The course curriculum was challenging, thought provoking and professors made them so easy to understand that I realized that it's we who make simple things more complex by making too much of effort where little is required. In place of looking at the bird's eye, we look everywhere.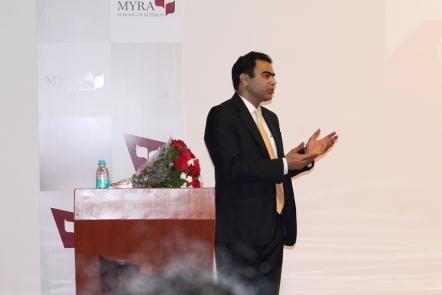 Mr.Nagesh Basavanahalli, President and MD, FIAT Chrysler India Operations
To add to the rigorous theoretical learning, there was guest lecture series in which CEOs, leading entrepreneurs visited MYRA and enlightened us with their experiential learning. CXO speaker series, which has brought to campus industry leads like Sid Mookerjee, CEO SPI, Meera Sanyal, CEO (India Operations) Royal Bank of Scotland, Nagesh Basavanahalli, President Fiat & Chrysller India Operations, Lowell Paddock, VP of Planning and Program Management at General Motors International Operations, Dr Hasit Joshipura Managing Director GlaxoSmithKline India and Ram Kaundinya, Former CEO, Advanta, Member of Board of Directors – Axis Bank. Experience of all of these highly accomplished people taught me one thing—to be something in life, you need to take care of life – nurture it with positive thoughts, respect others, appreciate their hardwork and never run away from a challenge. Life may grind you, but if you remain confident and persistent towards your ambition it will definitely reward you.
We have to also taken on project work on sustainability issues. My project for "Coming up with market expansion strategy for Anthurium growers at Madikeri" has been quite challenging and a real learning experience. PGDM people have also completed their projects with various companies in and around Mysore and had a practical experience of market research, supply chain and customer behavior understanding.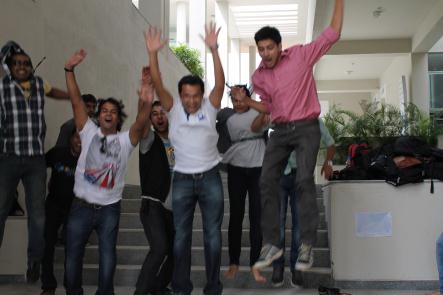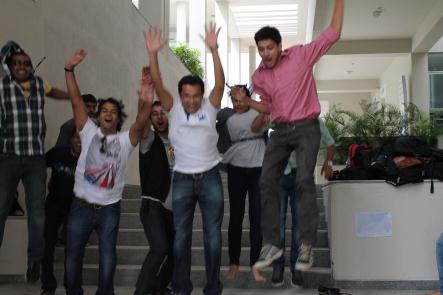 MYRAcles
Saving grace from this fast paced learning schedule and getting brain dead was the super weekend (weekend between two courses) i.e. fun time, we utilized this for movies, sight seeing as Mysore is a renowned tourist  destination for its royal palaces, zoo, lakes, dam, waterfalls and many more. We had a fresher party on our arrival, some of us have been to even a nearby hill stations Madikeri, Ooty (during an accidental two day break between two courses).
The whole batch is extraordinarily talented, we have a good singer (in fact there are many), there is a good dancer, a state level football player there is a movie blogger, if there is an entrepreneur having his own growing company than there is an individual handling traditional family business of mines, and then there is a very good painter, followed by a good adobe photoshop artist. Some are very good stage speakers and for them, there is me- a very good listener.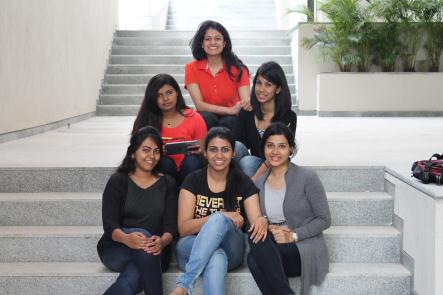 MYRAcles
Girls are beautiful, sexy (few are Venus incarnate) yet considerate and focused on career aspirations. No one is here for formality or to follow parent 's dictate, which was quite evident during team presentations in terms of healthy competition, I must say everyone has come here with clear goals and aim is to obtain best of Management education.
Hostel facility is really good and lunch in college is excellent (comes from restaurant named "Punjabi Tadka") though dinner and breakfast (coming from a South Indian caterer) are so good that many feel it's better to avoid it. They are much ahead of six sigma in maintaining consistency in curry tastes. Sometimes, I do feel that we as management student should go and study how they can consistently bring same taste in all of their curries?
All of our PGDM students got internships in nice companies and I am confident that PGPX will also be well placed before the session ends, considering that management is leaving no stone unturned in this regard.
Overall, it's a great going for new institute aspiring to be the Harvard of India in the near future, which should not be difficult with the faculty associated with MYRA and talented students having zeal to learn, grow, perform and achieve.
All the best to MYRA and future students,
– Ajatshatru
Ajatshatru Kaushal is doing his (PGPX) at MYRA School of Business after an MBA in Marketing and B. Tech in Mechanical Engineering. He has 6.5 years of experience in varying functions of manufacturing sector. He started his career as Project Engineer, at Essar Steels Ltd. and worked in Projects & Development India Ltd. as Business Development Officer. In his last assignment he was working as Executive Assistant (Strategy and Planning) and to CEO, Birla White (a unit of UltraTech Cement Ltd.).
'Leadership Module at MYRA is an experience like no other' – Srinivas Mohan
Follow Myra on myra.insideiim.com
(This is a Promoted Feature Story and the Editorial Team at InsideIIM has played no part in creation of this Story)