Twinkle – Hi Ankit. How are you?
Ankit – Hi Twinkle. I am doing great. Recently got promoted and with the huge bonus this year, I am planning a trip to Las Vegas with Nikki, my wife. How are you?
Twinkle- I am fine. My mother is not well so I am staying with her till she is fine. By the way, I just met your mom and she seems to be lonely. She is missing you. Why don't you pay her a visit?
Ankit- So less time yaar, I talk to her daily but it's very tough to meet. You know what, I should send her an expensive gift on woman's day. I never forget to wish her on this day no matter how busy I am. Last time I gave her diamond earrings. I am sure new TV set would take away her loneliness. What do you think?
Twinkle- Oh! That's great…So you are visiting her on 8th March?
Ankit- Why do I need to meet her? As always I will courier her the gift and talk to her on phone.
Twinkle- Don't you think she will be happier if you come here for a day?
Ankit- I know how to keep her happy. Women love gifts and I give her what she loves.
A mother, a sister, a teacher, a guide, a supporter, a friend, a lover – a woman takes varied forms in men's life. And I am not saying that we do not realize her importance in our lives. No, we do… like Ankit does. What we fail to understand is the fact that we have been seeing women in these same roles only right from our birth and hence we do not realize her potential, her dreams, her desires and her ambitions.
Media is full of articles on BBC's documentary film "India's daughter". People are divided on the issue that the ban on this documentary is correct or not. Everyone's attention is on deciding whether to air this video or not. Nobody is focusing on the content.
In this article I am not going to talk about the physical assaults on women in India and how unsafe women are in our country... I am going to talk about the mental assaults, how women are being stereotyped and insulted unknowingly by their husbands, sons, brothers and friends daily. This is to bring to the front the fact that words can be equally as hurtful as weapons.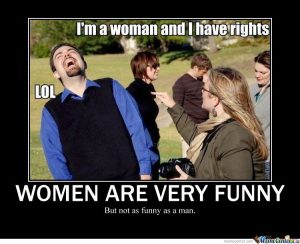 Women love shopping and expensive gifts are a perfect way to show a women that you love her. Nothing wrong in that but do all women really love it? Is this all what they expect from their husbands, sons, brothers and friends?
Women should cook and clean for their families. Again, every women would love to feed her family and clean her home but is this all they ever want to do? Becoming a home maker is a choice which every women should have. She should have the right to decide what she wants to do. She should not be expected to leave her career and devote her life to her family's needs and wants. But then this happens in all types of societies – educated and un-educated, rich and poor, urban and rural. And even if a women is allowed to work, she is expected to manage home and office both. Because it's natural, managing home is their duty by gender. Women's identity is her family. A man should not listen to his wife or else he will be mocked as "joru ka gulam" by his friends. But a woman should always consult her family before taking any decision because she should place her family before herself.
Women should come home on time. Because Indian culture allows men to drink, smoke and party till late but women should sit at home and watch TV (all the TV serials are women oriented) because of the common mindset that women are free and pass their time by watching meaningless daily soaps. Interesting point is that right from the childhood, this thing is drilled into a girl's mind. Society questions women's character if she comes home at odd hours or if she is hanging out till late with her friends. Without any second thoughts, she is considered a loose women with no character.
Women are successful in their career because of their gender. Wow, this one really takes away the trophy. If a women gets a promotion, questions are raised on her relationship with the boss. Gossips float the office floor that she was seen hanging with the boss after office hours. Nobody gives credit to her intelligence and smartness. If a woman is outspoken and bold, her character is doubted and if she dresses well and come to office, her intentions are doubted.
Women should speak softly and not answer back…
Women should always listen to their father, husband and brother…
Women should always sacrifice for their family because family's happiness is their reason for existence.
A woman should not have sex before marriage. She should be a virgin or else man from a good family will not marry her. But a man with many women in his life is considered hot and is in demand.
She should look beautiful so that her husband continues to love her and not go after another woman.
She should be an ideal daughter in law. One of her major duties after marriage is to take care of her in-laws even at the cost of her career. But she should not care a lot about her own parents because "ladkiyan to parayi hoti h. ek din shaadi kar ke chali jaayengi"
Women should get married by the age of 23. If they cross 30, they might get only divorced men as eligible grooms.
The list is endless. World is full of stereotypes. No one discusses this. No one raises voice against this. World is consumed with physical pains inflicted on women. And daily, women die a little bit with all the mental assault they face. And they have no one to complain to. A woman who may seem happy from outside, may be dead within.
I would like to end this with a short poem I found online - A Woman's Worth
She gave life. She is a wife.
She is a mother and she is a friend.
She is a sister a survivor to the end.
Appreciate her, we don't dare.
Ask her worries, we don't care.
Wipe away her tears, they are invisible as air.
She works cooks and clean.
She laughs, helps comfort, and hides her pain.
When you struggle she pulls you through
All this is she and what do we do?
Complain and create a mess.
Provide stress and leave her feeling depressed..
Push her away and ignore her advice.
Tell her she is nothing without thinking twice.
She was raped tortured and abused.
Told she was nothing and would always be used just for pleasure forget her pain.
She swallows her pride, put her feelings aside.
Does as you need in order for you to be free.
Ignores your ignorance and tolerates your flaws.
You call her Bitch, Slut, Hoe and Tramp
she answers with pride dignity and a complete loss of self.
You call her nothing.
I call her Strong, Smart, Sensual, Caring, Giving, Surviving, Tolerant and powerful
I call her WOMAN!
This story is part of selection process of "Student - Team InsideIIM" written by Reshal Jain currently studying at IIM Lucknow.