On 4th September 2014, Vinod Gupta School of Management, IIT Kharagpur had the privilege of hosting a guest lecture by Dr. Sanjay Verma, Vice President, Learning & Development at Reliance Industries Limited.
Dr. Verma is a senior HR professional having expertise in driving Corporate Strategy and aligning the development of people with business goals of the organization. He has worked with the Indian Army for 20 years before joining the corporate training fraternity.
The session started on a lighter note when Dr. Verma presented the example of the Japanese PM's visit to the White House and the series of funny incidents after that. After that, the speaker presented a very deep lesson of life that if a person does not ride the wave of change, he will always be beneath it. Also, there were some very basic but very insightful thoughts that were invoked during the session, one of which is "every bend in the road is not the end". The audience really connected well with the thoughts when the speaker presented his personal examples as to how he crossed the hurdles and bends in his life. In one of the examples, he shared how he went through a difficult phase of life after switching from defence services to corporate world and how he managed this transformation successfully.
Taking the discussion forward, he shared some important mantras to be successful at the high-level positions of a corporate environment like knowledge, skill and attitude. He believes that these are some of the foundational stones that a person needs to build in order to survive in a tough & challenging corporate world. To make the session more interactive, Dr. Sanjay asked the audience about their hopes and fears from a corporate environment. There was a plethora of responses like satisfaction, work-life balance, taking responsibility at the highest level etc.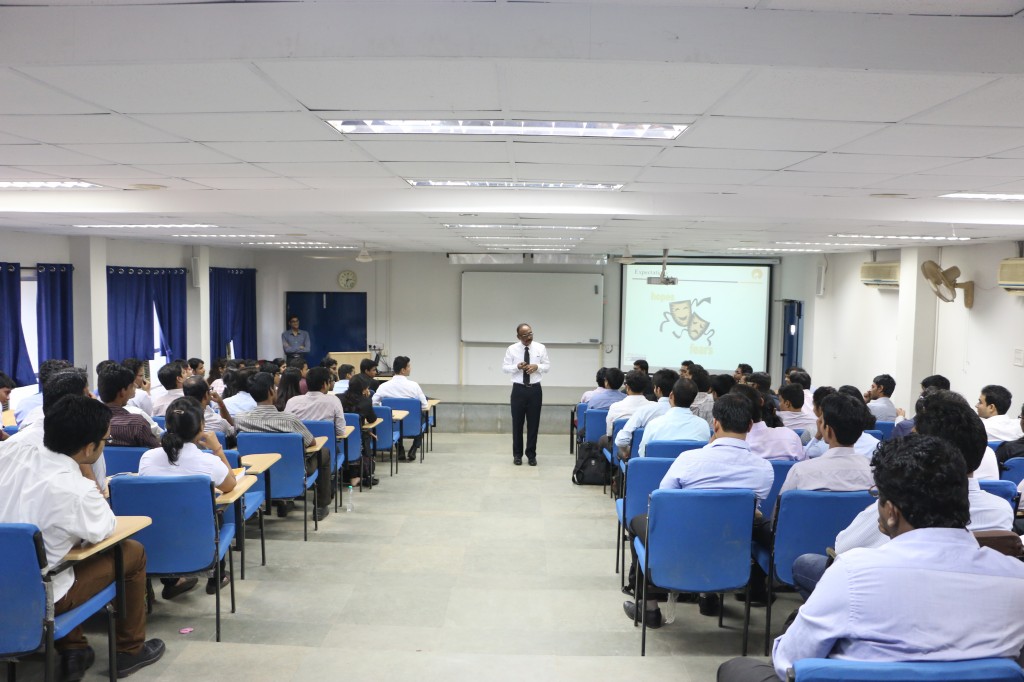 After discussing these mantras, he shared the concept of DISC- Dominance, Influence, Supervision and Compliance and stressed over the fact that these concepts, if applied in professional world, take the career of a person to a new level altogether. He also focussed on 3 types of transformations an organization gets to see i.e Structure, Technology and People. Moreover, he laid out a very important lesson of life that "change is a progress- except when it happens to us". He stated that if one needs to see a change in any environment, then he himself needs to bring about that change and not depend on others for it.
Dr. Sanjay then introduced a very informative concept of "Boiling Frog phenomenon" which explains that a gradual change is better than a sudden change more often than not. At the end, he demonstrated an 8 step process of a successful change in any organization. Some of these steps were sense of urgency, vision of strategy, communication, empowerment etc.
All in all, the session turned out to be a very informative and enriching one for the students of VGSoM, IIT Kharagpur, where they learnt out some very basic fundamentals of being a part of a change in a corporate environment.