'Don't Act Like A Leader, Act Like One Of Them' – Jesal Vaidya, First Year MBA Topper at St. Francis Institute of Management & Research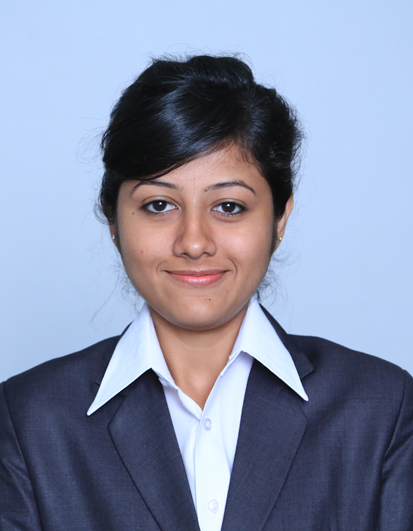 We bring to you an interview with Jesal Vaidya, the first year topper of St. Francis Institute of Management & Research (2014-16) below-
Brief Introduction:
Jesal Vaidya is currently pursuing MBA in Marketing from St.Francis Institute of Management & Research, Mumbai and has completed her graduation in B.M.S with Marketing specialisation.
1. Tell us about your educational background. Why did you decide of pursuing MBA? Why did you choose St. Francis Institute of Management & Research?
I completed my graduation in B.M.S. I was skeptical about my career choices post HSC. I initially wanted to do something in IT, but then selected BMS which had an IT background. Over the period of time, I developed an interest in Marketing and ended up joining  MBA in Marketing.
Now every student is not an extremely intelligent student, I am one of the average students too. So with a score of 89 percentile in CET, I opted to go for St.Francis Institute of Management and Research. In fact, this was one of my best decisions. When you join a B- School, and the B-school is in the process of  creating a brand value, you end up gaining more as they focus more on students to perform well.
2."To be one amongst the toppers of my batch"- was that a strategy from day one of B- School or something that evolved eventually? 
It is said the competition should be at par or between equals. In my case taking an admission in SFIMAR was a strategy. I would compete with the people who would have almost similar caliber. Being an average student, I just had to ensure that with some extra  dedication and hardwork, I pictured myself different in terms of marks, projects, assignments, etc. So when you enter a college of averages, you got to be that one extraordinary average. When you enter the college of scholarly, you got to be one extra-ordinary scholar. Be the best out of the good or be the bad out of the worst. It all depends upon your perception.
3. Walk us through your academic journey in the first year – How did you pace yourself academically in the first, second term?
First year for a BMS grad like me is very easy. We have almost covered most of the subjects in graduation. I think the key to score good marks is to attend most of your lectures, yeah I know its difficult, but trust me once you know the concepts and what the professors expect you to know, half of your work is done.
4. What is the contribution of your Professors/ college in your success?
The professors of SFIMAR are amazing, they work hard each day to inculcate management knowledge. I am weak when it comes to numbers and my professor Mrs. Natika is so dedicated to her work that she taught all the concepts from the scratch.
Professors like Dr. G Ramesh, Colonel Venkant Raman,  and many more would deliver their excellent insights with amazing live examples for each concept.
All teachers here strive  to give the maximum of their knowledge to their students. So the students here need to have that proactive attitude to ask for it. Believe me, you get it in abundance.
5. Tell us about the most interesting experience that happened in the last one year that changed your outlook towards the B-Schools studies.
One of the most important experience that I want to share is the opportunity of presenting a project in a national presentation competition conducted by Devang Mehta group. The B schools from all over the country participated including IIMs. This helped me to understand that there is not much difference between the Ivy league of colleges and the other colleges. The only difference lies within us, which is the level of curiosity, the level of persistence and the level of confidence which separates us from the students of IIMs. The students from IIMs  don't follow a list of theories or concepts, they make their own concepts and theories. They are competing within themselves and we should learn from their competition to become that extraordinary from our own league.
6. If you were to go back in time and change one thing about the last year, what would it be?
I would change my own pattern of studying. When we go ahead with the next semester the concepts learnt in the previous one are faded. Its because of my final placements, I realized that it is so important to know the concepts that we study. I think I would have changed my pattern of studying by making a separate word doc which would include all the important concepts from different subjects so that i  can refer them during my interview or for future reference. You have  to do something different to stay at par from the rest.
7. B- School is mostly about group activities. Were you used to this kind of team endeavour's or was it a new experience for you? How would you rate your performance during the team activities?
From my graduation, we are taught to work in groups. So working in groups in B-school is no different. I would rate myself as a very flexible and " takes a lot of tension" person. In a group, there are always passive and active members, the trick here is how to get the work done from both kind of people. Passive  needs a push and tasks whereas  an active would just need objectives and would perform the task on their own. Being a group leader most of the time, I used to manage both kind of people. The main catch here is not to act like a leader, act like one of them.
8. Tell us about your summer internship.
I did my Internship in a start-up firm, CampHire, its an advertising agency. The summer internship was of two months May-June and the project was an exploratory study. I had developed a Mobile application- Handymen services Application. The study was about identifying the gap between the customer and the handymen service delivery, overcoming this gap by developing certain features and functionalities of this application so that the customers can get an added benefit.
9. How important do you think is the involvement in Extra- Curricular activities? Do you think these activities tend to deviate a student's mind from the initial academic goals set?
I believe in doing one thing at a time. Along with academics, I was the Vice President of the Institutional Social Responsibility Club – Abhimaan. So we used to conduct Blood donation camps, Tree plantation, Old age literacy programs. I don't at all think that these activities deviate the students mind,  in fact, these activities refresh the student's mind so that they can perform better at their academics.
10. What would you like to advise to this year's batch w.r.t academics, activities, & in general about the B- School life? 
I would love to advise them that no matter what college you get in, be the extraordinary, picture your differentiation. Always do something extra than what is expected.
If you have selected a stream of specialization be it your own choice. Study time – only study, and Party Time- only party.
Pick up a hobby like reading books of your interest. And never give up on Learning.