The Energy Never Dies – IIFT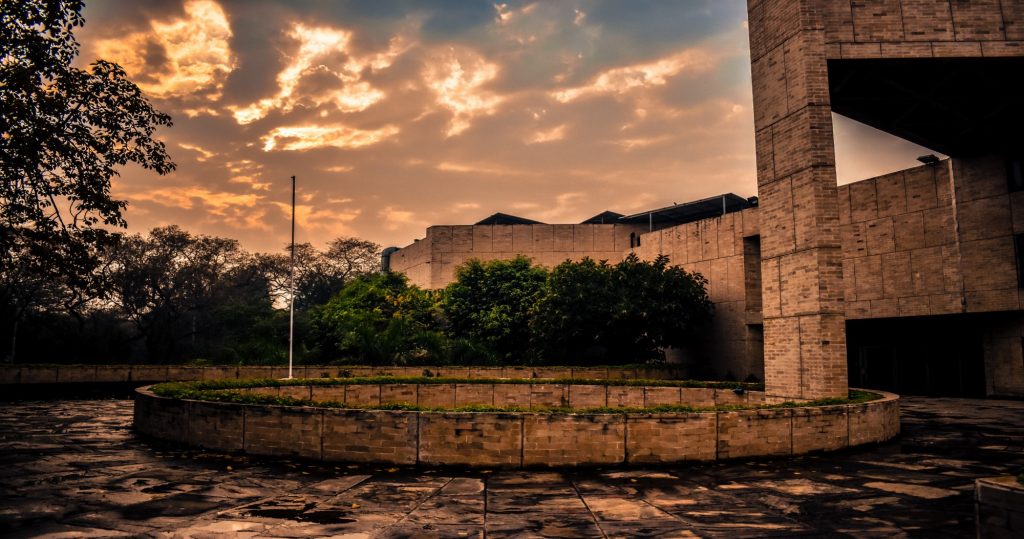 On one beautiful Sunday morning, with Resfeber ("Traveller's Anxiety") in my heart and determination in my mind, I began my journey of student life again. The cool breeze of Sanjay Van and the bells of Karmapa Buddhist Monastery pulled me to the gates of IIFT. Pumped-up, I decided to explore the surroundings because this was it- my new home for the next two years. After walking for some time, I found myself in the sports arena. However, all my excitement went down when I saw a dispiriting scene- the basketball court and the volleyball court falling prey to space demands of the bikers. Even the most sheltered place in Delhi had not been left out by "parking-hunters". With a heavy heart, I returned to the college hostel. Alas! The materialistic world had once again taken the advantage of the busy students and left them with no option to rejuvenate after long hours of work.
However, the series of surprises had not ended. Upon reaching hostel, I saw five people sitting in my room cracking jokes and sharing their backgrounds-, I was confused. One of them introduced himself as Mr. Roomie. I could instantly recognize him from a little background check I had done upon him. I asked Mr. Roomie about the strangers and they shouted in unison-"We are your loomies! Because we share the loo facility with you!"- I could not control my laughter. However, the journey from being complete strangers to becoming life support for each other was not long when we worked our way through hectic first week schedule of MBA program- where our determination and unity was put to test. After one week of hard work, my loomies and I decided to refresh ourselves with some outdoor physical activity. Once again, I found myself on the threshold of the sports arena. However, this time a bright light shined upon my face and before I could narrate the other day is incident to my friends, much to my surprise the cars had disappeared and bikes were gone- instead, space was bustling with hundreds of boys and girls- jostling, cheering, jumping and playing! Despite being an analyst for two years, I could not quantify the level of energy in such a small space. There was no barrier of gender- girls teaming up with boys and giving a tough time to all-boys team in volleyball. Age meant no bar as experienced professionals shared a friendly banter with exuberant freshers in the basketball court. People were cheering their friends and sharing their experiences. People were teaming up with strangers. Thankfully, the love for sports had not fallen prey to the materialistic desires of a handful of people. However, hold on, this is not the end. The face of Indian sport for a long time has remained in the hands of the menfolk of our country. Having said that, what I saw that day at IIFT will never be forgotten- an all-girls team versus all-boys team. The patriarchal order was finally broken.
——————————————————————————————————————————————————————
Which ABG Company would you want to work for and why?
No wonder the sportsmanship, resourcefulness and zeal has brought uncountable accolades for the IIFTians after competing with top notch B-schools in India.  Who would complain that one's childhood is long gone and lost, when there is childlike zeal, passion and energy in the core of the campus? Though I am not a sports enthusiast, I could not resist myself to participate and face the tough fight the girls had put in to win the cricket match. If you are reading and thinking who won the match today, it was – the sportsmanship, energy and feeling of equality that had won. That is what Aditya Birla Group stands by– diversity at workplace, passion and integrity. Given an opportunity, I would like to associate myself with Aditya Birla Capital because it provides a platform where I could take ownership of accepting challenges and delivering results in the most demanding situations, put my resourcefulness and creativity to best use, build strong teams and lead them -just like the sportspersons at IIFT do. I can clearly associate myself with Aditya Birla Capital's customer-centric culture as I have worked in a client-centric environment for last two years. Finally, I firmly believe that I can be a good culture fit for Aditya Birla Capital, pursue my dream of working across multiple business lines, and help them grow on parallel lines of my own career growth.