The Vinod Gupta School of Management, IIT Kharagpur had the privilege of hosting three eminent leaders of Azure Power, India's leading solar power company under its guest lecture series Pratyaksh on the 13th of November, 2017. The guests who delighted the students with their presence and their informative talks were Mr. Surendra Kumar Gupta, Executive Vice President - Operations and Maintenance; Mr. Mohor Sen, Chief Administrative Officer; and Ms. Samitla Subba, General Manager - Marketing and Communications.
Azure power - a pioneer in the field of utility-scale solar power generation in India was founded in 2008 by Inderpreet Wadhwa with the aim of providing affordable and clean power for generations to come. Since then the company has been relentless in its pursuit to become the cheapest power producer in the world. Even in such a short span of time, the company has established a tremendous track record for itself through its integrated business model, and its sharp focus on time-bound execution. To its credit, the company was the first in India to issue Green Bonds. Continuing this streak of excellence, Azure Power became the first Indian energy company to be listed on the New York Stock Exchange (AZRE) - a massive feat indeed. As on date, the company possesses more than 1600 Mega Watts of solar generation capacity spread across 22 states of India, with the largest commissioned one being a 150 Mega Watts project in Punjab. Solar power - a truly valuable and untapped resource is being labelled as the future of energy for a country like India which possess a wealth of solar power generation potential. With the government exerting great thrust on solar power and setting a target of 100 GigaWatts of solar power generation by the year 2022, Azure Power looks set to be a vital cog in this renewable energy revolution that is fast taking shape.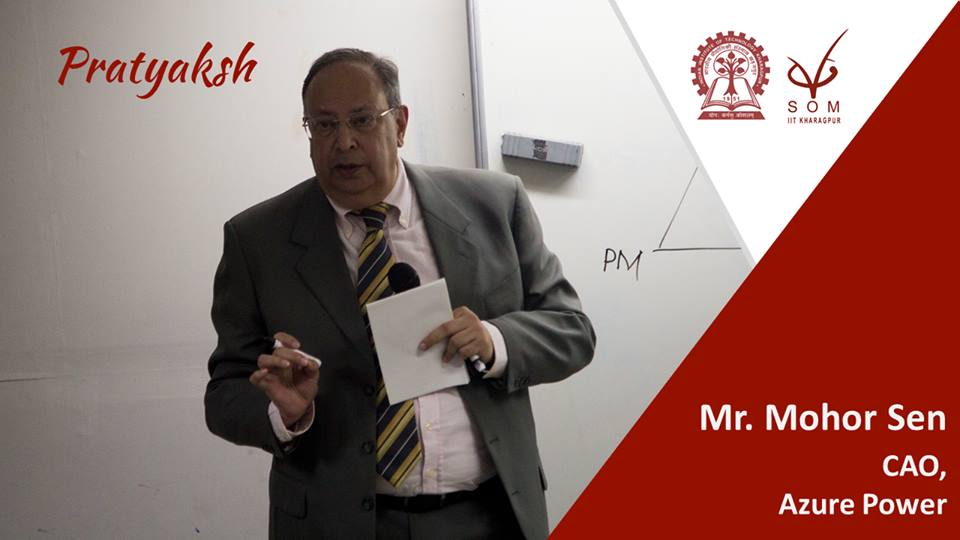 Mr. S.K. Gupta, Executive Vice President, who heads the 'Operations and Maintenance' business unit of the company holds over 38 years of corporate experience in critical areas such as strategic business planning, managing business operations, and corporate finance. Mr. Gupta spoke from his rich palette of experiences and enlightened the students on the novel concepts of - 'Integrated Business Model', and 'Credit Check on Customers' which Azure Power has been employing since its inception to stand out in the competitive market of the present times. Mr. Gupta who has previously served as the CFO of the company has also been instrumental in managing the company's IPO on the NYSE. On the heels of this, he spoke about how Azure has been immensely successful in bringing on board a diverse range of international equity and debt to fund its endeavours. Mr. Gupta also shed light on Azure Power's swift march towards a strong future in the renewable energy sector when he mentioned about the impressive CAGR of 89% (operational) that the company has been successful in achieving.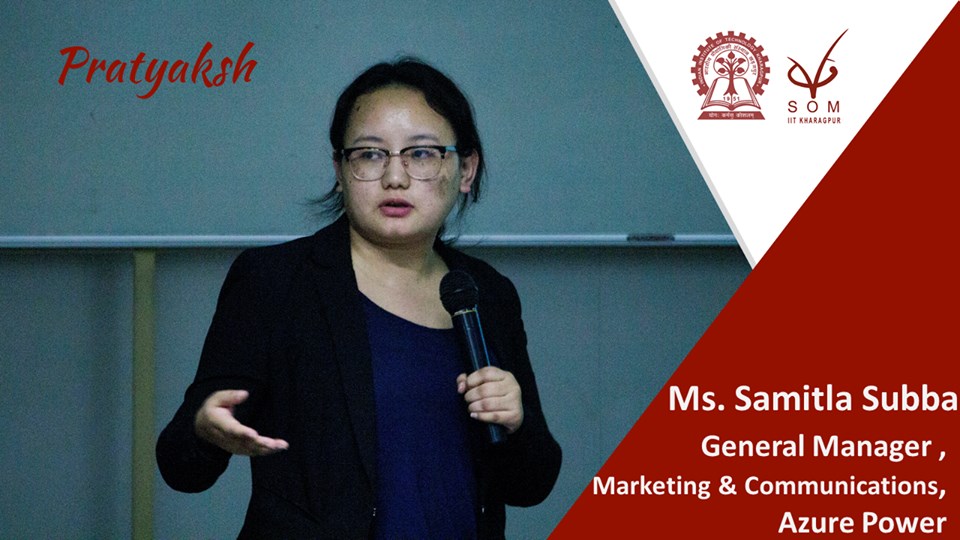 Carrying forward the highly insightful session, Mr. Mohor Sen who currently heads the Human Resources, Marketing and Communication, IT and Corporate Operations functions spoke about how a successful amalgamation of Financial Engineering, Technology, and Project management enables a company like Azure to kill its competition. Mr. Sen, an alumnus of IIT Delhi, has over 40 years of experience in the corporate world in various assignments such as those of organisational development, human resources, and project management. While Mr. Sen talked about how the various Strategic Business Units within Azure interact and work in tandem to take it forward, Ms. Samitla Subba who focusses on Branding, Communication, and Media Relations explained the marketing strategies that are followed by the company. Ms. Subba, an alumnus of IIM Lucknow described in lucid terms how Azure forges long-term connections and collaborations with various stakeholders for a sustainable success story for all.
Indeed, the session was a very interactive one with the audience taking a keen interest in expanding their awareness about the dynamics of one of the most exciting fields of business today - solar power. Comprising management students who take a deep interest in solving problems, the audience was inquisitive to know about the various issues that are at play in this sector and the solutions to the same. With such invaluable knowledge straight from the industry, the session has been etched in the minds of everyone in attendance. Thus, we thank the three corporate leaders from Azure Power and hope to be addressed by them again in the times to come.