High Tech Yet Serene – IIM Visakhapatnam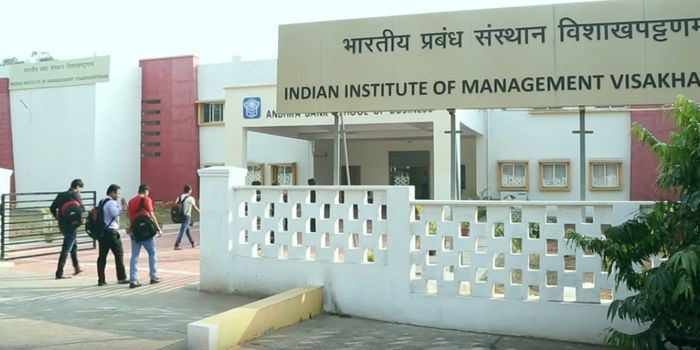 To wake in the lazy, hot summer morning (P.S it was almost noon), in one of the hottest districts of India – Jharsuguda, Odisha where the temperature trends around late 40s to early 50s was highly dreadful for a clinomaniac like me. Yet somehow I manage to crawl out of my bed for the sake of silencing the screams of my mother. Gradually I realised today was something special.
Let me take you down to one of my least visited memory lanes. Missing a seat of the much coveted and cliched IITs by hardly a few marks in the IIT JEE exam (by 9 marks exactly) had been haunting me always during my graduation and also my work stint with Accenture. Although after my Btech I got myself a rank in GATE which would comfortably get me into any IIT of my choice. But by then the perception and inclination of learning how capacitors and inductors behave in the transient state had slowly tilted towards how stocks operate, how Wall Street functions, how brands become what they become. Hence, MBA became more of a passion gradually. After the CAT results, due to a mediocre (95+ percentile) and courtesy of my poor grades in acads. I was left reeling with a staggering high WL number at IIM Kozhikode and missed XLRI by a meagre 2 seats. Although I had converted SIBM, XIMB and IIT Kanpur but an IIM tag always gave me more blues in the eye. After CAP and other results, I found myself pondering at 9 options to choose from (Kashipur, Sirmaur, Sambalpur, Bodh Gaya, Jammu, Nagpur, Amritsar, Vishakhapatnam ) . After doing a thorough research I zeroed it down to IIMV and since then have been waiting anxiously for 23rd of July anxiously. With a bit of jitters in my mind I was quite apprehensive of whether I had made the right choice or not, but now I am pretty sure that yes I have,as I see a lot of my to be buddies leaving other IIMs for IIMV. I personally have always been fascinated by the academic rigor of IIM BANGALORE and the faculties they have. And when I saw an opportunity to be tutored and mentored by them. I was instantly convinced that Vishakhapatnam is going to be my home for next 2 years. To add to that the much talked about International Immersion Program is one of its kind where at the expense of institute we will be visiting a leading business nation and get Global exposure by interacting with Consultant and Managers running Businesses for Global Business Giants.
Now coming to Vishakhapatnam, named after Visakha, the Hindu god of valour. It is surrounded by the Eastern Ghats and faces Bay of Bengal on the east. It is also called the City of Destiny, because of its landscapes view and very attractive beaches. It is the headquarters of Eastern Naval Command and has the only submarine turned museum of India.It has a mixed culture of people who are open and very supportive to all , I think geographically Vishakhapatnam is at an advantage when compared to the IIMs in its lot , a fully functional international airport , one of the busiest junctions of Eastern Railways to the largest natural Harbor of Asia , Vizag boasts of a rich communications and transportation network. I feel it will be a huge advantage for IIMV, as it will be a lot easier to rope in Corporate leaders to come and interact with us and for us to organise Business Conclaves and Industry talks within the campus. To add to this it always adds to the strength of my opinion that I get to live in high tech yet Serene and calm city for next two years knowing that the follow-up life would be hustled and full of rush.
One more thing I liked about IIM Vizag was the support garnered by state Government and local administration, the sync and harmony in which the institute has flourished surely has a lasting impact on taking IIM Vizag to establish a name at the global stage.
The USP I believe for IIM Vizag is that it is located in the strategic capital of a newly formed state blooming with business opportunities and already won the award for the best state in India for Ease of Doing Business. Also, the CM Mr Naidu has been paying special attention to IIM Vizag, and the administration which he has shown in bringing up and making Hyderabad a globally renowned city which is a home to all the leading tech giants of the world including Apple, Microsoft, Samsung, Google, Facebook etc. I am sure he will be etched to prove his mettle and would leave no stone unturned in making IIM Vizag rise to the rank of BLACKIS in India.
Now coming to post MBA plans, I have always dreamt of working for Aditya Birla Group of Companies and would never miss an opportunity to work for a brand which has given Indian products the reputation they deserved even in Foreign Lands. My dream is to work for Aditya Birla's Aluminium plant which has recently come up in Sambalpur , 5 kms away from my residence. Since my childhood, I have always had a personal liking for Aditya Birla group of companies as my uncle used to tell me stories about the facilities they had when Aditya Birla Group came up with a paper mill in my hometown, the way they redefined the infrastructure of our town from one of a tribal backward town to a modernized city back then. One more thing which fascinates me about Aditya Birla Group is their strong cultural connection no matter where across the Globe they set up their business, they always build beautiful and marvellous temples which are the backbone of the culture of India. Also, I am a big fan of their CSR activities, the way they imbibe and work for the betterment and upliftment for the poor and needy makes me more passionate about them. The FICCI Aditya Birla Centre of Excellence in New Delhi has truly been an inspiration for the youth in NCR and nearby regions giving them opportunities and platform to learn and outshine. This inspires youth like us and to my belief has changed the paradigm of CSR in India. Also, working for their setup in Sambalpur would help me settle in easily and put into use my acumen gathered during MBA to take their Business to scale new heights. Being from an engineering background, I will be able to provide insights into the technical improvisation of the plant as well. I feel my personal lifetime goal and Aditya Birla Group 's tagline are same – Taking India to the World. I truly hope of being provided with an opportunity to work for them.