'I Am Always In Search Of Newer Ways To Better Myself – A Go Getter, Divya Jaiswal – Ladies Of Lucknow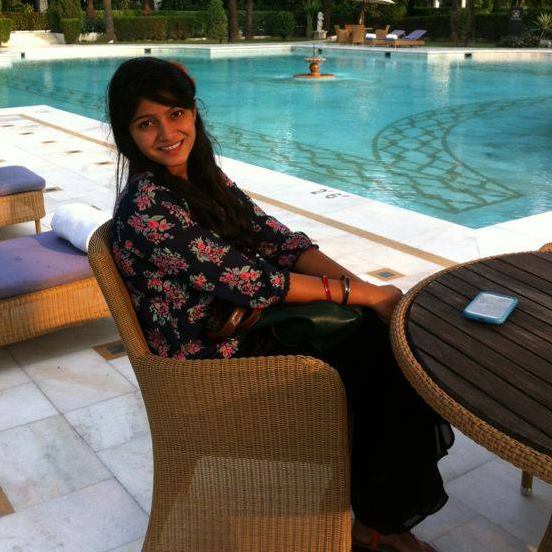 Not that we would wait for Woman's Day to celebrate the spirit and power of women on our management campuses, still we thought its good time to present some stories of women who have done it all.
To start, Meet Divya Jaiswal who is a Go Getter, has evolved by handling multifarious leadership roles in her life and we wish her all the luck to achieve her final goals.
1. To start with, tell us your background.
I am from Bihar, raised in both Bihar & U.P, with a large part of my schooling done in Nainital. I completed my undergraduate degree in Economics Honours from the University of Delhi and post that worked as a financial analyst with Evalueserve for over 22 months. I have an identical twin sister who has the exactly same background in terms of academic and professional area (no kidding).
2. What makes you think that you stand out of the crowd?
I have had the opportunity to hold diverse leadership roles throughout my academic and professional life – whether at school, college, university or at the post-graduation level. This I believe is what sets me apart and is uncommon to find in my peers. I led my school as sports captain & vice-captain. In college, I was part of the Student Union & Treasurer of the Economics dept. In order to create a social impact, I served as the member of NSS & Nature Club. My passion for learning and interacting with diverse stakeholders led me to join my university's Placement Cell. It was particularly reassuring when my efforts were recognized by the vice-chancellor and I was offered the opportunity to organize the first ever cultural festival of D.U. At IIML, I was elected to the post of Joint Mess Secretary, thereby overlooking 50 mess staff serving my entire student community. Thereafter, I joined Team Disha where I was responsible for single-handedly mentoring 45+ students & guiding over 900+ students in their placement preparation. As Vice-Captain of the Throwball Team, I led selections & training for a 20 member team to participate in MV & Sangarsh-National level sports fest. To add to this myraid range of experiences, I also served as the Class Representative for a 60+ student body.
3. What do you like the most about yourself?
The one thing that I like the most about myself would be that I love to experiment. I am always on the search to find newer ways to better myself. I have an undying spirit when it comes to working on criticisms. That, I believe, has been my success mantra. Until 8th standard, I was academically weak, a nervous wreck, an introvert and extremely low on self-confidence. Three years later, when the school displayed faith in me by assigning me with the responsibility to lead a team of over 1000 girls as the Sports Captain, was when my life was turned around completely. With each leadership role I have taken up post that along with stints in dramatics, theatre (acted in a short film based on DD nationals soap – Dishayein), handicraft, mentoring, social work etc.have transformed me into what I am today.
4. If you were granted a wish by 'The Jinn', what would it be? 
First wish:
Grant me three more wishes.:p
Second wish:
I would ask for erasing the day mankind divided themselves into different religions. I believe that we have one identity and originate from the same God. We should have the freedom to perceive him/her differently but not have raging wars over an identity that we created and shift the blame onto religion for it.
Third wish:
A visit to every planet/galaxy where another living being exists and collude with them to save the earth
Fourth wish:
Hermione Granger's Time Turner
5. How do you think doing an MBA has added value to your persona?
I believe the biggest learnings comes from interacting with people. A batch of 450+ students from such diverse backgrounds couldn't have been a better way to add value to oneself. My stint as the Joint Mess Secretary overlooking 50+ mess employees taught me the virtue of patience and turned me into a more empathetic person. Mentoring 45+ students and assisting both my senior and junior batch with placement preparation as a member of Team Disha was one of my life changing experiences at IIM L. The responsibility gave me a sense of ownership, improved my decision making abilities. The relationships I have built with over 900 students in the past two years have helped me build perspective, further boosted my self-confidence, evoked compassion and empathy in me & helped me perceive people and situations in a much more holistic sense, all of which would have been incomplete without this experience at IIML.
6. What according to you is the essence of being a woman?
Being born as a girl is god's greatest gift. There are multiple words that come to my mind when it comes to do justice to this question: strong, independent, to be able to voice one's opinion. The multiple roles that a woman plays in a lifetime  as a daughter, sister, wife, mother is where the essence lies, along with handling the constant pressure to fit into conventional standards set by society to nurturing a family all by yourself . "Sometimes you will just be too much woman. Too smart, too beautiful, too strong"
—-
(As told to-
This article is written by Abishake Koul, a PGP student of the class of 2017 at IIM Lucknow and the Creative Head and Core Coordinator of the Media and Communication Cell)
Media & Communication Cell IIM-Lucknow
IIM Lucknow's Media and Communication Cell (MCC) serves as a communications liaison between the Institute and the external world. MCC also acts as the community building platform of IIML and ensures that all the student activities and initiatives at IIM Lucknow receive public recognition