"I Maintain A Daily Planner" – Sumeet Bhansali – SJMSOM, IIT Bombay Topper

This is a continuation of our series on First Year MBA toppers at elite b-schools. SJMSOM, the b-school at IIT Bombay, has established itself as one of the premier b-schools in the country. With the stellar bunch of candidates it attracts, topping the exceedingly competitive first year of MBA is no mean feat.
Sumeet Bhansali is a First Year Topper at SJMSOM, IIT Bombay. He spared time out of his crazy schedule and spoke to our student team about his first year in MBA.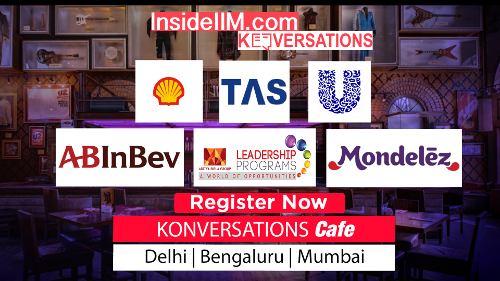 A Brief Bio:
Sumeet is a fresh graduate from IIT BHU- Varanasi and did his integrated dual degree (B.Tech+M.Tech) in Biochemical Engineering. He loves playing and watching cricket and listening to music in his free time.
How and why did you decide to pursue a management degree?
I belonged to a typical Marwari Businessman family. So having been brought up in a business environment I was fascinated about business right from my tender years. Like every other teenager I too joined engineering, without any idea whether I was really interested in it or not. Mid-way through my engineering I realized that it was not my cup of tea, and my true interest lay in Business Management. It was at that stage that I decided to pursue a management degree.
How was your MBA Entrance exam experience?
Being an engineer, I had been good with Quant from the beginning. It was the Verbal section which used to be the painful part for me. So I spent much of my time preparing for Verbal. Having worked hard on it and on the back of some good performances in mocks, I was confident going into the actual exam. And then the D-day arrived. Luckily, I had a dream start to the paper, and was able to solve first 10 quant questions in the first 10 minutes, which removed the early nervousness and gave me the much needed confidence required to ace the CAT.
How has your SJMSOM, IIT Bombay journey been so far?
The journey till now in SJMSOM, if I had to express in one word, has been a beautiful one. What initially looked like a hectic and an intense path has now become an avenue of enjoyment. Although the quantum of learning in the last year has been high, the absolute magnanimity of the people and the environment here in IIT Bombay is what has made me fall in love with this place. From late night study sessions, assignments/presentations with sacrosanct deadlines, full night 'bakar' with friends, whistling/dancing while your friend performs in front of 1500 people, playing cricket for hours under the sun; I have expressed myself in all the ways I can. You just don't stay here in this campus, you live here.
What were your expectations before joining this college and how different has the experience actually been?
My expectation like any other MBA aspirant before joining here was to learn as much as I can and perform the best to stay at the top of the league at all times, so that I can end up with the best (didn't know what that means)  job the college has to offer. But gradually I learnt to take it easy and dive into things which are real value additions (I bet you hear this term 10 times a day) to me. After some time this rat race started to feel irritating and I wanted to get myself out of it. That didn't mean I stopped studying or doing different things but there was an element of selectivity, the things which fascinated me like Finance, Business Plan for a startup etc. Maybe my expectations were misplaced but they have changed for better.
The first year of PGP is really hectic. How did you manage your time effectively?
The key to effective time management for me has been ability to prioritize things. I maintain a daily planner, in which I note down all the tasks for that day in order of priority. It ensures that I do not miss out on any important task and at the same time I have time to enjoy myself. Apart from this, one thing which really helped me a lot was attending classes regularly and paying attention in class. This reduced my work load in terms of academics by at least 50%.
Can you state a few qualities or habits that have helped you thrive in your first year?
Some of the qualities which I feel are really important to do well in any B school are:
Time Management
Ability to Prioritize things
Self – discipline
Perseverance
Ability to socialize with people
Self –confidence
What aspects do you like the most about your college?
Being part of an IIT, SJMSOM has a unique advantage, which sets SJMSOM apart from other B schools. This was one of the key reasons behind joining SJMSOM. I always knew MBA was all about holistic development, and what better place than IIT Bombay. Being surrounded by some of the top brains of the country adds an all new perspective to your thinking. And another thing which I really like about SJMSOM is its healthy student-faculty ratio. SJMSOM has a student-faculty ratio of close to 4:1. This ensure regular personal interaction between students and faculty and hence a broader understanding.
What were your favourite subjects/areas of academic interest in the first year?
Some of my favorite subjects in first year were:
Statistical Models
Financial Accounting
Corporate Finance
Decision making Models
Operations management.
How was your summer internship experience?
I did my summer internship at TATA Motors. It has been a totally life changing experience for me. Rather than working on some research project, I was working on live problems right from day one. I got a chance to apply most of my theoretical learning during first year to real life business problems. During my project I was directly reporting to the senior management of the ranks of Plant Head and Manufacturing Head. In spite of their hectic schedule they ensured they met me and kept a track of my progress and provided their valuable inputs. They were always ever so receptive to my suggestions and inputs. I felt as if I was working with them as a full time employee, rather than just a summer intern.
Any advice for our readers/ other MBA aspirants?
"It is not the destination, but the journey that matters the most ". So give in your 100% whatever you do. Success will definitely follow you sooner or later.
We wish Sumeet all the best in his journey!

You can read more articles from this series here.