IFMR GSB Dean's Inaugural Session's Speech In The CII Finance Forum In Chennai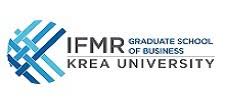 "If ₹22 lakh crore of investments has come into mutual funds through institutional investors, then one can say all that is the result of good amount of financial information made available to them," said G Mahalingam, Whole Time Member, SEBI.
He was addressing a session at the ninth edition of The India Finance Forum 2018 meet titled, 'Driving performance, business value in digital world', organised by the Confederation of Indian Industry, here on Friday.
Lauding the role of accountants in helping make informed investment decisions, Mahalingam in his speech, 'Regulatory changes and its implementation — GST and Ind-AS' said, the Indian stock market recording one of the highest PE ratios in the world at 24.5 per cent can be attributed to the informed decisions of investors based on the financial information provided by companies. "But do the institutional investors really absorb the accounting information and exercise their voting rights in crucial investment decisions vis-a-vis retail investors still remains a big question," Mahalingam added.
Speaking at the event, former Chairman, Central Board of Excise and Customs (CBEC), Sumit Dutt Majumder, said, "For the first time, India has shown the power of co-operative federalism to the world by adapting to GST."
Co-operative federalism
He also added that all the States, despite having power to vote in the GST Council have not once exercised the rights till date, thereby displaying their commitment to co-operative federalism.
Speaking at the inaugural session, 'Creating a robust financial architecture', Anantha Nageswaran, Dean, IFMR Graduate School of Business, KREA University, said, "A robust financial architecture cannot be accomplished without a robust financial regulation."
Lauding the government for restoring macro-economic stability, Nageswaran said, the new RBI Governor has to maintain status quo in 2019 amid talk about the government resorting to populist measures in the run-up to the general elections.
Nageswaran also highlighted that the RBI's capital has far exceeded the recommendation of the Usha Thorat panel set up in 2004. "There is a case for distributing it back to the shareholder, which is the government, but it should be transferred to a specific mean, instead of transferring to the Consolidated Fund of India," he said. "We should also think whether it is right to adopt an inflation-targeting regime for a developing economy like India," Nageswaran asked, and added that "There is nothing sacrosanct about 4 per cent."
This post was originally published on The Hindu Business Line.