Incendo – The Corporate Talk Series at MDI Gurgaon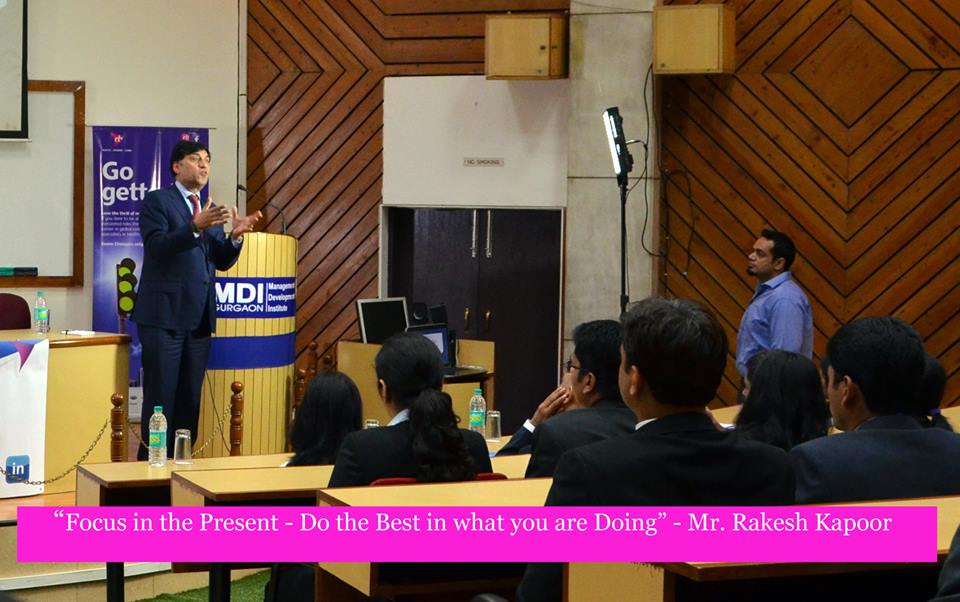 While experience is the best teacher, we believe that someone else's experience is a far better teacher.  Many people have been down the route you are travelling or plan to travel on.  They have encountered and overcome many of the same obstacles you may be facing or might face.
It is with this objective that MDI Gurgaon has been organizing corporate talk sessions for the managers-to-be over the past few years. These sessions were rechristened 'Incendos' from 2012 and provide an opportunity for students to learn from the experience of current industry stalwarts and accelerate their own progress. The past couple of months saw many Incendos take place and students, especially the first year, participated with enthusiasm to learn valuable lessons straight from the leaders themselves. Some of the sessions are highlighted here.
During his interaction with the students at MDI, Mr. Rakesh Kapoor, CEO, Reckitt Benckiser laid special emphasis on keeping the consumer at the center of all business strategies. "At Reckitt Benckiser, consumers don't just play a role in innovation – they are our raison d'etre" – words of wisdom which stress the importance of understanding Consumer Behavior in order to be a successful company.
Mr. Ajay Relan, founder and Managing Partner of CX Partners recently shared his life journey from heading Citibank's PE business to setting up his own PE firm. His quote "Self-belief is the most important ingredient in the recipe of life" resonated among the students and motivated them to have faith in their dreams when no one else is willing to believe in them. Mr. Rajdeep Sahrawat, VP (Corporate Affairs), TCS spoke about the importance of corporate governance and adopting the CSR provisions of the new companies bill mentioning that "Good corporate governance is always good business." The students understood the importance of building trust, not just with investors and employees but also with customers.
The past month also saw eminent speakers from Cognizant Business Consulting, McKinsey & Co, Pepsi Co India among others sharing their insights about the industry. In today's world, when it is imperative that you acquire an edge by learning from what others have already been through, MDI strives to bring the best business leaders to campus to share their wisdom, learnings and experience with the future business managers.
We wish to briefly mention some of our Incendo Speakers in the past month where students from PGP have interacted.