India's Role In The Shifting Global Power Dynamics Discussed At IIM Rohtak's Foundation Day

Understanding India's importance as a global player in the shifting international power dynamics, by juxtaposing the speed of changes and the changes in expectations from a democratic state, IIM Rohtak celebrated its eighth Foundation Day. The theme of the event was "India and the shift in Global Power Dynamics". The discussions were kicked off by Prof. Mahua Guha, a faculty of Strategic Management, who highlighted the importance that India holds in the overall development of the world.
Talking about the shift in global power right from the British times until now, Major General Amarjit Singh said, "The battles today are not won on the field, but in the minds of the public. The battlefield has shifted from territories, to money, and now finally to the minds of the public. When Surgical Strikes happened, it portrayed the new offensive behavior of the Indian army which was previously unheard of, and what it did was change the general view towards the Indian army. This attacked our core beliefs and if this is the change of the future, there have to be more such demonstrative events in future, or else we return to the status quo."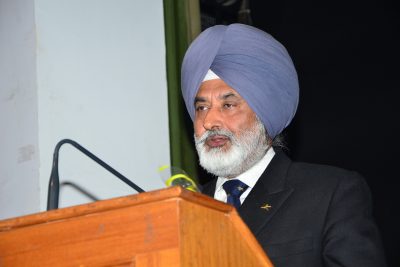 Shedding light on the stark contrasts that India is home to, Prof. Guha opined, "Despite being the 3rd largest country in terms of GDP according to purchasing power parity, 22% of the Indian population still lives below the poverty line, and despite being the world's second largest army, most of the arms used in the Indian army are manufactured out of India, so India desperately needs to scale up manufacturing inside the country, to generate employment for the large working age population of the country, in line with our honorable PM's Make in India strategy".
The event also witnessed an engrossing address by Mr Amit Baruah, Managing Editor, The Hindu. He emphasized the pivotal role media has played in bringing the change in the country over the past few years. He also highlighted that India is witnessing a rise in print circulation and readership when the whole world is witnessing a steep decline in the same. Dr Atanu Rakshit, Director, IIM Rohtak was also present at the event.