India's Young HR Icon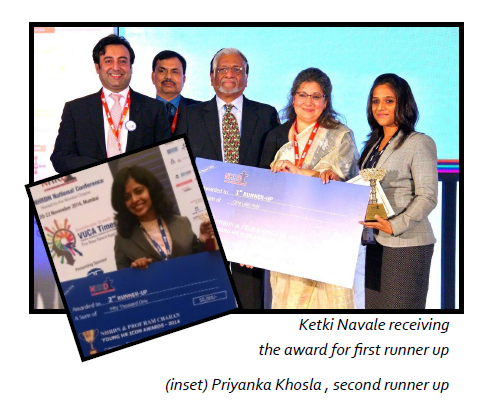 The first ever NHRDN & Prof Ram Charan Young HR Icon Awards 2014 was conducted recently. The event included separate categories for HR professionals and students.
Of the three student winners, two were from SIBM Pune – Ketki Dnyaneshwar Navale and Priyanka Khosla.
Ketki secured the position of first runner-up, while Priyanka came in as the second runner-up of the national-level event.
The Young HR Icon Awards were given out post a holistic analysis of the individual on all aspects, across a comprehensive three-level evaluation process, including verbal and psychometric tests, a video interview, and a written round. A research paper on the topic 'Sustainable Growth in the VUCA world' was to be presented as part of the regional round.
There was also a group discussion, interview, an HR awareness test, and a behavioural interview.
The ten students who survived this process reached the final round, where they were faced with a one-day business simulation round, a panel interview with 6-7 senior HR leaders, as well as a test of creativity.
"The exposure, networking and learning were unforgettable," said Priyanka Khosla. "It was an extremely memorable experience – and easily one of the best things that have ever happened to me!"
"Our personal introduction at the conference to CHROs and CEOs took the experience to a whole new level!" Ketki Navale agreed.
The Awards were presented to the Winners at the 18th NHRDN National Conference, on November 21st, in the presence of the largest gathering of HR leaders and practitioners in India.