Is it the right time for SMEs to implement ERP?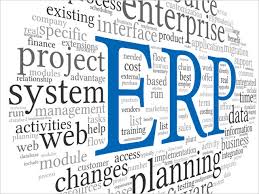 Introduction
In this paper, we would discuss about highly competitive SMB sector in India and what would be the impact of rising technology especially ERP on SME's performance. We would look into various dimensions to identify and assess the benefits and challenges in ERP implementation.
SME background
Today, when enterprises across the world are growing fiercely competitive, SMEs are also paving a way for themselves. According to survey conducted by market research firm Zinnov, India is home to around 4.88 crores small and medium business (SMB) units and it would soon be the largest SME nation globally. As per the report, about 8.11 crores people in India gets employment through SMB sector. We also understand from various findings that the SMB sector in India is growing at an exceptional rate and has the potential to be one of the primary drivers of the Indian economy. SMB sector's rapid evolution can be gauged from the data that 1.5 million SMEs export their product and services outside our country. Statistically, SMEs contribute more than 8 percent of India's total GDP. In short, small medium enterprises are critical to the economic growth in India which has grown to somewhere 50 millions in numbers.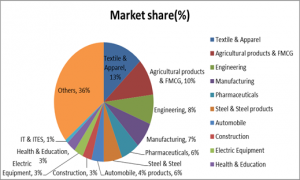 Figure1: Market share distribution in SMB sector
IT adoption among SMEs
The study affirmed significant growth opportunities both for India's booming IT and SME sectors. We know that India is host to around 50 million SMEs but fewer than 5 percent of all businesses even maintain a web presence. According to the report, only 51 percent of online SMBs use the web to advertise; a mere 27 percent use it for e-commerce and 95 percent of organizations yet to even institute a website; but India is confident about positive herculean effects as more small enterprises come online.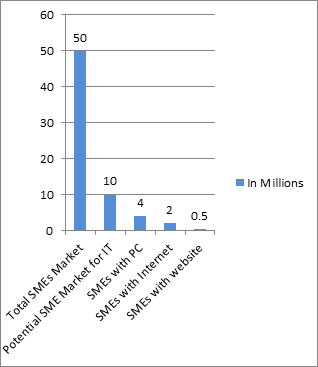 Figure 2: IT penetration level in SMEs
We understand that India has capability to compete with other developing and fast growing economies. And internet will play a significant role in narrowing the gap between Indian SMEs' potential and their aspirations. The study report also concluded that Internet penetration was highest among SMEs in tourism, IT, IT enabled services and transportation sectors which give positive vibes. Only 49 percent of Internet using SMEs surveyed had websites; IT & ITES and hospitality had the highest numbers. It was also found that SMEs in the B2B space had the lowest registrations of websites. In the last five years, there has been sudden rise in need for digitizing organization's every dimensions. Actually, internet has become a significant medium for direct impact on how both consumers and businesses engage with each other. India has huge and diverse base of SMEs which certainly needs to benefit from the Internet in this digital age but that can happen only when we ensure that SMEs understand the power of technology.
According to Microsoft report, it has been identified that Indian SMEs have abysmal internet penetration, currently it has been reported that about 90% of small and medium enterprises (SMEs) in India have no access to the Internet. But on the other side, if India SMEs adopt latest tools and technologies then the growth potential for this sector is enormous. It is expected that SMEs could grow by $56 billion and generate around 1.1 million new jobs in various sectors.
Therefore, the question arises based on the above SME industry analysis on its adoption of Information Technology i.e. whether the current Indian SME industry is ready to embrace ERP? If no, then what are the roadblocks and what are the other feasible alternatives than ERP? If yes, then what are the potential factors which could drive the SMEs in embracing ERP?
ERP and SMEs
Recent advancement in Information Technology (IT) field has forced the organizations of all sectors to think for systemic planning and managing their firm to embrace huge growth. In order to meet internal and external requirements, firms irrespective of being MNCs or SMEs have started to establish ERP systems for their existing system and processes. Today, ERP is considered as a backbone for every organization to support and deliver high quality services and thereby, increasing overall performance.  ERP system helps in increasing the visibility and clarity in system processes. Till date, it was understood that ERPs are for MNCs but there has been growing popularity for ERP amongst SMEs as well due to diversification of services supported in ERP packages.
Recently, SMEs in India are growing with tremendous growth and they are expanding their business across related as well as unrelated domains. So, to support these kinds of activities there has been surge in demand for centralized system to capture and monitor information and streamline whole organization processes with the information. Therefore, the essentiality of ERP system with specific needs have reached threshold in these firms.
 What is ERP?
We will define ERP in simple term as a business management system which provides an integrated solution by streamlining the whole business activities. This integrated view of organization processes is possible using common database management.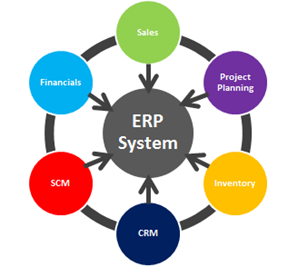 Figure 3: ERP system
Let us understand the ERP term; it comprises of three words Enterprise, Resource and Planning. Each word has its own meaning i.e. Enterprise depicts Organization wide which says it is across all the geographic and functional divisions. Next, Resources depicts all resources which are man, money, materials and machines. Lastly, Planning depicts looking at the long term goal rather than just current goal.  In order to recognize the benefits of ERP, we should understand the basic characteristics which are as follows: ERP automates and integrates the business processes, ERP share common practices and information across the enterprise, ERP allows information production and access in real time mode and ERP has componentized architecture which supports integration with other systems.
Benefits of ERP
Successful ERP implementation has numerous advantages over its disadvantages, and these benefits can be reaped only upon selecting ERP which customizes all the modules to fulfill needs of that particular business domain. Here, following could be the potential tangible as well as intangible benefits which SMEs can garner from ERP implementation
   Standardization
   Centralized Support Facilitates (Integration)
  Cost Effectiveness
  Operational Efficiency
  Scalability
  Improved Reporting and Tracking system
  Data Quality
  Improved Customer Relationship
  Reduced Complexity
  Business Analytics
During a local survey conducted in Mumbai near Malad showed that the basic motive behind ERP implementation in SMEs is to gain operational efficiency through increasing labor productivity and support integration within internal departments & with tier-1 suppliers, distributors and subcontractors.
ERP v/s Standalone Systems
When we talk about current business environment, it is self-evident that there is absolute need for an organization to remain competitive and there comes the significant role played by technology. Now, SMEs have two broad options to consider for utilizing technology; first, look for standalone systems for each module or process and second, opt for ERP implementation. But, the problem is that each option has its own trade offs. Let us understand both the options by looking at comparison chart.
| | | | |
| --- | --- | --- | --- |
| Sr. no. | Factors | Stand-alone systems | ERP systems |
| 1. | Time Cost and Resources |              NO |                YES |
| 2. | Degree of Fit |              YES |                 NO |
| 3. | Simplicity of use |              NO |                YES |
| 4. | Project management |              NO |                YES |
| 5. | Ease of Communication |              NO |                YES |
Table 1: Standalone v/s ERP Systems
Therefore, most organizations deploy ERP software to enhance coordination among various business entities within the same firm as well as with business partners. In addition, ERP software can be centrally managed and necessary controls imposed to ensure proper usage within the entire organization without interference. Whereas, standalone business applications are inflexible, thereby create inability to go beyond the defined entities.
ERP software package comprises of various components such as inventory, manufacturing, distribution, logistic, shipping, construction, and accounting, therefore, covering such a wide range of business environments make it suitable choice between ERP Software Services and standalone software applications.
As a result, ERP System can provide an organization the desired uniformity and consistent business environment apart from improving productivity, profitability and accuracy. But, still the awareness about ERP within SMB domain is less than 35%, whereas over 80% of large organizations are aware of it. In below section, we would discuss about various barriers in these software adoption then we would specifically understand the financial aspects and other challenges which still persists and hampers the software adoption.
 Challenges/Barriers in ERP adoption
It has been observed that generally, SMEs hesitate to adopt latest and expensive technology. Talking about ERP specifically, there are numerous facets which need reasonable consideration. For example,
  Evaluation of ERP package on basis of compatibility and functionally fit with organization's business operations and thereafter careful selection of appropriate ERP software package
  Modularity, flexibility and scalability of the elected ERP software package
  User friendliness and complexity of the package
  Ability of package to support multisite planning and control facility
  Necessity of regular updates and required customization
  Lack of infrastructure
  Low awareness of the benefits
Even after analyzing and resolving the above challenges, the success to ERP implementation depends on support from the top management and employee/user training. An organization implementing ERP should also understand that information is at the heart of an ERP system and if the information is not entered correctly then there wouldn't be desired benefits. Moreover, ERP processes too are key to its successful implementation and if standard underlined processes are not followed then resultant ROI would be miserable.
 Financial Aspect
There are some financial aspects which need to be understood during ERP evaluation and finalization. It becomes essential to analyze an ERP package w.r.t. monetary dimension as SMEs generally are more precautious when the risk involved is huge and these investments may not reap results instantly. Thus, following are the significant financial factors which require attention:
  Technical Experts/ consultants fees
  Hardware and software license fees
  Cost of customization
  Cost related to data conversion
  Training cost
  Future support cost
Conclusion
We can conclude that in this changing competitive world SMEs need to understand the role of technology in their growth prospective. They also need to look at what typical functionality they require from particular software implementation. In case of SMEs which are small, say, less than 50 people then selective use of best of breed software is a clear winner. But, in case of medium or large SMEs, they should definitely opt for ERP system to integrate whole organization and streamline the processes and information flow. Thus, we can say that a proper ERP implementation can frame the base for the future growth, and turn the situation into improved productivity, profitability and complacency for whole organization.
References: