Have you ever visited a brick-and-mortar store, looked at the products on display, evaluated them and returned back home just to purchase them online at a much more attractive price? Shopkeepers are indeed trying hard to battle this buying behaviour, but are finding it difficult to succeed. If a customer can purchase branded electronics online at a price that is 4 percent lower than the traditional retailer's cost price, brick-and-mortar stores definitely have a reason to be worried.
In the wake of the recent e-commerce boom, the traditional retailers are refraining from expanding their operations through brick-and-mortar stores. Whether an e-retail revolution is on the cards, is hard to say. Though some traditional retailers feel that e-retailing is bound to saturate, a majority of them are still wary of investing in the retailing industry.
According to Munish Baldev, Unitech's head of retail, online retailing will never be able to capture more than 10% of the total market. Since it had started from zero, the growth figures were deceptively large.
Indeed, with the e-commerce industry poised to grow at 70% this year as compared to the previous one, it looks frightful for any contemporary, traditional retailer.
With cars and residential flats being sold online, e-retailing now has negligible products to add. Not only have e-retailing stores transformed themselves into one-stop destinations for customers, but they have also been providing an exceptional level of service. Same-day deliveries in metros, returns and replacements and Cash-on-Delivery (COD) are just some of the services which have helped remove barriers concerning delivery, payment and other similar issues. This comprehensiveness of product portfolio and exceptional service influences the buyer to purchase online.
Also, an observable change is seen in the way people prefer to make their purchases. With an increase in internet penetration, people are becoming more and more dependent on it. The tech-savvy people have started shopping through computers and mobiles using information and trends gathered from social networks and other websites. Increased penetration of technology has made it easier and comfortable for a person to get one's basket of goods delivered to the doorstep. This aspect of e-retailers makes them a real and formidable threat to the traditional retailers.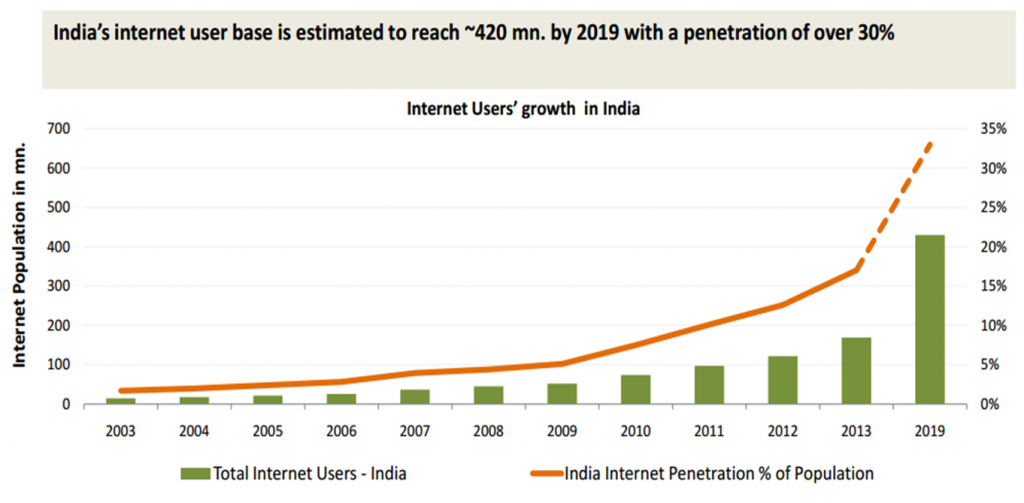 Win-win situation or threat?
One never purchases non-essential items unless one is influenced. Reading commendable reviews, about a product, online is one major influencer. Many people are of the view that e-retailing has, in fact, increased demand for goods and hence, consumers' marginal propensity to consume. This increase is well reflected not only on e-retails but in the traditional stores as well. E-retailing has, in a great way, increased product awareness in desired, specific customer segments. When a customer is introduced to a product online, he/she tends to visit the nearest store to have a look and feel of the same. This may lead to him/her purchasing it at the store itself, thus benefiting the traditional retailers. They prefer not to purchase it online because one does not want to take 'chances' initially with a new product!
Not only this, but with Foreign Direct Investment (FDI) not being permitted in e-commerce currently, the major players are forced to shift to a marketplace model (which has FDI permit). Here individual retailers sell their products directly to customers through the marketplace web interface. This has led to opening up of immense opportunities for small traditional retailers to bank upon the huge market potential from all over the country to sell their products at competitive prices.
"I went shopping today!" – these words sum up the complete experience of a shopper. Shopping entails not only the physical process of buying but visiting various malls/stores, eating out, looking at a wide variety of things and nonetheless, a change from one's monotonous life between home and work. This experience is impossible to replicate in an electronic environment, giving the traditional stores a clear upper hand. Moreover, traditional retailers can and are employing attractive store concepts to attract visitors while providing additional amenities like free parking and food courts.
Potential for future growth
The price wars on e-commerce websites have apparently affected the brand equity of established brands, like that of Sony and LG. They have been known to issue warnings to these websites not to sell their products at unbelievably low prices (using predatory pricing) so as to attract customers. This often destroys the brand's image and credibility in the market. Lenovo, likewise, took a firmer step by not honouring warranties on its products sold through e-retailing websites. These decisions jointly lead to the saturation of the e-retailing industry beyond a point (10% as seen in the US). With big companies alienating themselves from e-retails, it seems the traditional stores will still maintain their grip on the market in the times to come.
Sustainability of e-retailing
Is the growth in e-retailing only a temporary surge? How long can they compete on price? With mergers and acquisitions on the rise, it is clear that big players have realized the importance of reaching out to wider customer bases through fewer online platforms. On the other hand, even the investors prefer safe bets like Flipkart or Snapdeal as compared to, say, Rediff Shopping. This is further leading to the scaling down of operations of minor players and to the emergence and stronghold of only a few established ones. These established players are also trying to make hay while the sun shines and using the investors' money to finance their otherwise unsustainable business models, at least in the short run!
It is clear that the traditional retailers, though facing the brunt of the emergence of e-retail, have not given in. They are continually finding ways to create new business models and/or ways to add value to the customer's buying process. Through the analysis, it is evident that e-retailers would never be able to gain a substantial share of the retailing industry, let alone replace the traditional retailers. It is, however, advisable that the traditional retailers maintain some form of online presence, be it through their own website or through the marketplace. This will prevent them from losing out on the vast demand potential (10% of the $450-billion retailing industry), which can be served electronically.
Utkarsh is a PGP1 student of IIM Ahmedabad. Having done his chemical engineering from IIT Kharagpur, he joined IIM Ahmedabad as a fresher. He loves writing and expressing his views on common topics which are of interest to the masses. He will be interning with Procter & Gamble this summer.