Life At FMS – Parisha Maniar, FMS Delhi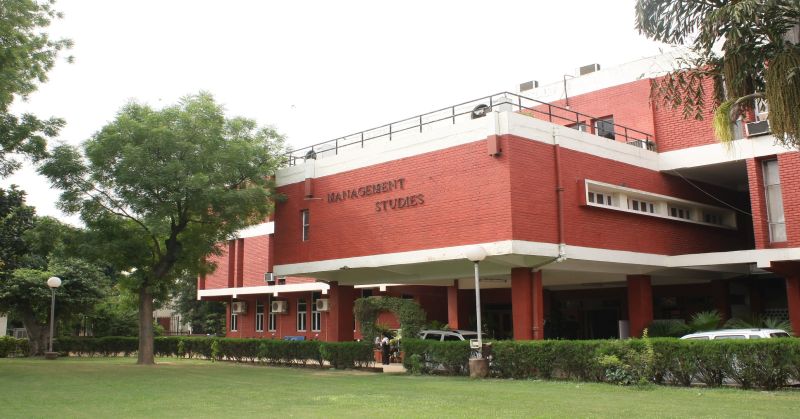 Faculty of Management Studies, established in 1954, enjoys the status of being one of the oldest B-schools in India. Most B-schools of India boast of plush, luxurious campuses spread over hundreds of acres with the latest facilities. FMS is not like any other campus, in any way. At first glance, the 'Red building of Dreams'  in the midst of North Campus, Delhi University seems quaint and unassuming. But on a closer look, one realises that each red brick is a faculty member or alumni who are part of the 64 year-old legacy that has made FMS what it is; every red brick has a story to tell. The campus inevitably creates lasting bonds among the 400 students and 20 faculty members on campus, all of whom work together to create better leaders for tomorrow.
 It is indeed humbling, and a little intimidating, to be a part of this prestigious institution. Students of section A had the privilege of being addressed to by Prof. Sengupta, Dean, FMS for their very first lecture, and I was one of them. Ma'am started by picking out a fellow classmate to write a thoughtful quote on the whiteboard. 'Today I dare to Struggle, Tomorrow I dare to Win', she wrote. Coincidentally, this quote perfectly encapsulates the journey of every FMSite, through the two years here, and through life, Ma'am said. Life is not always easy, there will be many obstacles and hardships. Overcoming them will equip you with skills and self-confidence, to go out into the world and achieve your dreams. FMS students take up every challenge with a smile, toil and persevere,  and emerge victoriously.
FMS is a distinctive blend of students from diverse backgrounds, and some unique stories stand out. Anubhav Kataria, engineer by education, has a passion for travel and bike rides. He has braved extreme weather conditions, of snow and rain, just to ride through the hills and valleys of Himachal Pradesh. Akanksha Sinha, is a hard-core manga and anime fan. She has a large collection of series and comics, and one of her favourites, Naruto & Naruto Shipuddin, is a 700-episode series. Raghav Rai Singla, is a travel and adventure sports enthusiast. He has skydived from a height of 40,000 feet in Prague and paraglided in Thailand. He wishes to try hands at scuba diving next.
FMS is brewing with many such captivating tales of passion and enthusiasm. This is Life at FMS.
Which ABG company would you want to work for and why?
The Aditya Birla Group company I would like to work for Aditya Birla Fashion and Retail Limited. It boasts of a portfolio of varied apparel brands, each catering to a different segment of the market. While Louis Philippe , Van Heusen, Allen Solly and Peter England offer high quality formal and semi-formal apparel  for the young professionals of India, People offers 'fast fashion' casual clothing, and 'Forever 21' caters to the truly stylish. Pantaloons provides a robust retail network for the Indian masses. The company has cleverly invested and created a strong presence in the apparel sector, and I would like to work on marketing campaigns and strategies to expand the same.
Placement Cell FMS Delhi
Established in 1954, FMS has been a pioneer in India offering management education. FMS has the unique advantage of being a premier 'B-school' in a University milieu and in the national capital, thus offering valuable opportunities for our students in interdisciplinary learning and to undertake live projects from national/ international organisations. FMS is proud of a long list of illustrious alumni. It has rich legacy and history of producing World Class Business Leaders who are ranking stalwarts in Top MNCs across the globe.