What Makes IIM Rohtak Campus Unique?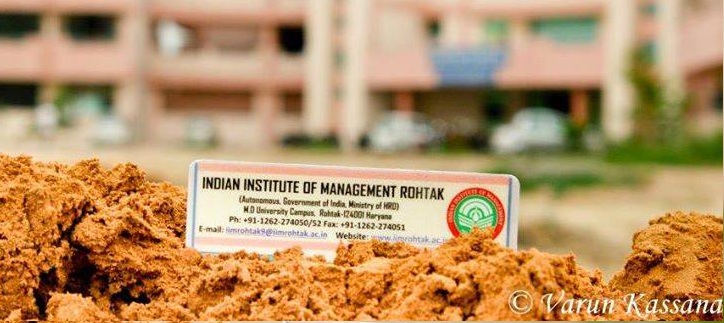 Which is the only IIM in Delhi NCR? That's right 'IIM Rohtak.' Spread across 200 acres IIM Rohtak inaugurated its new campus – our new campus on March 25, 2018 on day of 7th Convocation with Hon'ble Vice President of India, Shri. M Venkaiah Naidu as the chief guest of the event. Approximately 80 kms from Delhi Airport our campus is not like the campus of any other B-school but a City in itself that is why it's called the Management City. Newly designed campus with capacity of 80 students per class has centrally air-conditioned classroom, admin block and academic block. But let's start with Hostels where we live as what better place to start with. Hands down the hostels here are one of the best amongst top bschools. Hostels are formed in two clusters with each cluster having a total of 6 Dorms. What's special about this cluster formation is that the dorms(buildings) have been erected in square shape with badminton court in centre. Students from all dorms come down in the evening after long day's work playing badminton, cricket and hanging out with each other indulging in recreational activities at that moment you realise it is a big family you are living in and how each of these things have become a quintessential part of your life. That these are the evenings that you will remember after passing out from this beautiful Institute especially your flatmates. Now, each Dorm or building has these 3BHK and 4BHK flats. Yes flats, We live in flats attached bathrooms and kitchen not the regular rooms you find in other hostels. Each dorm has a lift and common room for students where they can watch Television or play table tennis bringing real meaning to Residential campus. A student rune STORE also takes cares of the basic needs of the students and even helped juniors in getting necessary day-to-day things. The classes here are specially designed and are acoustic proof so that sound from one class does not go out as the professor speaks into the mike. The curvature seating makes it possible for each student no matter where he is seating to directly interact with the professor as all students are in the purview of the professor standing on the podium. The 288 seater centrally air-conditioned auditorium is used to host Management summits, TedX, and other events.  These features make IIM Rohtak a self-dependent campus with nearly all things available in the campus itself making it truly the Management City.
The companies that I would like to work for under ABG is Aditya Birla Fashion and Retail limited (ABFRL). ABFRL is India's No 1. Fashion Lifestyle entity with a combined revenue of Rs. 6,633 crore for FY17, growing at a rate of 10 per cent and EBITDA of INR 476 crore for FY'17 that has grown at 18 per cent over the last year. The main reason for my aspiration to work here is to work for brands I love which taught me the meaning of brand and brand loyalty. Brands like LP, Van Heusen are my favourite clothing and brand which I like to wearing and would love to promote and work to make them even bigger. Mudra Fashion and Lifestyle(MF&L) has a vast retail network comprising exclusive outlets, premium multi-brand and department stores. Four of its brands are among India's top fashion names, with MRP sales in excess of Rs. 1,000 crore each. Louis Philippe and Van Heusen led the aspiration for fashion excellence, giving its customers access to the finest in global fashion. It's a dream for me to work for such a big company like MF&L which caters to such big mass an ambition of many fine professionals.