MDI – The Epicenter Of The Growth Story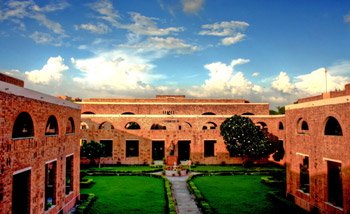 For many of us aspirants, MDI Gurgaon is one of the few business schools in the country which is located so close to the central business district of the National Capital Region – the place whose story is as life-changing as the place itself. After being set up in 1973 as a school for national management training and facilitation for government officials, MDI has very quickly transformed itself into an effective institute of excellence for management learning. Being at the forefront in terms of location, academia, research and training, the immense knowledge capital that it had being an academic institute was easily seen when it began its post-graduate programs.
MDI has a distinctly well-developed 40-acre space in Gurgaon, with a golf course inside (how many colleges can boast of that?), and a well-equipped library with access to thousands of e-journals and books and also a Bloomberg terminal, everything that is needed in for great management learning.
It was also the first B-School in the country to attain the international AMBA accreditation and has a thriving exchange program (the maximum tie-ups with foreign universities in India), apart from one of the only B-schools in the country to have a joint program being offered in International Management with ESCP, Europe one of the top (and oldest) B-Schools in the world (13th according to FT rankings) and this gives a good international exposure to all the students.
Being in Gurgaon, it is best positioned to ride the 'India growth story' : the transformation this area has seen has been nothing short of extraordinary. This has allowed the institute to be benefited and be at the middle of this tide. From the 1980s, the city has transformed itself from an agrarian landscape to a corporate powerhouse and this has immense future potential benefits for the communities that surround us. It is definitely a great opportunity – even more so now as after the next set of reforms which will take us forward in the 21st century – and this is what makes the campus unique!
Which ABG company? 
Just like Gurugram's strong growth credentials, ABG has been one of the pioneers in various fields as a conglomerate and has a rich history dating back to the 1857s mutiny times.
I would love to get an opportunity to work with Aditya Birla Capital (ABCL), as its one of the most prestigious fund houses in India and complements my interest in the area of finance. It represents the culmination of all financial services groups of ABG. This represents the growth potential of India, Indian infrastructure, the faith in India, its people and the equitable value they can create. To be a part of this journey would be an unprecedented experience that I would cherish for life proudly!