Dr.Megha has been chosen as one of the top 30 most employable candidates across schools and programmes in India for the Class of 2015. She has one of the best 30 profiles among the 66 final round candidates who participated in the Best50 competition. The final 30 were chosen based on a combination of scores for the write-up below and the candidate's resume.
What have you done at your business school which makes you stand out from the crowd?
Being an executive member of HR Society of FMS, I worked whole heartedly for my society. I initiated the process of bringing HR Live Projects to the college for the first time. I took the whole responsibility on myself and till now I have brought in 2 live projects from very well-known brands i.e. Unicharm and India Bulls. I am in the process of negotiation for the third one which will most probably be floated in the coming days. Apart from these initiatives for my own society I have always been extending my help to other societies as well. I designed the whole Dance room for the Cultural society, helped in organizing the first ever literary fest of our college with the Literary Club, designed and painted a poster for the same event, designed the score board for sports society etc. The capability to take initiatives and laying the initial for HR society, I think my willingness to go an extra mile to contribute towards other societies make me stand out from the crowd. I utilized my capabilities to help them without expecting any recognition in return from them.
What have you done in your life that you are the most proud of?
Another important achievement in my life is when I got selected to BDS. It was a touching moment as it came in very first attempt and with a lot of hard work. I cleared the state level competitive exam in my first attempt only. I was the only student in the school in that year to clear the JKCET. Also it was my father's cherished dream to see me as a doctor. And I had cleared the first and most important step towards that. All these reasons make it a special achievement for me.
If there was one good aspect about your school that you could take back after you graduate-
FMS is a place where one is bound to imbibe certain unique values and qualities during the short span of 2 years which no other place is capable of. The list is long but if I have to point out one such aspect that I can take back from here, it will be the learning of how healthy the competition can be. Owing to the course we are in, people are very competitive but at the same time extremely helpful. I have never seen students helping being so helpful to each other, be it junior to senior, senior to junior or batch-mate to another batch-mate. I will carry this learning throughout my life.
If there was one thing that you could change about your business school, it would be
It would be the lack of infrastructure. Our school has lot of talent but only thing which at times goes against utilizing that thing to fullest is the lack of infrastructure. I wish this red building of dreams becomes one of the most well equipped institute someday.
If you had to open a rival social network to Facebook, what would it be like?
It would be like an interface where people will share their views and communicate with each other through art. They can draw themselves or select the vectors available on the network. It will a full-fledged platform for the creative people to express themselves in as creative ways as possible.
Who are you - Express yourself
I am Dr. Megha Kundal. Born and brought up in Jammu, J&K, I am a dentist by profession and painter by passion. I did my schooling form Jammu itself. After completing my schooling I appeared for Jammu and Kashmir common entrance test. My hard work paid off and I managed to get selected in the 1st attempt itself for Bachelor of Dental surgery in Indira Gandhi government dental college, Jammu. After completing the 4.5 years of academic professionals of BDS among the only 7 regular students pasing out , I joined as an intern in the same college. Post which I appeared for CAT and got thru in the 1st attempt to get admission in FMS. Other than my consistent performance in academics I was very active in extracurricular activities as well in school and college. I used to take part in dance, art events etc.
My passion lies in art. I am a painter and I work in various mediums like oil colors, acrylic colors, water colors, charcoal colors, pencil sketching and shading. At times I do portraits too. I have some significant achievements in this field. I have done a solo painting exhibition in 2014 at Lokayata, Mulk Raj Anand Centre House Khaz, New Delhi, all organized by myself. Before that I did a solo exhibition at Kala Kendra, Art and Culture academy, Jammu in 2012. My paintings have got selected and exhibited in Annual State exhibitions, J&K. Most of my work has been around human feelings in different situations. In both the exhibitions I got an amazing response from people and got appreciated for my work. I consider both the exhibitions as my major achievements because I had never exhibited any of my work before my first exhibition. It is a very big thing and requires lot of courage. And continuing with the same courage I did my second exhibition in Delhi which was a sudden shift to a national platform and everything organized by myself along with hectic schedule of FMS.
[caption id="attachment_50889" align="alignnone" width="201"]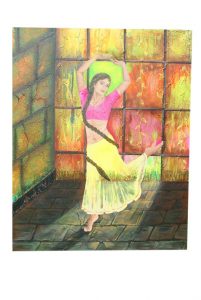 Passion Unleashed[/caption]
Meet the rest of India's 30 Most Employable Management Graduates from the Class of 2015 here