How do you earn Rs 10,000 in 6 hrs with just Rs 500 in your pocket ? The incoming batch of FMS Delhi has all the answers !
The Marketing Society and The Entrepreneurship Cell of Faculty of Management Studies, Delhi reached new heights this year with their legacy event 'Merchants of Delhi'.
The event had students divided into 15 groups and each group was handed Rs 500 at the outset. The objective? Go out to the streets of Delhi and multiply the amount by utilizing the seed amount given to each team. Teams were given just 6 hours to think, strategize and implement their ideas. The Catch ? The students could not carry mobile phones , wallets and were asked not to reveal the name of the institution, and of course, they don't beg, borrow or steal!
Challenges – Immense. Opportunities – Huge and Result- Rs 73480 earned with the highest team earning over Rs 10,000. The students of FMS did justice to their tag by coming up with various ideas ranging from innovative ones like providing meal service to doctors on 24 hours duty, bargaining for foreigners; to the daring ones like guys dancing on item numbers, offering career counselling to students outside coaching institutes and the clichéd ones like selling roses , singing and poetry. "Students got a first-hand experience of sales and consumer behaviour by interacting with people from all walks of life and shopkeepers ", says Shivan Nair, President of The Marketing Society. Parth Goyal, the President of E-Cell, had this to say " This event gave students a chance to think out of the box and ignite their entrepreneurial spirit". Going by how enthusiastic the students were at the end of the event, it sure was a very enjoyable experience for them along with being a perfect learning opportunity.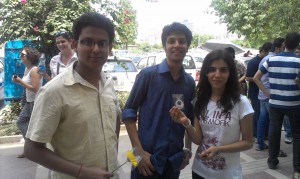 You may also want to read: