My Internship Experience At Star Cement – Ganesh From IIM Ranchi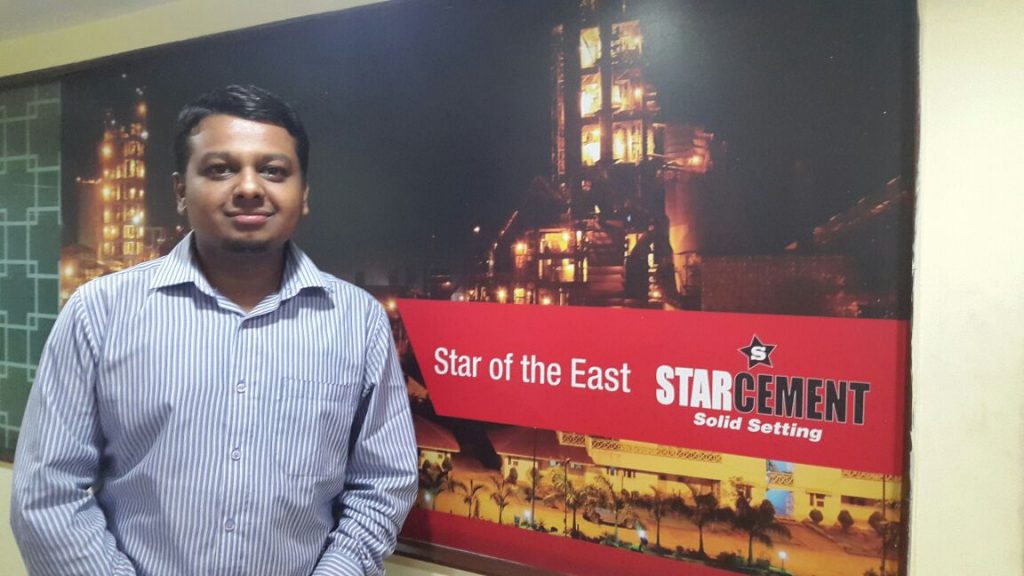 Yes this was the feeling I had with lot of Goosebumps when I saw mail from Corporate HR Head
Dear Ganesh,
Great work. Both things has been done beyond my expectations.
You with support HR team has created great piece of work.
It's original and unique.
Regards
Head HR
Star Cement
This is the comment that I will put at highest level in my entire professional and academic experiences put together till this point.
As I finished my Strategic Management paper and was coming back to Hostel. I saw mail from Star Cement, giving details about my summer internship. Company called us to Kolkata Headquarters. The day I reached Kolkata was 3rd April. This was the day, final of ICC T20 World Cup was scheduled at India's most celebrated stadium-'Eden Garden'. To my surprise, I was within a kilometre distance from the stadium. From my Guest House Balcony, I could see fire work from stadium lighting whole of Kolkata Sky. This was just enough to make fresh enough for my internship.
On very first day, I received first lesson of corporate life. Our CHRO told us that, when you will make any recommendations, assess it on the basis of feasibility of implementation with context of organization and sustainability of it. Within very first interaction, bar was set that recommendations from summer trainees should be something Star Cement Leadership team has not thought about. This was the scale, against which each summer trainee would be judged.
In Induction, we met some of senior members of Leadership team of Star Cement, including CEO.The interaction with CEO was an opportunity of lifetime.
In the first week, I finalised scope of project. To my surprise, he agreed to give me project in my area of interest. Talent Acquisition was my first love when I joined HR. In my view, person from Talent Acquisition team is somebody who has to understand everything from Business Strategy to people practices of organizations. He/she has to talk the language of Technology when he is looking for Chief Technology Officer (CTO). At the same time he/she must be aware of finance & Accounting, to be able headhunt next vice resident to lead Finance & Accounting.
With this thought running at back of my mind, Corporate HR Head handed over me the project where I have to analyse the effectiveness of Talent Acquisition process and recommends necessary strategy to move ahead.
Star Cement successfully completed ten years of operations. With short span of 10 years, Star captured highest market share of 26% in North East, with highest EBITA margin. As Star was looking for another decade of transformation as it would expand into Eastern India. Star needed a solid Talent Acquisition Strategy in place to attract high quality talent from cement industry to grow organically in Eastern India.
As I started initial thought process, I was entering into loops of lock jam. The main question was about framework that will help in analysing talent Acquisition process. Every time I came up with some answers to know for myself the need for another data collection. I made value chain map of activities in Talent Acquisition. As human resources moves from each stage of Talent Acquisitions, I analysed which are value adding steps and which are value enabling steps.
With this background work of around one half week, I meat HR Head to present my first set of analysis. Though he expressed satisfaction about my work, he told me "this fine but collect more data". In first interaction, he suggested me lot methods to collect data about real life Talent Acquisition process.
In next phase of project, I have to interact with senior members of HR to understand details of process. With this interactions, I saw ground level execution in Talent acquisitions. Recognizing right talent, in accordance with culture of organization is something that cannot be felt until you are part of process. Lots of Tacit understanding is required to judge whether person will add value and take business to next logical step.
With this my midterm review with HR team was approaching. While I was trying to set project in right perspective, I was supposed to present work to HR team. To my surprise, I was told at 10:30 AM in morning that there will be presentation with HR team after one hour. Being ready for presentation in such short notice was difficult. This time, Toastmaster's impromptu speech was only thing, I could fall back to. I presented like this, a brief summary of my work in first four weeks, next -plan for remaining one month. This was the presentation which turned out be an exercise in which everybody got curious about the project. Almost everybody, from Corporate HR Head to Senor Managers were engaged in presentation.
After this, my framework for project was approved and I was told to visit Guwahati to meet Leadership team in North East. The opportunity to visit Guwahati was big boost to my project as it was confirmed that project is being valued by the Star Cement. Company decided to incur cost of my visit to Guwahati and my stay over there. With this visit, I understood the essence of working from headquarters and from other locations. At headquarter, view of organization is more unified than at other locations. Person sitting at headquarters have to empathize with people at other locations.
After coming back to Kolkata, I had important work of analysing data to arrive at specific recommendations. With Initial hesitations, I found analysis giving certain trends. I discussed initial finding with my mentor. With my initial analysis, he added more facets as he also saw major milestone coming.
With my final week approaching, I was collating everything and simultaneously working on final presentations. This time I have to be ready with lot of preparation.
Finally the D day arrived. For presentations round, all senior member of leadership team were present. Getting time from these people was challenge for everybody who works with them. Presenting in front of such senior managers was again a big challenge. If they find something, which is not of importance to them, they may stop the presentation in between. With this thought, I was bit nervous at the start of presentations. With some time into presentation, I realised that, all the manager were quite engaged in project discussion. As talent acquisition was important issue in organization, everybody was engaged in my analysis.
As I saw out of the window from conference room at the end of presentation, road was wet with shower of monsoon. With outside weather looked all changed from scorching summer heat, I realise that this internship experience was indeed a life changing experience. This experience gave the confidence which was boost to my second year MBA. The roller coaster ride of difficulties has ended in appreciation; which will remain with me for my entire professional career.