Novelty Personified – IIM Kashipur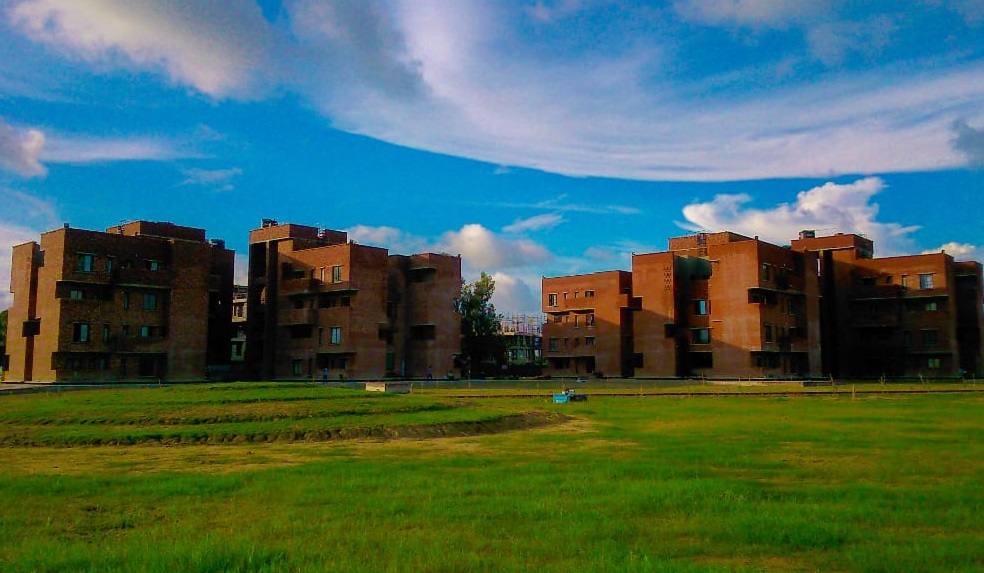 IIM Kashipur, a statement which draws a picture of a beautiful space in the hands of nature. Lush green fields, surrounded by mountains, it is the only B-school which gives you an eternal joy of living in nature's lap.
What does a student of business school expect from his/her stay in the college? Corporate lifestyle, pleasant weather, mental and physical fitness. All these can be experienced during anyone's stay here while the time flies. Rigour is what IIM and top notch B-schools face when classes start. Let me first tell you about how is life in IIM Kashipur and what all is experienced in a span of two years. What all makes IIM Kashipur unique from other B schools is the point we are here to discuss with the flow of story which I am going to narrate throughout. The institute inhabits a large sum of 450 students and is known for the quality of life which it offers during the stay of any student. I am starting with day 1 of my college when I reached the campus, stopped at the entrance and asked to enter the details of my arrival inside the campus, yes the day of registration. A silent breeze hit me when I stepped inside the campus waiting for the new journey to begin leaving everything from a job to home and a completely new place. Two gentlewomen came and shook hands with me. I was all above to the next level of my thoughts while they welcomed me. They congratulated me for making it to IIM Kashipur.
Then, the next interaction was with the guards who were retired military persons, and I was so proud to shake hands with them as I did respect them from the inner core of my heart. Everything was going on smoothly from hostel allotment to interactive session with flatmates. Then came the most important time when I went for registrations with all the new faces around holding my heart for everything to go well. And finally, everything went on step by step from checking upon the documents to allocating my seat in the institute. Rigour- it was one of the things I never knew while coming all the way to join the institute. Seniors called us at night, and the induction started on from the moment itself. We were made aware of the rules of a new batch taking off its pace in the institute premises. We were asked to be in smart casuals- corporate lifestyle began from the moment induction started. Mails were floated in our inbox regarding different schedule and assignments were given. Every day of induction was a new beginning of our journey to know the corporate world outside the college. Each day we had classes till 6:15 PM and the induction started from 8:10 PM onwards. We were called to the auditorium in formals which brought us so close to the daily lifestyle of a professional. Every day there were clubs, committees and cells presenting in front of us and asked us to pitch our assignments floated in our emails at 4 AM in the morning. Assignments and no sleep made us live the sphere of life we had never been into. We hardly had 2 hours of sleep, and many of us slept during lectures; some people dozed off to get a couple of minutes rest. The assignments floated to us were in the interest of our own personal development, whether it was to manage time or get new skills embedded inside us. Scolding from teachers was yet another thing which we experienced during these days of induction. The furious reactions of seniors made us an individual manage things very comfortably after a week of induction. Sometimes we were called in the morning to have sports as a part of our curriculum to keep ourselves mentally and physically fit during the process. Lots of people complained, and we experienced idleness when a single day off was given as a consequence of our behaviour to the induction program. Above all the rigour we experienced the only thing which gave us pleasure to stay in the campus was extending grasslands and surrounding forests. It is the only IIM in which has a location advantage, not regarding corporate outlines, but a place where one can see the clouds hovering above the mountains and tourist destinations all around.
We are 80 km from the purest form of nature and 30 km from the heart of animals, Jim Corbett. No IIM has evolved so much in the such a short span of time setting up its own campus functional within six years of establishment. Moreover, we have tie-ups to send students abroad for studies and experience the different B-Schools competitions. Not only in the fields of academic, but we individuals have grown crazy showing talent in various fields. The living atmosphere here rejuvenates our mind to go with the flow and constant workload.
Talking about the academics, the Institute offers the human library that is only present in two of the IIMs. Moreover, it provides a beautiful infrastructure extending its arms in the middle of green fields. Talking about sports, the Institute offers a tennis court, badminton court, boxing and gym facilities and much more. The lightest game and to remove stress is frisbee in which student participation in large numbers. The institute also has an incubation centre which is not present in most of the business schools. Moreover, it has 13 Bloomberg terminals giving students a chance to study living in the market space of the finance world. Talking about the hostels, it has single occupancy, and the unique thing about hostels is that we have radiant cooling technology which overall saves lots of electricity. Another uniqueness arises with a common room for every floor constituting six students which offer a great space for group discussion.
Rigour is what makes us tough, and nature is what rejuvenates the mind to swing with the greatest minds of the nation. The only IIM established in nature with services that extend to give tough competition to other business schools.
Which ABG company would you want to work for and why?
I would want to work for Hindalco Industries Ltd. which is a subsidiary of the Aditya Birla Group. After the acquisition of Canadian company Novelis the combined entity has become the world's largest rolled-aluminium producer. I have done my B.Tech in mechanical engineering, and I want to brush my knowledge with the industrial activities which are carried out. It will always be a pleasure to manage everything around in the fields where you can explore your readings and have a practical understanding of the subjects which have been my resources during my graduation. I also want to work in this particular company as it is the largest producer of rolled aluminium and one of the best in place for young leaders to grow and uplift the company.