Over 900 Take Part In SIBM-B's Revelation 2017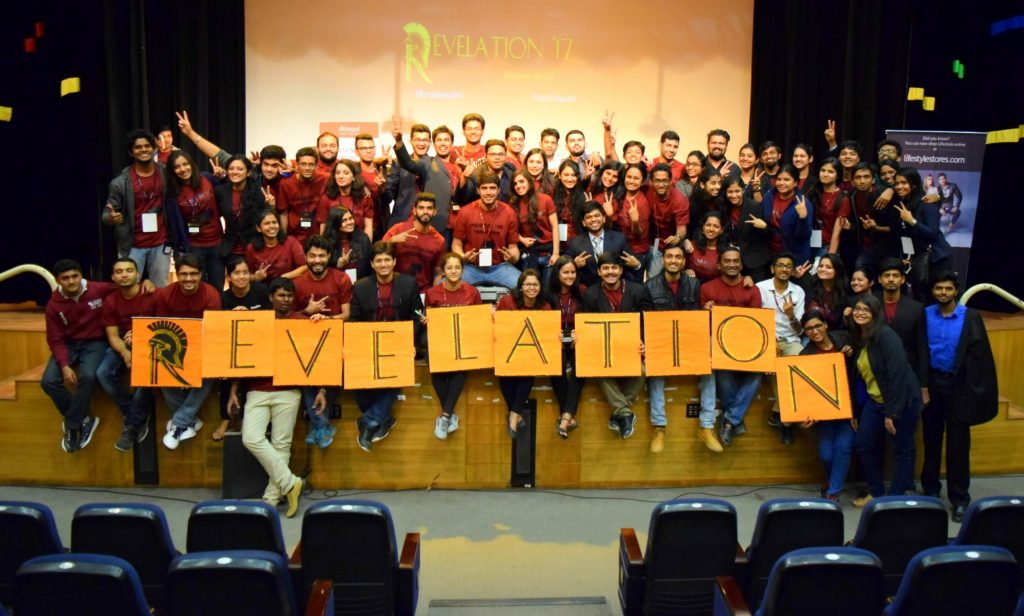 One Battlefield, Over 900 Vanguards at SIBM Bengaluru
The Flagship Event of Symbiosis Institute of Business Management (SIBM), Bengaluru -Revelation 2017 ended on a grand note on 22nd January, 2017. The three-day Management and Cultural Festival, which started on 20th January, had approximately 900 participants from around 48 colleges across the country.
The fest had three categories of events – Management, Sports, and Cultural, consisting of 20 sub-events that were conducted on campus and across the Electronic City.
Revelation started with the Singing competition – Rhapsody, in which participants with mellifluous voices mesmerised the audience. The event had both solo and duet performances and three contestants were shortlisted for the finals. Leona Jennifer, winner of Rhapsody quoted, "It has always been my dream to perform on a platform which encourages students to follow their passion along with their academics."
This was followed by some of the most scintillating dance performances by various teams in Razzmatazz – The Dance event, which had participants from various colleges in and around Bengaluru. Team Footprints from R.V. College of Engineering and Team Rhythmic Eagles from Amrita School of Business were the winner and 1st runner-up respectively.
One of the highlights of this years' Revelation was Fbb Campus Princess, which was the 'Road to Femina Miss India 2017'. The event was judged by Ms. Sushruthi Krishna, crowned by Bollywood's heart-throb Shahrukh Khan as the 1st Runner-Up of Fbb Femina Miss India 2016. The ramp was lit on fire by gorgeous young women who cat-walked with dreams of becoming the next Miss India and Ms. Ria Nalavade, a 17-year-old youngster from DPS East Bangalore, went a step closer as she won the title of Campus Princess Bengaluru Edition. Ms. Sushruthi also quoted, "Femina Miss India has helped me grow as an individual and enhance my personality."
Revelation 2017 continued its quest to cover all aspects of a cultural event through a fashion show – En Vogue that was judged by Mr. Madhu Mohan, Finalist of Mr. India 2016. Teams from various colleges set the stage ablaze displaying their Prada sense and their stylish moves as they streaked across our 'Runway'. The winners of the event were from the host college itself, Team Paparazzi from SIBM Bengaluru.
One of the most revered events of Revelation 2017 was Model United Nations in which over 90 participants from across India engaged in debates and deliberated to come up with solutions for the respective countries that they represented.
The Management events of Revelation 2017 included Pratishthan – The Business Plan Challenge, Symposio – The National Research Conference, and Concours – The Business Quiz. The marquee events of Revelation 2017 pertained to the 4 main specialisations of Management- Finascere (Finance), Markquest (Marketing), Opvorhuts (Operations), and The Prime Cohort(Human Resources).
No management event is complete without the much-feared Best Manager event – Colossal Clash, which focused on finding a leader who can handle every business challenge under intense pressure. The culmination of this event resulted in the conferring of the title 'The Best Manager' to Nirmal Abraham from DCSMAT College, Vagamon, Kerala.
The final day witnessed a unique event – Wargasm in which participants of the 4 management events and the Best Manager finalists from Colossal Clash had to create a mock company and sell their products on the campus.  
The 'Informals' category of the Fest comprised of two events – Steeplechase, which was a circuitous race throughout Electronic City, in which the teams had arduous tasks to accomplish and Causal Nexus, which included a whimsical clash of fun-filled events. Revelation 2017 also had a variety of Sports events – Hoops (Basketball), Futsal (Football),and Smaash(Badminton). Game-A-Thon – A unique gaming platform was also setup to satiate the hunger of gaming aficionados.
Euphony a.k.a the 'Battle of the Bands' witnessed the participation of 9 music bands from in and around Bengaluru which performed both heart-felt melodies and earth-shaking rock songs. The battle was won by Ricky And The Others who performed 'The Lion Sleeps Tonight' by Tokens.
Every Symbian believes that a DJ party can work miracles when it comes to celebrating. Hence the fest ended on an electrifying note with White Noise – the Pro Nite of Revelation 2017 featuring a 20-year old DJ Adrian Lewis and DJ Rohan Kapoor who has played at Sunburn along with World #1 DJ David Guetta.
This year Revelation 2017 escalated to a bigger, better level and we have to give due credit to our sponsors: Lifestyle Stores – Co-Sponsor of Revelation; Dineout – Dining Partner; Safexpress– Official Supply Chain Partner; Avon Cycles – Prize Partner; Linc Pens – Stationery Partner;Smaaash – Entertainment Partner; Career Anna – E-learning Partner; Playstation & Gamineazy– Gaming Partner; Raw Pressery – Cold Pressed Juice Partner; Indigo FM – Radio Partner;ShopClues – Online Shopping Partner; Wow Momo – Food Festival Presenting Partner;Resonance Studios – Music Partner; Zivario – Online Jewellery Partner; Indigo Nation – Style Partner; Freshmenu – Associate Sponsor for Colossal Clash; Furtados – Gear Partner for Euphony; Taco Bell – Taco Partner; Oyo Rooms – Hospitality Partner and Burger King –Burger Partner.
Overall, the symphony of events at Revelation 2017 justified the theme 'Vision of the Vanguards'. The immense passion of the participants to perform and excel at Revelation 2017 cannot be held together by generalisations of any kind.
Nancy Negi, coordinator of Extra Curriculars Committee, the organizing committee of Revelation 2017 quoted, "Revelation being one of the biggest festivals of the college, every volunteer had put in their efforts to make this fest a huge success and we witnessed the great results in terms of footfall, participation and the feedback we received after the event. This year's execution of the fest has clearly become a benchmark for the years to come."
About Revelation:
Revelation is South India's most resonating Management, Cultural, and Sports Festival driven by the confluence of Analytical and Creative minds at SIBM Bengaluru.
Blog: http://sibmbengaluru.blogspot.in/2017/01/Revelation2017.html
SIBM Bengaluru
Ever since its inception in 1978, SYMBIOSIS has been synonymous with progress. The trend of progress has been continued by setting up of SIU's first campus outside Maharashtra at Bengaluru in 2008. SIBM Bengaluru is now one of the leading B-Schools of the country. The focus, now, is on matching global standards of management education. SIBMB instills a work culture which is unparalleled among various institutions. It provides a holistic approach to management which goes a long way in creating a dynamic identity. Vibrant student associations and committees complement the program with a number of activities involving institute-industry interaction.