Patience Is Truly A Virtue, Is What I Learnt Above All While Organizing A Media Conclave – Communiqué'18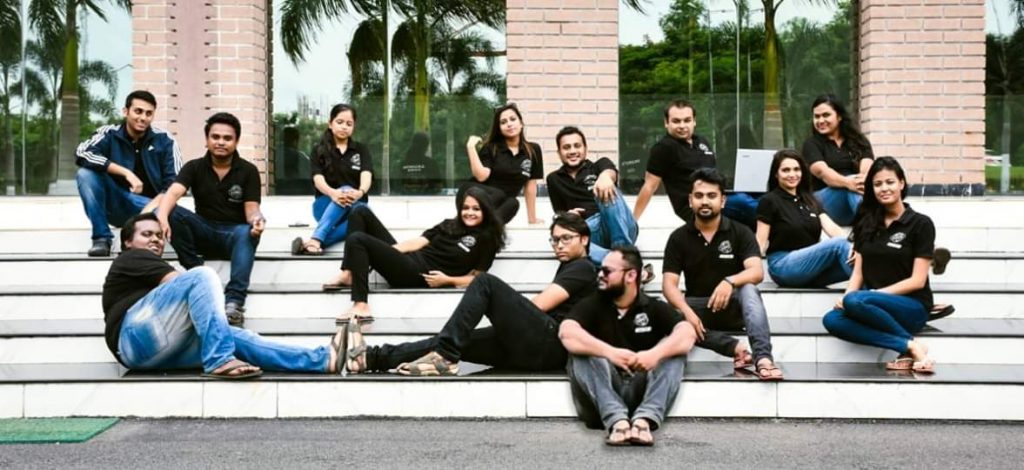 "I disapprove of what you say, but I will defend to the death your right to say it" – Voltaire
Xavier University, Bhubaneswar hosted its flagship Media Conclave – Communiqué'18 XUB on 1st September, 2018. The conclave revolved around the theme of Media: Still a Mouthpiece for Free Speech? Here are some of the insights shared by the Coordinator of IlluminatiX – the Media & PR Cell of XUB, Mr. Ashutosh Deepak Chaudhary, who saw through the entirety of the event. 
There are very few colleges that organize a media conclave. Why do you think a media conclave is necessary for an MBA student?
By the time the students have completed their undergraduate degree as well as go through the arduous journey of preparing for the MBA entrance examinations, it is quite obvious that they must have gained some insights into the country's social and political scenarios. On top of that, it is expected of an MBA student, who is going to step into the corporate world, to have a certain level of understanding about the various issues that are prevalent in the society, so that they can incorporate their own views and skills accordingly, into their respective domain of work. For this purpose, I think it is of utmost importance to have a media conclave in every MBA college, where they can meet with the veterans from the journalism industry, listen to various perspectives, and learn from them, firsthand, how to set a better example from a position of power, and try to be the change they want to see in the society.
What was the idea behind the theme?
The theme of the conclave was, 'Media: Still a Mouthpiece for Free Speech?'. The idea behind this theme was simple, to make our audience aware of the importance of free speech, and at the same time, being cautious of not crossing their boundaries while exercising this right. The presence of the various connoisseurs of the media industry made it possible to achieve that objective as they presented their varied and valuable views on the theme. The audience, including me, were exposed to various perspectives as well as the intricacies of the politics involved behind every false claim and fake news circulating in our country, behind the veil of free speech, which was what we intended to pursue from the beginning.
How is Communique different from other Business conclaves that happen at XUB?
Well, the mention of a media conclave at a management college itself stirs so much discussion in media as well as in the corporate front. There is a difference in the context in which ideas are shared between the media conclave and the other business conclaves. There is an obvious difference in the sense that the committees involved in organizing a business conclave appeal to a certain audience who is familiar with the topics being discussed, owing to their curriculum revolving around the same. However, for a media conclave such as Communique, one doesn't have to belong to a certain branch of study to connect to the ideas being shared and discussed in it. You and I, we are both grown-ups who are capable of debating on a simple and rudimentary concept like "free speech", because we observe so many incidents and events around ourselves relating to these themes, that we are bound to have some perspective on it. Other than that there isn't much of a difference because the same level of hard work and preparation goes in organizing both types of conclaves.
What thought did you put behind inviting the speakers?
We brainstormed a lot when it came to choosing the speakers, specifically for the decided theme. Our whole media team researched day and night to come up with a pool of speakers to choose from. They were chosen based on their credibility first, then we looked at whether their views on the said theme would invite enough questions from the audience or not. As we came down to the final list, came the process of actually getting in touch with them and inviting them to speak for the conclave, which further shortened the list, as most of them had prior engagements. The final four that agreed to come and speak were the exact match of what we were aspiring for because they had varying perspectives, were full of ideas as well as wisdom, and had a lot of experience doing fieldwork in the media industry. All in all, we got exactly what we were hoping for.
How will you relate your experience at organizing this conclave to what you learn as an MBA pursuant?
From the beginning of my journey of pursuing an MBA degree, the most important learning that was imbibed in me, was that of managing schedules. Throughout my first year, I learnt how to manage academics, committee work, extracurricular activities, all at the same time. I learnt to work with teams in which members are as different as chalk and cheese when it comes to ideologies or work ethics, by putting aside our differences, and instead, using them to our advantage. The result is as satisfying as it can get, for I, along with my team have been successful in steering our own media conclave from its inception to its fruition. Throughout the preparation process of the event, I learnt a lot from my juniors who worked diligently to make the conclave see the light of the day, thus enabling us to proudly say that we have given something unique back to our college, in the form of a media conclave. Above all, I learnt to keep my temper in check and not run out of patience, and I continuously made others practice this too.  I mean, that is huge for me, when you get to learn from your own mistakes and pass that learning onto the future batch, who will do the same for the successive batches.
Xavier University Bhubaneswar (XUB)
Xavier University Bhubaneswar (XUB) was established in accordance with the Xavier University Act 2013 and was inaugurated on the 7th of July 2014. XUB is India's first digital University and an institution of higher learning for imparting professional and technical education. It is a self-financing institution imparting professional and technical education. XUB has 8 Schools that offer world-class education in different fields. XIMB offers an MBA in Business Management, Global Management and Executive programs. Xavier School of Human Resource Management (XAHR), erstwhile XIMB-HRM, offers the MBA-HRM program. MBA-RM is offered by the Xavier School of Rural Management (XSRM), erstwhile XIMB-RM. MBF- Master of Business Finance is offered by Xavier School of Commerce, MBA-SM by Xavier School of Sustainability (XSoS) and MBA-UMG by Xavier Center of Urban Management and Governance. The Xavier School of Sustainability, Xavier School of Commerce, Xavier Center of Urban Management and Governance, Xavier School of Economics, Xavier School of Computer Science and Engineering, and the Xavier School of Communications offer different postgraduate and undergraduate programs.