Preparing for a mobile first world by Mr. Nilay Arora – Country Head, WeChat India

On February 13, 2015, Vinod Gupta School of Management, IIT Kharagpur had the privilege of hosting Mr. Nilay Arora – Country Head, WeChat India, as part of Vaarta'15 series of guest lectures.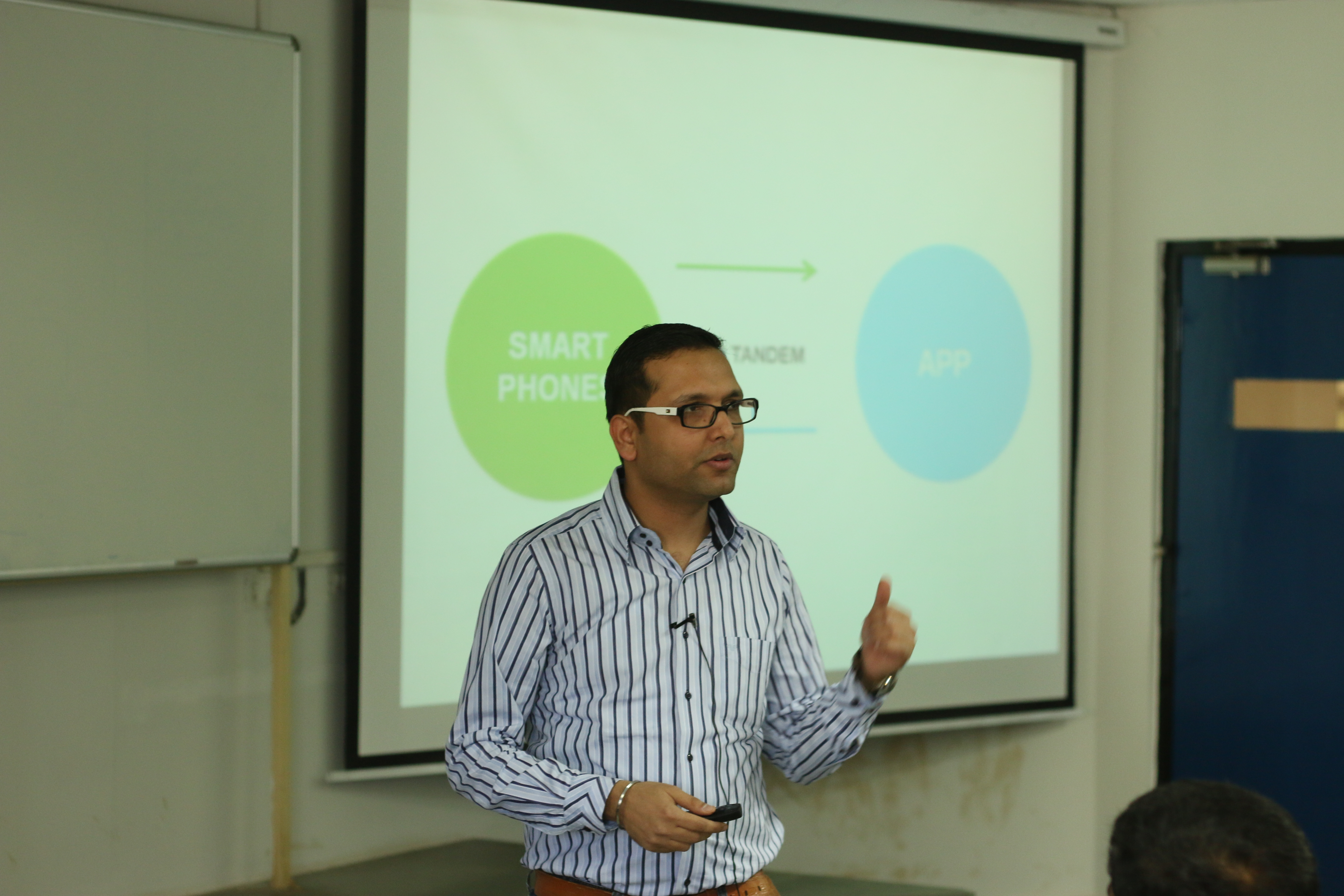 Mr. Nilay Arora who has completed a Strategic Management program from Harvard University, has had successful stints at Radio Mirchi, HT Media Ltd and IBIBO group before assuming his current role at WeChat.
Mr. Arora, started the guest lecture with a short quiz, where he asked the students about recent mergers and acquisitions, market figures and names of founders in social media, and mobile-app market. After this, he explained how the Indian consumer shift has happened from mobiles to smart-phones to internet enabled smart-phones. He further explained that 30% of smartphones in India are not internet enabled and consumers were now largely moving towards internet enabled phones.
According to Mr. Arora, a major chunk of Indian population experienced internet first on mobiles and now mobile phones are driving the "Indian Internet Story". He explained the difference between experiencing internet via browser and through an app and how a lot of people in India are moving towards app based Internet experience.
He also explained the concept of app-on-app in smart phones, which involves a mini app inside an existing app, where the existing app acts as a base and the mini app has its own functionalities within the existing app. He gave examples of apps like TenSports and Amazon present inside the WeChat app and how the world is moving towards that concept.
Mr Arora also demonstrated how WeChat is different from its competitors and innovation is at the core of WeChat. He went on to clear a lot of questions asked by students related to applications, smart phone security, application encryption, future of internet based smartphones, wearable devices, smart home technology, the debate regarding VOIP and many more such topics.
He concluded the lecture by advising the students to follow their passion and do what they love to do. At the end of this enthralling session, the students were left with a lot of key take-ways and knowledge about upcoming trends in mobile-app world.
VGSoM Kharagpur
The Vinod Gupta School of Management is a business school in India. It was established in 1993 at IIT Kharagpur and was the first management school to be set up within the IIT system. It was initiated by a distinguished alumnus and a Life Time Fellow of the Institute, Mr. Vinod Gupta. In the year 2018, VGSoM completed 25 glorious years of its existence as a premier B-School of India. Today it is consistently ranked as one of the top 15 Institutes for business management in the country and boasts of a list of illustrious alumni holding prestigious positions in companies across the world.