A very famous monologue from a Bollywood movie – 3 Idiots
Farhan's Father: - Farhan, aaj tumhara
interview tha na?
Farhan: - Main nahi gaya, main engineer nahi
banna chahta abba.Mujhe nahi samajh aati engineering,
Farhan's Father:- Arre kamaoge kitna uss
jungle mein.
Farhan: - Abba stipend jyada nahi hai lekin
shikne ko bahut kuch milega.
Farhan's Father: - 5 Saal baad jab apne dosto
ko gaadi kharidte, apna ghar banate
dekhoge toh apne aap ko kosoge.
Farhan: - Engineer banke frustrate ho
jaaunga toh zindagi bhar aapko kosunga,
bahtar yahi hai na apne aap ko kosu abba.
Farhan's Father: - Arre hassenge log, kahenge
ki final year mein aa kar choard diya, who
apne kapoor sahib kah rahe the ki khush
kismet ho ki tumhara beta ICE mein padhta
hai, who kya sochenge??
[caption id="attachment_44127" align="aligncenter" width="300"]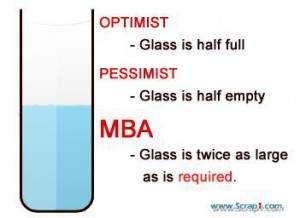 Picture Source: www.scrap1.com[/caption]
In order to get admission into an IIM – a student writes CAT and on the basis of his score, he gets shortlisted to one or more colleges. He then has to compete with best of minds in multiple selection rounds – Written ability Test, Group Discussion and Personal Interview. These stages are designed to test a person on his/her writing skills, analytical abilities and communication skills. A student forced by parents to do MBA can easily decide not to bring out his skills in any one of these stages of admission process. These stages are designed to ensure that only the students capable of handling the rigor of MBA program are selected.
Having said that, lets assume that a disinterested student gets selected even after going through all these stages and he enters one of the prestigious IIMs. Next he/she will be bombarded with activities to do. Committees and clubs start their selection processes, classes commence, professors are hell bent on making one's life miserable by giving assignments, group projects and presentations to work on. There will be numerous corporate competitions and live projects and surprise quizzes. But, hey, one does not need to do them all. No one is forced to do anything he/she does not want to do. Whether it is committee or club or competitions – a student always has an option to opt out of it. He has the liberty to utilize his free time in his own way. In fact he has enough resources to explore various options.
[caption id="attachment_44124" align="aligncenter" width="300"]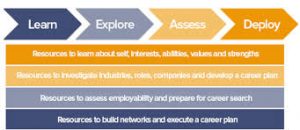 Picture Source: www.mba.illinois.edu[/caption]
A management program is very different from other educational programs in the sense that it is much more than just academics. It provides one with an environment conducive to the student's overall development through the excellent facilities available to students for non-academic development. Academics typically occupy 30 percent of a student's stay in the college. There are committees and clubs for sports, art, dance, music, photography, literary activities, writing, social service, entrepreneurship and the list goes on.
We have various examples of people who have chosen career paths which are not related to management degree yet have been very successful. They have maintained that their MBA degree helped them gain a different perspective. They didn't have to give up on their dream; in fact, they got the courage and a definite path to be able to chase their dreams till they turned into reality.
An MBA degree is not just about hefty packages and lucrative job offers anymore. Ventures like Zostel (first branded hostel chain by IIM C and IIT graduates) are examples where students have opted out of placements to start something of their own. They are not afraid to travel the road less travelled.
Pursuing an MBA doesn't stop you from following your own dreams .So a child refusing to pursue MBA is not doing so because he wants to do something else in his life, he is doing so because he does not really know what his future holds for him.
This post is a formal entry for the InsideIIM Debate 2014.
Team-mate's Name: Swati Thakur