Red Building Of Dreams – Amjad Ali, FMS Delhi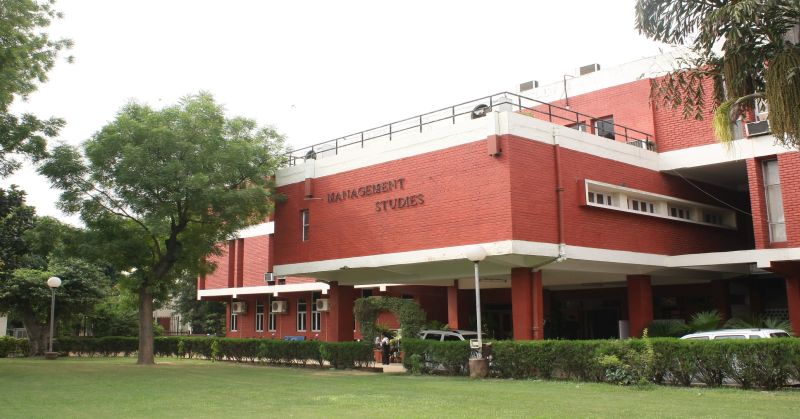 Faculty of Management Studies, Delhi is one of the premier business schools in the country. It is in the league of the ISBs and IIMs. What sets it apart is probably the surprising scarcity of resources and the lack of sprawling, spacious infrastructure.  It is a little red building on the north campus of the University of Delhi. But it is actually bigger than it looks. The fact that 400 odd people are crammed in this campus on most days is a testament to that. This leads to unavoidable interactions with our peers and seniors. This I believe has contributed to the synergy of the campus.
The most memorable classroom experience which I have had at FMS has to be the time when we were asked us to send a photo showing us engaging in any sport of our choice, which would be displayed on the screen. Many of the people had sent pictures in gyms, which was already really funny. But then at the end, a picture was put up on the screen as sent by someone. It had on it, a quote by Jessica Simpson saying shopping was the only sport she played. Obviously, the person behind the submission got an earful but we got to laugh out loud a lot.
Introducing a few of my crazy batchmates
Aditya Bhale: He is quite an amazing character. He has done his masters in Tabla, is a great singer and is a state level footballer. He has his own football club for kids and has also has worked in the education sector for 3 years. But how?
Boda Manoj: He did his graduation from IIT Madras in Mechanical engineering. Then worked at PwC as a fintech strategist and at Deloitte in innovations as he likes to remind us all from time to time. He is a quite carefree person and is the guy who sends that quote about sports that I have mentioned above.
Manu S: He is from my own state of Kerala. He is also one of those crazy all-rounders. He is a badminton player and instructor. He also plays football and is also trained in Carnatic music. How do these people do it?
Yazzali Midhun: He is from Andhra Pradesh and studied at IIT Bombay. He is a tall, lanky, dusky guy sporting a moustache. It's fair to say that people would mistake him for my uncle if they see us together. But as it turns out, the guy is an amazing dancer and I have no idea how he moves like that.
Which ABG company would you like to work for and why?
I would like to work for the entity that comes out of the Idea-Vodafone merger. Idea was one of the biggest telecommunication players in the country. Now with the new merger, the resultant entity would be the biggest telecom player in the country and it should be exciting times. The fact that I am an Electronics and Communication engineer is also a reason for my interest.
Placement Cell FMS Delhi
Established in 1954, FMS has been a pioneer in India offering management education. FMS has the unique advantage of being a premier 'B-school' in a University milieu and in the national capital, thus offering valuable opportunities for our students in interdisciplinary learning and to undertake live projects from national/ international organisations. FMS is proud of a long list of illustrious alumni. It has rich legacy and history of producing World Class Business Leaders who are ranking stalwarts in Top MNCs across the globe.