Red Building Of Dreams – Maruthi Ram, FMS Delhi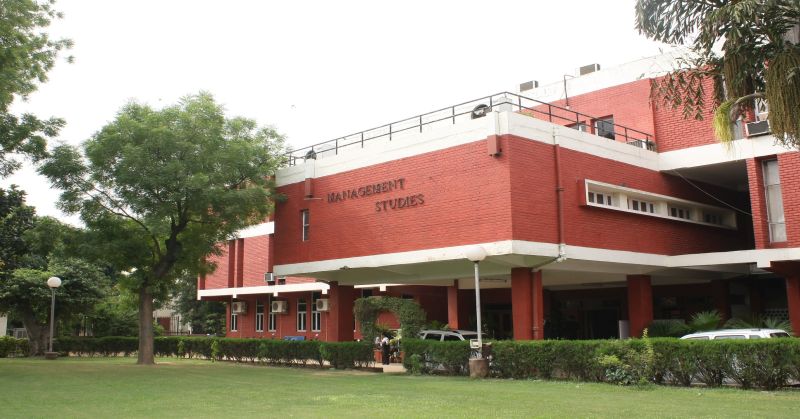 I am an MBA first year graduate from Faculty of Management Studies, Delhi University. My college is unique in a number of ways, when compared to many B-schools across India. For one, it is one of the very few colleges to offer an MBA degree rather than a diploma. This is because we are in a university setup, by which we can interact with a lot of other faculties and this gives us a scope to widen our horizons. Most of the students here also live in flats by themselves, unlike hostels which present a unique challenge in collaborating for group projects, assignments and case studies. This makes us better managers than most other B-School students, as we learn the art of time management as we learn it right from here. These are some of the unique things about FMS, Delhi.
A memorable classroom experience in my B-School
Students from FMS have very good experiences in classrooms. Being from the first year, in the short time I've attended classes, one incident stands out. In our Information Technology Management class, we were given a task of making our id cards by our professor. She would review some of our submissions randomly, and one particular submission caught her attention. She asked my classmate who submitted it show it to the whole class, so that every one of us could learn from it. This guy enthusiastically showed it to each and every student in the class and in the end, the professor asked us to never do what was shown to us. The laughter this generated in the class was something I'd never forget. This is one memorable classroom experience of mine from FMS.
Introducing- some of my crazy batch mates
The following are some of my crazy batch mates:
Bonda Manoj: Bonda Manoj or Manoj as we call him is from Guntur, Andhra Pradesh. He is an engineer from IIT Madras, and worked in PWC and Deloitte for two years before joining FMS. He is a talented actor and can recite Telugu poems like no one does. He is also a witty and fun person to be with.
Vamsi Krishna: Vamsi, a dear friend of mine is from Visakhapatnam, Andhra Pradesh. He is an engineering graduate from Andhra University. He worked for a startup prior to joining FMS and is one the most sarcastic persons I've ever met. Being a witty person myself, we have had some very good conversations our friends couldn't decipher. It is always fun to be sitting beside him in the classrooms, as he keeps the atmosphere around him fun filled.
Akshada Jagtap Bhagawan: Akshada hails from Mumbai, and is also an engineer. She has a 12-month work experience in the hydraulic industry. She enjoys every second of her life and has a positive effect on everyone around her. She is very poised to the extent it makes her crazy. I've never seen her being grumpy throughout the times she is here.
Sandeep Khanna: Sandeep was born and brought up in Chennai and completed his civil engineering from Sastra Deemed University. He is straight out from college, and also gave his CFA level 1 exam in June 2018. He has dreams of becoming an Investment banker. Also, he is a live wire, and I've never seen him go dull in the entire hectic schedule we have here. He does his work with passion, and I hope his positivity rubs off on me while I'm here for the next two years.
ABG company I would want to work for
I would to work for ABG Capital. I want to become a Portfolio manager and I think ABG capital would be a good place to start my career in portfolio management. The work ethics and the ethos of the company echo my thoughts, and I'd be a good fit in ABG capital. The work culture in ABG as a whole is valued in the industry circles, and I would like to work in a company which is respected in the country. I am a loyal customer to a product I like, and would like to build my professional career in the similar fashion. Also, being a conglomerate, the company can give me opportunities to grow organically within the organization. Naturally, this would give me a chance to work in the same company for a prolonged period of time, and build my professional skills too. These are my reasons to work for ABG Capital.
Placement Cell FMS Delhi
Established in 1954, FMS has been a pioneer in India offering management education. FMS has the unique advantage of being a premier 'B-school' in a University milieu and in the national capital, thus offering valuable opportunities for our students in interdisciplinary learning and to undertake live projects from national/ international organisations. FMS is proud of a long list of illustrious alumni. It has rich legacy and history of producing World Class Business Leaders who are ranking stalwarts in Top MNCs across the globe.