Red Building Of Dreams – Sayak Manna, FMS Delhi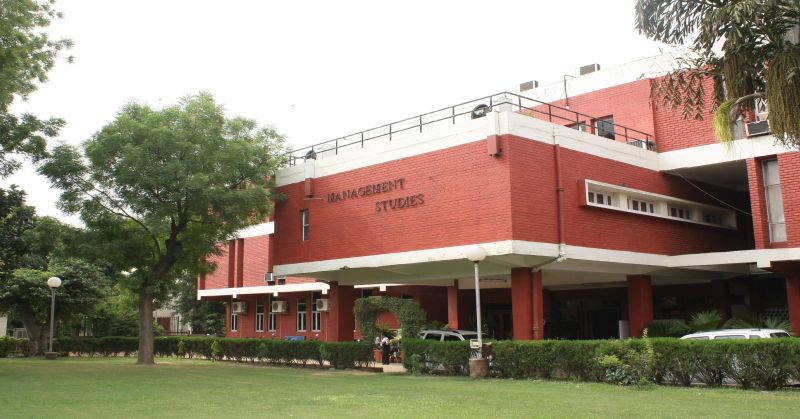 There are a variety of factors that make my campus unique. The "Red Building of Dreams" as it is called, is the place where dreams are born, rather than made. The classes from 9:30, hungry faces hustling at the canteen at 10, in search of breakfast during just a 10 minute break, further sessions, and then again fighting for lunch at 2, further sessions and classes, guest lectures and what not, with the day ending at 9, is a normal day at FMS. What makes is different from other colleges is the fact that people stay back in college, instead of going back to their rooms at their hostels, we huddle together and discuss personal and professional stuff. So basically, we stay at our college for a minimum of 12 hours, if not more. The scarcity of resources, the lack of infrastructure, the dearth of hostels and accommodation, has made us competent to deal with the adversities that we might be facing later, making us ever prepared to face the harsh realities of life. All the factors not just make us competent, but increase the bond between the students as well, from both the junior and senior batches. Ours is a small campus, so that enables people to be physically close as well. Our campus is located in the heart of Delhi, which makes it accessible to all the amenities of the city, being it the fancy restaurants, the tourist spots, the hustle and bustle of a metropolitan city. Also being in such a small city, it gives the students access to a wide variety of live projects with both big and small corporate. We also have a Table tennis room and a badminton court to chill off in between sessions. Our canteen is one the most famous around Delhi University, providing food at exceptionally affordable cigarettes. Thus, all of this makes our campus one in a million.
A memorable classroom experience in my B-School
One of the most memorable classroom experiences in my B-School would be an event conducted by the Alpha Investment and Research Club of our college, in which we got an idea about how to trade in stocks, and about how the market works, and about how macroeconomic factors would shape the market. We were all given an initial fund of 10 lakhs and we offered stocks from 10 different companies, panning across a wide range of industries, both core and non core. We were required to place our bets, and use out money in a way we deemed good for us. Then we were given a buffer period of 6 months, and the macroeconomic and political and other events occurring during the time period. Then we would have to analyse how the different industries would get affected, and how the markets would fare, and then place our bets accordingly. And then after simulation, we would get the exact figures of how the market scenario changed, and how the stocks exactly were affected. This went on for 10 periods, and the team with the highest margin won the event. What was amazing during this event was that not just was it a high-paced and enthralling event, but also, it taught us a lot, in a very fun filled way. So, that was definitely on the best classroom experiences we had.
Introducing-some of my crazy batch mates
RishiRaj Biswas : An IT Engineer from Kolkata, studied at NIIT, and then worked in Chennai in an IT firm for a couple of years. A hardcore Bengali by heart, he loves to rap, and does the occasional playful rap gigs, and wants to perform on a big stage someday.
Vipin Chamaria : A Delhiite by heart, and a hardcore gym freak, has been regularly gymming for the last 6 years. A Mechanical Engineer by profession, he loves the occasional bout, and has been certifiably trained in MMA, and would like to practise professionally someday.
Soum Halder : A hardcore Kolkatan by heart, Chemical Engineering at one the best colleges in Indian couldn't really pry away his love for culinary arts. Occasional guitar player, and regular cook, he plans to open his own Cafe someday based on a Guns N Roses theme.
Eeshan Anshul :  A Mechanical Engineering by profession, he loves to travel, and has aspirations to travel the whole country by 30. Insanely crazy about travel, he managed a trip to Kodaikanal for 12 people on just 3 tickets. He plans to fulfil his travelling dreams shortly.
Marina John : Another Engineer at heart, but with a crazy affinity for adventure and travel. Was once stranded on the highway, 100km from home, with luggage and wallet left in another vehicle, with a group of 10 friends, who had nothing but themselves to go to. So, what did she do? She hitchhiked back home 100kms, underlining her insane desire for travel.
The ABG company I would like to work for
Peter England. One of the top brands in professional wear, it provides affordable professional wear for working class people and students alike, making it hugely popular among the masses. It has a classy advertisement campaign, that connects to all, and never compromises on quality inspite of being an affordable brand.
Placement Cell FMS Delhi
Established in 1954, FMS has been a pioneer in India offering management education. FMS has the unique advantage of being a premier 'B-school' in a University milieu and in the national capital, thus offering valuable opportunities for our students in interdisciplinary learning and to undertake live projects from national/ international organisations. FMS is proud of a long list of illustrious alumni. It has rich legacy and history of producing World Class Business Leaders who are ranking stalwarts in Top MNCs across the globe.