Rewind, Relive At Samaagam 2016 – SIBM Bengaluru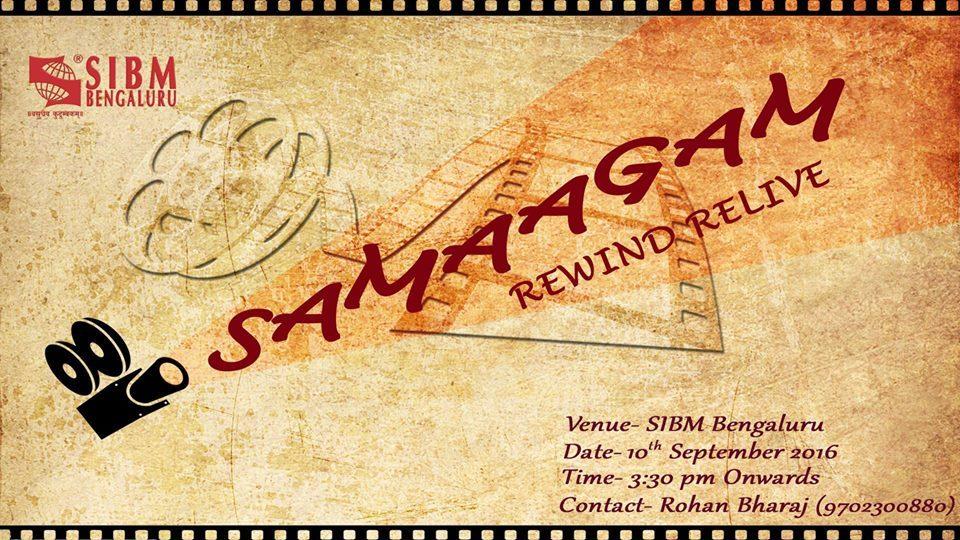 Symbiosis Institute of Business Management, Bengaluru is delighted to host the Annual Alumni Meet, Samaagam 2016 this Saturday, the 10th of September. The theme of this year's event is "Rewind, Relive", which promises our alumni a journey to the good old days and a dive into a fleeting sense of recollection.
Unbound and unconstrained are the two words that bring out the essence of college life like no other. It is the time when people let go of their inhibitions and rise out of their shells to blossom into entities that define them for the rest of their lives. It is a journey that we hold on to, a journey that breaks us and builds us in equal measures, a journey that shall forever remind us of our roots.
Every year the Alumni Committee of the college organizes the event with the motive of bridging the gap between the students and the alumni with the view of positively influencing each other's perceptions about life. It not only enables alumni to reconnect with their alma mater but also inspires the current batch to achieve greater heights.
The event in the past has seen an active participation from the alumni. From cultural activities to fun games, from dinner to DJ night, Samaagam has enough and more to make the alumni reminisce about their past. This year Samaagam is all set to host some stupendous performances by students. JZAA – the dramatics club will stage a play named 'Jijivisha – A desire to live and relive'. Students are looking forward to the group performance of Lethal Bhangra. The music club of the college-Saaz has a sensational performance planned which is sure to take the alumni on a drive down memory lane.
So, this Samaagam, brace yourself to bathe in the surreal reincarnation of the past. Hit the rewind button and take some time out of your lives to relive those unparalleled moments.
We invite all the Alumni to Samaagam 2016. Come home to SIBM-Bengaluru.
Venue: #95/1 #95/2, Symbiosis College, Electronic City Phase-1, Hosur Road, Bengaluru-560100.
Date:  10th September 2016 (Saturday)
Time: 3:00 PM to 10:00 PM
For additional information on the subject of this release, please feel free to contact:
 Mr. Arjun Parekh                                                        Ms. Kriti Khanna
+91 9974277665                                                            +91 9772222082
http://www.sibmbengaluru.edu.in/
SIBM Bengaluru, #95/1, #95/2, Electronics City, Phase-1, Hosur Road, Bengaluru – 560100.
SIBM Bengaluru
Ever since its inception in 1978, SYMBIOSIS has been synonymous with progress. The trend of progress has been continued by setting up of SIU's first campus outside Maharashtra at Bengaluru in 2008. SIBM Bengaluru is now one of the leading B-Schools of the country. The focus, now, is on matching global standards of management education. SIBMB instills a work culture which is unparalleled among various institutions. It provides a holistic approach to management which goes a long way in creating a dynamic identity. Vibrant student associations and committees complement the program with a number of activities involving institute-industry interaction.