'I wish there was a deferred placement option at IIFT' – Sahil Chhabra – IIFT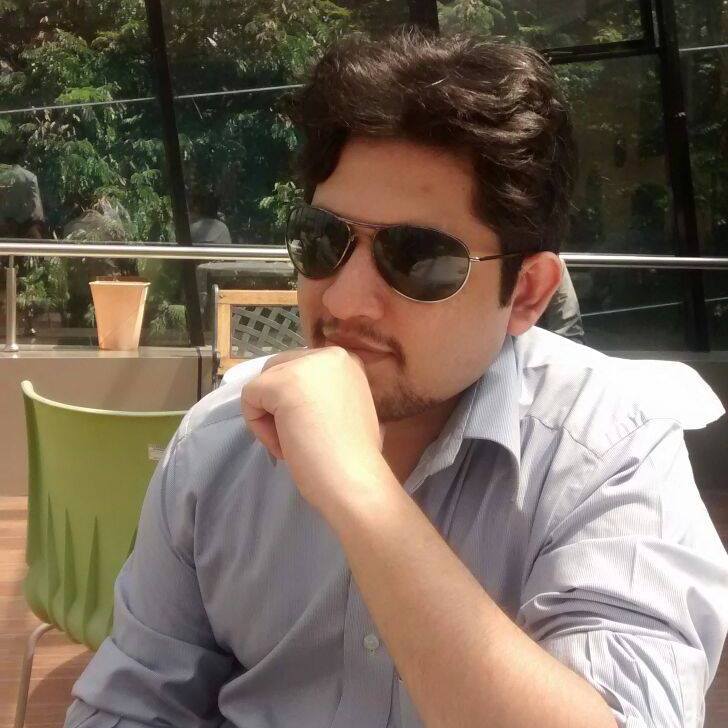 Sahil has been chosen as one of the top 30 most employable candidates across schools and programmes in India for the Class of 2015. He has one of the best 25 profiles among the 66 final round candidates who participated in the Best50 competition. The final 30 were chosen based on a combination of scores for the write-up below and the candidate's resume.
What have you done at your business school which makes you stand out from the crowd?
I came to IIFT with an intention to make my dreams come true. I always wanted to be an entrepreneur. I took the opportunity of learning trade where IIFT specializes and started with exporting handicraft products under 'Taraash International'. We at Taraash have partnered with established not for profit organizations that employ skilled and unskilled artisans majorly from rural areas and generate business opportunities for them by identifying the power markets for their product. We are also planning to get into ecommerce and are currently working on the operations of the same. We have yet not tried for any funding but that would be our next objective. I believe working towards my dream is my biggest achievement.
Apart from the above, I participated in many corporate competitions and have won in most. I (My Team – Smoking Trees and Building Dreams and Victorious Secret) am/is the Campus Winner of Mahindra War Room Season 7 by Mahindra Group, RPG Blizzard 3.0 by RPG Group and Steel-a-thon by Tata Steel, all were strategic case study competitions. I was also awarded as the Best Presenter at Mahindra War Room. Moreover, I was also the Campus Finalist for 'Pinnacle'; by Madura Fashion & Lifestyle (Aditya Birla Group). The cases in the above competitions were of business strategy, marketing strategy, supply chain optimization and of corporate social responsibility.
Taraash International Website : http://www.taraashinternational.com/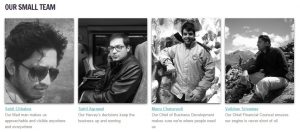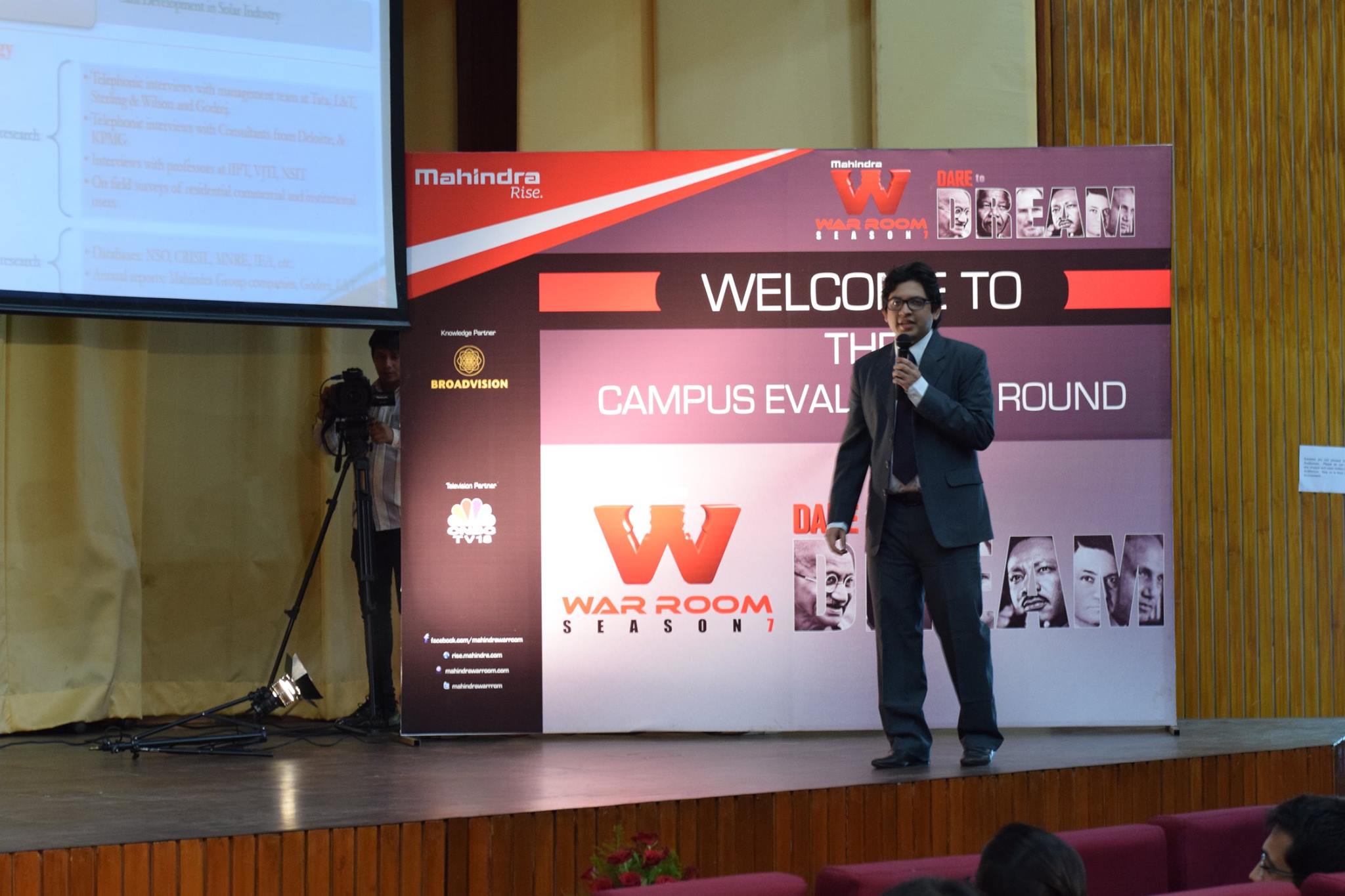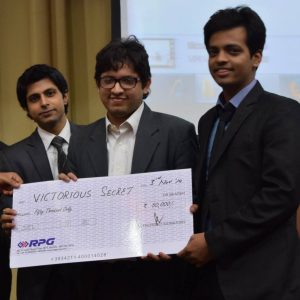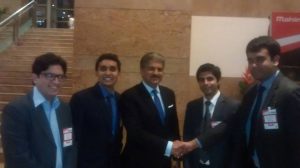 What have you done in your life that you are the most proud of?
I am proud of the fact that I have always tried my best to achieve what I want and more often than not my best is good enough.
After completing B.Tech in Electrical Engineering from VJTI, Matunga, Mumbai I realized I am passionate to be on the business side and I took up the job of Sales Engineer at Godrej.
Having worked in the sales, marketing and new business development profile for around two and a half years and having had a gradual shift from sales generation to formation of sales strategy has helped me grow as a business manager.
I have played an instrumental role in starting an altogether new line of business at Godrej & Boyce Mfg. Co. Ltd by identifying probable joint ventures and developing revenue generation business models. I also laid the foundation for developing International Markets and executed important strategic business associations for the same. I managed to increase the order booking of my division up to three times from 2010 to 2012 wherein my contribution as Sales Manager was 50% of it. I could generate business across segments and geographical locations which helped in diversification. Apart from this, I also handled branding activities.
I was the youngest member of the long term strategy group of my division at Godrej & Boyce Mfg. Co. Ltd. and was also awarded 17 times for contribution towards continual improvement in different areas of operations – 'Kaizen'. I was specifically nominated to attend workshops on Development of Leadership Skills.
My profile has given me entrepreneurial experience wherein I had taken all the responsibilities to develop a niche market and a niche business. I laid its foundation from scratch by developing expertise and strategic tie ups and then focusing on sales and revenue generation.
If there was one good aspect about your school that you could take back after you graduate?
Over a period of time in life, I have realized that the most important thing in life is relationships.I take back with me the most cherished thing this campus could give me – a strong bond with my friends.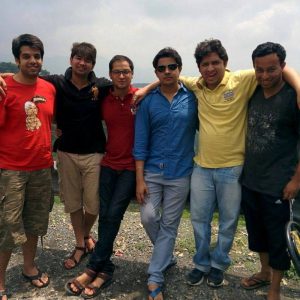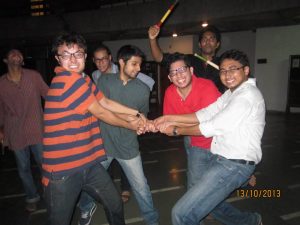 If there was one thing that you could change about your business school, it would be?
Every B school has its own strengths. If we have to be top B School in the nation we need to leverage our strengths. We are the best trade school in the nation. The kind of professors we have, the kind of knowledge we are imparted, I am sure we can create more entrepreneurs than any other B school. Being a school under the ministry of commerce, we can get all the support required for starting a trade business, especially in exports. I think we, as business managers, tend to forget that someone has to take the responsibility of creating jobs in the market. There has to more focus on our niche. I think by creating more entrepreneurs we can try to play in a different field and not compete with the likes of IIMs, XL, FMS etc.
Having a deferred placement option at IIFT, say after two years, would give the opportunity to young entrepreneurs to try their hand at entrepreneurship. I think with the growth of ecommerce in the coming years and the Make in India campaign, there is enormous opportunity in the market.
If you had to open a rival social network to Facebook, what would it be like?
I think one important lesson you learn at B school is the power of networking. I believe networking is not having 'connections' in a virtual world but connections in the real world. I feel a networking site which is a holistic combination of Pagalguy, Facebook and LinkedIn wherein I want to explore the idea of meeting people with similar interests and finding them online, like a website that gives you the option of interacting with entrepreneurship enthusiasts in Delhi. The idea can further be extended by having specific sections like IIFT Batch 2013-15. In short, online alumni database of all colleges.
Creating a more personal forum than professional. A space that is between linkedIn and Facebook.
Who are you – Express yourself
'I'm just a Dreamer who dreams of better days' .Lyrics of The Song 'Dreamer' by Ozzy Osbourne that completely describes me.
Meet the rest of India's 25 Most Employable Management Graduates from the Class of 2015 here