SIBM Bengaluru Gears Up For Utopia 2018 – The International Cultural Fest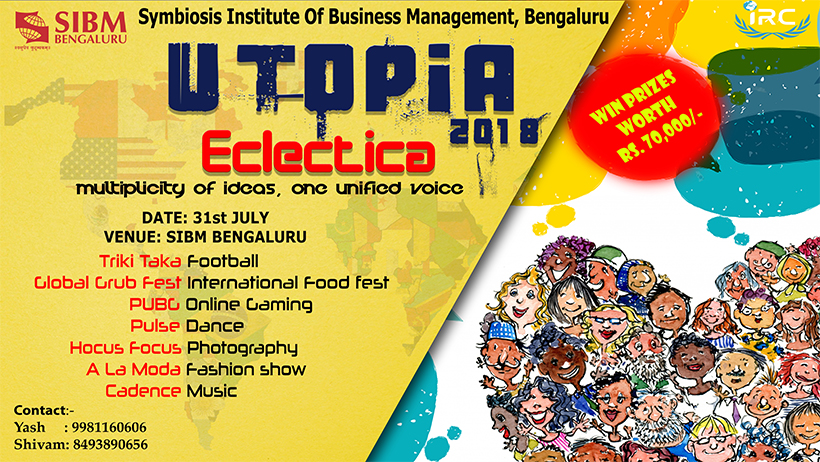 Symbiosis Institute of Business Management (SIBM), Bengaluru is all geared up for 'Utopia 2018'- The International Cultural Fest to be held on the 31st of July 2018 (Tuesday). The theme that underlies Utopia 2018 is 'Eclectica' which translates to 'Diversified Unity'. With the rhythm of many nations resonating across the campus, SIBM Bengaluru will be the instrument that unifies and celebrates the cultural diversity from across the globe.
Organised by the International Relations Committee of SIBM B, the event aims to bring together students from different nationalities onto one platform. Since its inception, Utopia has always acted as a medium to facilitate and strengthen the bond between the Indian and the foreign students, encouraging mutual learning and inspiration. There will also be a blood donation camp on the same day, and this year, the aim is to break the previous record of collecting 226 units of blood.
"Unity in diversity is the beauty and test of civilization." – Mahatma Gandhi
The founder of Symbiosis International University, Padma Bhushan Dr. S.B. Mujumdar, who came up with the idea of a 'Home away from Home' for International students, is an earnest believer of this very thought. Every year Utopia coincides with his birthday and allows the students across the world relive his dream of an inclusive world. This year's theme 'Eclectica' will chisel a foundation of unity from the bricks of diverse elements.
Utopia in the past has seen:
1.      Participation from over 598 International Students
2.      Students from around 23 countries
Event Details:
The following invigorating events are lined up for Utopia 2018:
1.  A la Moda (Fashion Show): Come experience the confluence of diverse styles as international trends come together to express one love for fashion at A la Moda.
2. Global Grub Fest (International Food Fest): Let us meet for the one common passion that unites us all – Food. This year we have come up with multiple cuisines to provide you the taste you crave for!
3. Pulse (Dance Event): Utopia 2018 brings you a chance to move along the pulsing beats of music and dance your heart out!
4.  PUBG (Online game): The craze of PlayerUnknown's Battlegrounds, colloquially known as PUBG has taken everyone by storm on social media, worldwide, at the moment. Those who have not played it yet can start their PUBG campaign online and those who know how addictive it is, what are you waiting for?
5.  Cadence (Musical Event): Utopia 2018 aims to bridge the cultural gap between national and international students through the different rhythms of the globe!
6.   Hocus Focus (Photography Contest): Let your lens be the key to capturing the magnificence of diversity. Utopia 2018 brings you a platform to showcase your hidden photography skills!
7.  Triki Taka (Futsal): It is not just defending but taking it across the midfield to the end of the line and getting the goal achieved. How is this done? When the team is eclectic!
 ____________________________________________________________________________________________________________
Venue: #95/1 #95/2, SIBM Bengaluru, Electronic City Phase-1, Hosur Road, Bengaluru-560100.
Date:  31st July 2017 (Monday)
Time: 9:00 AM to 9:00 PM
Utopia 2018 Teaser:  https://bit.ly/2Ln44qr
Glimpse of Utopia 2017:  https://bit.ly/2mBoBNi
Glimpse of Utopia 2016:    https://bit.ly/2O7YWbP
For additional information on the news that is the subject of this release, please contact:
Riddhi Jasani                                                                                      Saieesha Rastogi
+91 9004351094                                                                                +91 9654053892
SIBM Bengaluru
Ever since its inception in 1978, SYMBIOSIS has been synonymous with progress. The trend of progress has been continued by setting up of SIU's first campus outside Maharashtra at Bengaluru in 2008. SIBM Bengaluru is now one of the leading B-Schools of the country. The focus, now, is on matching global standards of management education. SIBMB instills a work culture which is unparalleled among various institutions. It provides a holistic approach to management which goes a long way in creating a dynamic identity. Vibrant student associations and committees complement the program with a number of activities involving institute-industry interaction.