Alpana (fondly called as Anantha) is second-year student at IIM Calcutta. She rather prefers to introduce herself as a member of IIM Calcutta Sports Council and Volleyball team captain. She loves to be surrounded by crazy people, has a childish tone, but can often command a situation with her 'laser eye' looks.
Hey Alpana, thanks for doing this. Considering the fact that you are busy with many different activities, let's begin right away. Briefly describe the responsibilities of Sports Council?
Hey, the pleasure is mine. No big deal actually. Well, regarding the question, sports council is responsible for the daily sports activities – ensuring coaching and training, looking after the infrastructure, handling sports equipments, etc. Another important role is being a liaison between the admin and students. We also are tasked with conducting prominent annual sports events such as Sangharsh (IIM-ABCL meet), IIMC-XLRI sports fest; from logistics to marketing to sponsorships. We also take responsibility of making sure the college sports teams get sufficient exposure by arranging for participation in nearby college tournaments. This year, we had been to IIM Ranchi for Ignatia and IIM Lucknow for Varchasva. We also organised mass participation in the recently conducted Airtel – Run for education marathon, by availing discounts for students. IIM Calcutta also has intra-college tournaments such as Joka Futsal League, Joka Basketball League, IIM Calcutta premier league. These are handled by separate organising bodies. Yea, before I forget. We also conduct inter-section sports fest during the initial months of college.
What are the new initiatives that have been taken up by the council this year?
We have had Zumba classes which attracted stupendous interest from students. We also conducted martial arts workshops and infrastructure for boxing. Professional swimming coaches were brought in to teach interested students. We also tried to revive Kayaking as a hobby in our campus, the lack of thereof is surprising since we are one of the very few colleges in India to have such facility owing to our beautiful lakes. One other thing we did start was the live screening of important sports matches. The match of PV Sindhu's Olympics finals was well appreciated.
That's great. Moving on, what are the activities being undertaken to improve infrastructure related to sports?
In few years, IIM Calcutta would see a paradigm change in the sports infra. I'm excited about this. A lot of things are in the pipeline. We have had the approval for an Alumni sports Complex. As part of it, a new squash court, synthetic tennis courts as well as a new swimming pool would be created. The complex would also have space which can be utilised for aerobic activities, yoga etc. Furthermore, the football ground is being upgraded by putting up better lights, the drainage system to tackle water issue during rains. Hopefully, a synthetic running track is also around the corner. There is also plan to modernise the gym (making it Air conditioned).
Do students find time to be serious about sports and fitness along with the rigour of academics at Joka?
Of course. C'mon you know we do. There is ample time at Joka to pursue your interests. Over here smart work is a priority. IIM Calcutta prides itself in its bohemian reputation of providing an ideal balance between unparalleled skill development as well as 2 years of unsupervised life to discover yourself as a person. Barring a few, for almost everyone this is their last chance to live student life and hence the availability of sports infrastructure at nearby vicinity. All work and no play make JOKARS dull :p
Which are the games that are played at IIM Calcutta?
The usuals – Cricket, Volleyball, Football, Badminton, Tennis, Snooker, Table Tennis, Carrom, swimming, Basketball, Throwball, Chess, Athletics. Along with these, Footer is also famous – one of the very few colleges in India I suppose. Since past few years, Frisbee, Kabbaddi and Hokey are gaining momentum.
What drives you to be enthusiastic about sports?
One of the reason, I pursued higher studies was to be in touch with college sports. I was pursuing research at IISc Bengaluru after finishing my graduation from IIT Guwahati. One year is all I could hold on there for. I am passionate about sports not just for the sake of fitness, but also the exhilaration that comes with it. I need not tell the character building that sports brings on the table. Passing out of college would definitely leave a large hole in my heart, of which sports occupied a large space. Nonetheless, it has been a fun ride.
Lastly, what other things interest you?
I love playing volleyball, it's the only thing that makes me forget everything else going around. The best team game that teaches you a lot. I can skip anything but not my volleyball practice. I like designing and exploring. Been to all the top places you can think of on the campus. Hence, have a penchant for travelling.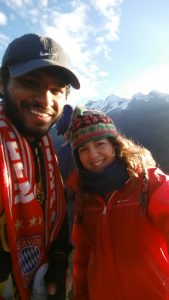 Niteen is a native of a remote town in Karnataka. Currently studying at IIM Calcutta and part of InsideIIM students team. He considers himself a bohemian, wannabe nilhist and a pretentious surrealist. A shore waiting for the tide. He enjoys reading, comedy, comics and movies.