Stepping Out Of My Comfort Zone | IIM Visakhapatnam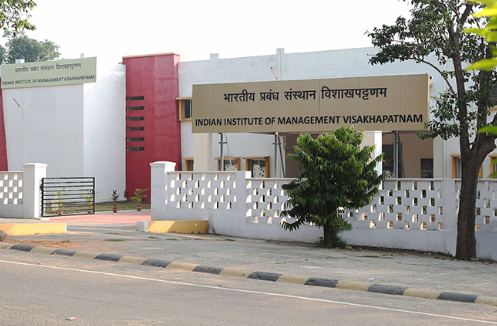 "It is not in the stars to hold our destiny, but in ourselves." William Shakespeare
After strenuous final selection process across different institutes, I was left to choose one from among 4 3rd Generation IIMs I had converted. It was tough for me to choose between IIM Visakhapatnam and other new IIMs.
One of new IIMs I had converted, was just at a distance of less than 500 km from my city (Faridabad), offered me familiarity of cuisine, climate, language and diaspora while at the distance of more than 1700 km Visakhapatnam offered me anxiety as well as the excitement of being in a new, unfamiliar place.
So I took the road one less travelled by. I choose to join IIM Visakhapatnam.
I had graduated in Bachelor of Business Studies from the University of Delhi. And it was tempting to choose IIM which was closer to home. But trying to stay in the comfort zone is not the way to succeed in the Post Graduate Programme.
Visakhapatnam has turned itself from a fishing village in the previous century to an industrial city, the biggest city in Andhra Pradesh. The City of Destiny. And I believe leaving behind the comfort of the familiarity and heading to 'city of destiny' would help me to grow beyond my imagination.
Even anxiety about moving to an unfamiliar place starts to dissipate when I look at how the next two years of my journey would be a transforming experience. IIM Visakhapatnam is being mentored by IIM Banglore, one of the best business school among the whole Asia-Pacific region. So, IIM Visakhapatnam follows the pedagogy of one of the best B-schools in India whether it is a case study, business game simulation, lecture and discussion. Along with it, instructional processes whether related to admission, academic, evaluation etc are aligned with IIM Bangalore. So definitely the standard of management education in IIM Visakhapatnam is among the best and would help me to achieve my full potential.
Another advantage of being mentored is that a significant number of faculty, right now, is from IIM Bangalore. So I would have the opportunity to learn from the best and experienced minds along with one of the best peer groups in the country. Aside from that having different clubs and committee such as ARTquake, consulting club, sports club, Vatsalya (the social activities club), Entrepreneurship Passion & Innovation Club (EPIC) makes campus life vibrant.
Which ABG company would you want to work for and why? 
I would like to work with Aditya Birla Private Equity Advisors (ABPE). PE firm provides not only financial but also management services through which I can understand and learn all aspects related to a company. Another reason is having the opportunity to work across different portfolio companies and learn across various industries. It has already successful exits such as coffee café day, olive bar and IEX in the portfolio as a testament to value creation by ABPE.
I did my undergraduate studies In Bachelor of Business Studies (BBS). I had studied subjects such as investment analysis and portfolio management and have certification related to the valuation of a company. I would be the right fit for the company as I have aptitude and interest for private equity.