Vinod Gupta School of Management, IIT Kharagpur has successfully completed its summer placements for its 21st batch of flagship MBA program students. Despite recessionary fears and unfavorable economic situation, it boasts of a successful summer placement process.
55 students took part in the summer placement process and 100% got paid internships. The batch has a very diverse mix of 32% freshers and 68% experienced with experience range of up to 5 years. The institute has a mix of regular recruiters and some first time recruiters. Out 0f the 40 companies participated in the process, 13 companies are first time recruiters. 62 offers were made by the companies. With a highest accepted stipend of 2 lakh rupees and an average stipend of 57,400 rupees, VGSoM has continuously improved its standard every year. The average stipend has improved by an impressive 18% in these tough times.
Manufacturing and IT/ITES companies have turned out to be the largest recruiters followed by Consulting , FMCG and Automobile.
Going domain wise, maximum offers were made in the area of Sales & Marketing followed by Operations and Consulting. The students were offered challenging roles in the areas of Business Development, Strategy and Research.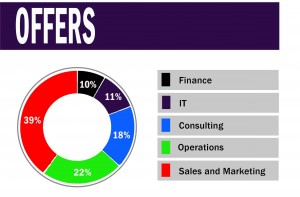 In the consulting sector, regular recruiters Deloitte, Nodwin Consultants and i-Maritime Consulting have recruited about 18% of the batch along with companies like Aditya Birla Group and HP Analytics also a regular recruiter offering roles in analytics.
FMCG, Durables and Logistics
Reckitt Benckiser and ITC our most regular recruiters have continued to show faith in the talent pool at the school and offered profiles in the areas of Supply Chain, Logistics and Sales & Marketing. World's largest shipping corporation Maersk Line continued to participate in the recruitment process.
Recruitment from VGSoM in the area of Banking and Finance have improved this year with giants like Citibank, Credit Suisse, TVS Capital, ING Vysya, Reserve Bank of India, Development Corporation Bank and Bank of Baroda offering niche profiles like credit finance, wholesale banking, corporate finance, credit risk analysis and banking operations. Springforth Capital Advisors offered an Investment Banking profile.
Industry giants like Wipro, Siemens and HP continued their trust and VGSoM and took interns in the areas of Business Consulting, IT Consulting, CRM and Analytics. Apart from them, Adobe offering a Marketing/Strategy profile, Mindfire Solutions offering strategy management profile and Pinnacle Infotech offering a Business Development profile are new additions to the list of recruiters.
Manufacturing & Automobile

Manufacturing traditionally has been the forte of VGSoM and it was no different this year. Tata Motors has continued its relationship with VGSoM and Praxair Group, Agrilife and Suncraft Energy have also joined this year offering profiles in Operations, Procurement, Inventory Management and ERP. This year has been good to VGSoM and marked the start of a relationship with industry stalwarts Cummins and National Instruments which offered roles in Operations, Sales and Business Development.
Apart from these, our first time recruiter Digiqom Solutions offered roles in the area of Social Media and Digital Marketing increasing the diversity of the roles offered.
For full report click here
Overall the process was a success and with a 100% placement for the summers VGSoM has set a benchmark for itself.
(This report has not been verified by the Team at InsideIIM)