I could start this article with how I touched the 99 percentile mark, how I was downhearted with the few calls that I got, how tough it was a decision to join a new IIM and how I landed up at IIM Amritsar. But, I think that is everything that every MBA aspirant feels at some point in time and you all are familiar with these. So, let me take you through a narrative that will make you know these "New", "Baby", "Budding", "Developing" IIMs better and probably help you in selecting a b-school.
I was attending one of my marketing lectures and the professor spoke a term that got my distracted attention. Yes, I am not a marketing guy and I often find myself diagnosed with dyslexia in these courses. He said, "The only problem with your institution is the liability of newness". Hearing "liability", the finance guy inside me, suddenly woke up in the middle of the class and asked, "What is that sir"? He explained, "You guys are new, and that is the only liability that you have. I have taught you guys and I have taught at IIM C. I don't see much of a difference in your intellect, your capabilities and your conscientiousness. It is just that you are new in this market and you will have to struggle your way to the consumers (corporate)". Although what he said was pretty much the truth and very fascinating, as you can guess, hearing "market" and "consumer", made me dyslexic again.
I did some study on the topic when I went back to the hostel and since this is a crucial time for all of you, let me tell you about a few liabilities and assets that newness has given us.
Let us balance the sheet. Can we?
Assets
Current assets:
The students:

Truly speaking, I was not of the view that I would be getting good peer to work and learn with at new IIMs. But trust me, the students are the best asset that the institute has. They are energetic, they are hard-working, cooperative and also if you are wondering, they are good at studies too.

Knowing that the industry undervalues us, we push ourselves to go the extra mile.

We have classes even on Saturdays and Sundays. Yes, you read it right, we don't get holidays. But with faith in our hearts, we slog, and we do it well.
Faculty: I am an alumnus of a reputed engineering institute but I had never been taught by faculty of such stature. I can say that for all the new IIMs with 100% confidence that every teacher here besides being an abode of knowledge is a manifestation of live inspiration.
Freedom:

Whether it be curriculum, clubs, events, or the culture as a whole, we make the rules. Pitch your ideas and work on them. Create something that will benefit and develop the institute. We can change to the needs of the corporate today faster than anyone else.

We do not have to run on the footprints of someone else because that led to something good but rather we can carve a path that can lead to excellence.
Fixed assets:
Brand Name:

During my internship, I have learnt what these three letters on my resume really means.

People do recognise you, your opinions are respected.

And in turn, we work with the motive of making a difference rather than to make a living

. I don't know the other benefits as I am yet to climb the ladder but yes, it's great to have an IIM associated with you.
Liabilities and owner's equity
Current liabilities:
Placements:

The biggest question in everyone's mind, what about placements? It is a mammoth task to place each and every student in their field of interest. No one knows us, no one trusts us, no one believes in us yet. Why will they hire us? Let me emphasise on this. We are not yet capable of placing 100 students in two days. Placements at IIM Amritsar is a yearlong process. Our placements started in September 2016, and the last student got placed in March 2017. To put our situation in perspective, suppose you start a company and you must find customers. Does the rejection of the first few stop you? No. It does not. Our placement team and the coordinators supported by the faculties constantly reach out and bend over backwards to bring in companies.

Some say that our mentor institutions help us getting placed, some say that we hire agencies for placements, but I can say this for IIM Amritsar at least, placement is totally a student driven process.

I have seen my friends in the placement cell burn the midnight oil and putting in sustained efforts throughout the year to bring in companies.
Infrastructure: I was also one of those who wanted a good campus, well-maintained hostels, gym, library, swimming pool, cricket ground, football ground, PMC, golf course, race course and what not. But only after joining here I realised that these are the things which are secondary in nature. You will be joining for good education and placements and that you will get without a doubt. To boast a little, at IIM Amritsar, we have a great hostel, gym, ground to play, good cafeteria and a sufficiently large auditorium.
Long-term liabilities:
Uncertainty:

Yes, we remain unsure about the future, the placements, the growth we are having, are we comparable to other IIMs, are we getting the same quality of education, the attention from the faculty, will we be competent in the near future to challenge others? All this uncertainty certainly takes its toll on us and makes us fight within ourselves, we get irritated, and we criticise but never are we taught to accept failure. And at this crucial stage of life, the last defining degree, the ultimate end, we will not take NO for an answer.
Owner's equity:
Ministry of human resource and development, Directors across IIMs, the board, IIM Fraternity as a whole. Look at the stakeholders, guys. Do you see these start-ups (New IIMs) fail?
Finally, writing all of this, I would like to suggest you something, if you are sure that you can do better if given a chance, go fight for that chance. These might be the last two years of your higher studies, go fight for your dreams. But if not, try to make the best out of what you have got. All the best!
------------------------
About the Author: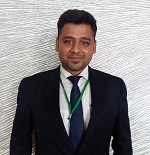 Shivam Pasari
IIM Amritsar