The Great Leap Forward – Really?
Has the so-called "Mad Men Era" rested in peace forever? Have the perspectives towards women changed permanently? Has the globalization helped women come out of the cocoon? Has the empowerment overtaken the objectification of women? Has the society evolved in a true sense?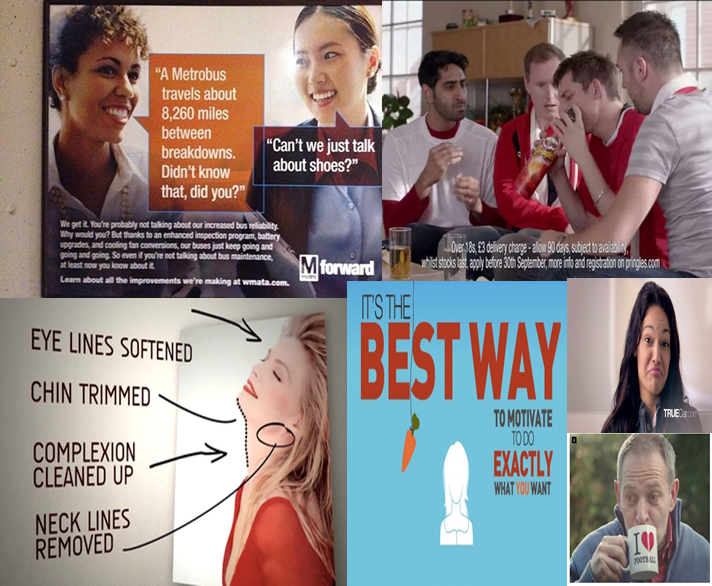 In the past 5 years, there have been slew of advertisements which have tried to refute the above mentioned claims while busy competing to grab the attention of the audience. It has been so ubiquitous that young people (who spend on an average 8 hours a day on media) have lost the ability to identify the sexual objectification.
Caroline Heldman, a leading advocate of feminism, has rightly pointed out the logic behind the same by explaining about the object-subject dichotomy. Subjects act, objects are acted upon. So even if you become the perfect sex object, you are perfectly subordinate because that position will always be acted on. So there is no power in being a sex object when you think about it logically. Hence, it is not the idea about selling sex; men are being sold the idea that they are sexual subjects. They are in the driver's seat.
Football WorldCup 2014 saw influx of advertisers using vintage era sexism in their ads. Unilever's Pot Noodle's take on the World Cup's Brazilian location is a talking beach towel that stares at women in bikinis. Curry's PC World's "Football? What Football?" campaign featured husbands trying to ploy their wives into buying big TVs so they can watch football. The Pringles advert featured a man watching television with his three friends suddenly jumping when his wife calls. He tries to dupe her by saying he is travelling into a tunnel before sticking his mobile into a Pringles tube.
It is really embarrassing looking at the current state. Are such adverts reflective of the societies' ideologies and women's interests and tastes? Women are either casted as nags or beautiful looking ladies whenever they appear in adverts. Nowhere in the ads have they shown female football fans. There will be as many women glued to television as men during the World Cup.
Recent advertisements have created "Ideal Woman" who does not have any wrinkles, blemishes or scars; who has long and sleek legs; whose waist is so small; who is utterly desired by men. Perfection is being portrayed in each and every advert. Have we become numb to what true beauty really is?
Wait a moment. When this is not enough, TrueCar's campaign about rescuing clueless woman who can never buy a car without a man around shows how women are always afraid, timid, docile who can never take decisions on their own. The so called notion that woman needs a man to guide her automotive purchases is obsolete. Carrot Dating App which lets a man bribe anything ranging from flower to jewelry to women in order to be his date. It has portrayed women as greedy idiots who are always eager for an exchange. D.C Metro ad says women cares more about shoes than train reliability. Oh really? To whom should the insight be attributed to?
The moot point is: Is it going to be that it's been this way for decades; women should learn to ignore it. No doubt, certain brands have raised voice against objectification and tried their hands on breaking the stereotypes: Aerie Real Campaign, CoverGirl's GirlsCan campaign, Pantene's breaking the labels campaign, UN Women's print ads and GoldieBlox toys cursing the gender stereotypes.
But is this enough? Until and unless we boycott materials which consist of abusive content, men raise voice against the objectification and every one of us engage in media activism, real change is tough to come in.