The TEDxIIMRanchi Story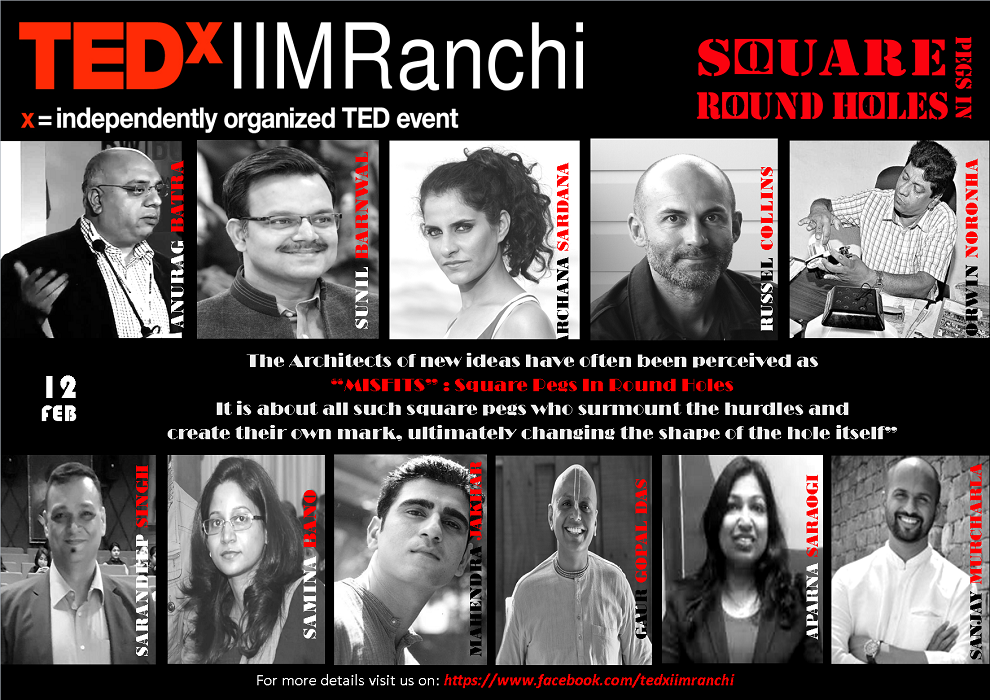 What does it take to independently organise a TED event?  Speakers who can compel audiences to think beyond the usual? A milieu to match the theme so carefully chosen? A keen attention for detail to ensure the essence of TED is preserved?  And to get all that in place, you need a team working dedicatedly to get every aspect, from content to venue and audience, each nitty-gritty sorted. Meet that team from TEDxIIMRanchi 2017.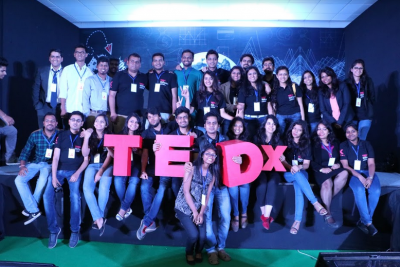 Having been a part of most events held in the institute, I can tell you this, there is something extra-special about being in the TEDx team, the feel of hosting an international event is just fabulous. Let's go behind the scenes to check out some of the mehnat, shall we?
Speakers' Research Team:  Read around and find a potential speaker, stalk them on Linkedin, Twitter, Facebook, Google quicker! With every speaker converting, it's mini victory, a step ahead, to curating their speech, helping them get their best 18 minutes on the stage.
Operations Team: Find, schedule, book, set-up, check, sound – check, set!
The sponsorship and marketing teams had it tough, abiding by the rules of TED but still managed to do the job well, and well within budget!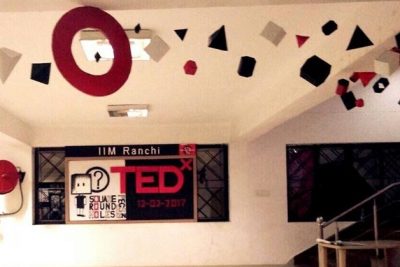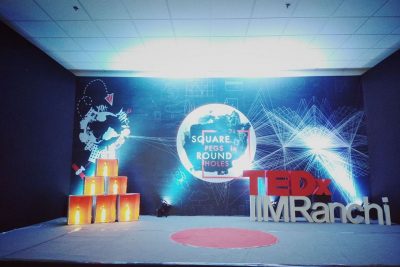 The creative team : Need I say more?
The morning of February 12th, when the event finally came alive, had the teams running around ensuring nothing went wrong last minute. So it was not until the first speaker, Mr Gaur Gopal Das, ended his talk by emphasising on values over valuables and the audience broke into applause that I realised how well it had all come together.
The theme – 'Square Pegs in Round holes'- aimed at celebrating the exemplary and extraordinary achievements of those who had dared to do something different by breaking all stereotypes and defining their own path in life.
One after another, nine speakers through their experiences, brought about different perspectives of the theme, inspiring the audience to fight the odds, and to learn from each one of them. All that in less than 18 minutes each.
Just imagine, each speaker from the event you organized, was able to inspire more than a 100 people present there, changed some of their perspectives, forced them to go beyond their conformed thoughts, and when the videos go up on the web, that impact would get multiplied many times. How often do you get to be a part of something like that?
The best part for us was when the event ended, as we got to talk to the speakers at length. Having been in contact with them for weeks before that, meeting them directly, hearing them tell us the event was brilliantly executed was kind of a fairy-tale ending.  And once the talk videos are up, it'll be like revisiting the eventful occasion.
For TEDxIIMRanchi talks you can go to:
https://www.facebook.com/tedxiimranchi/ and https://goo.gl/jKaezE