Walk-A-Thon 2018, NMIMS Bangalore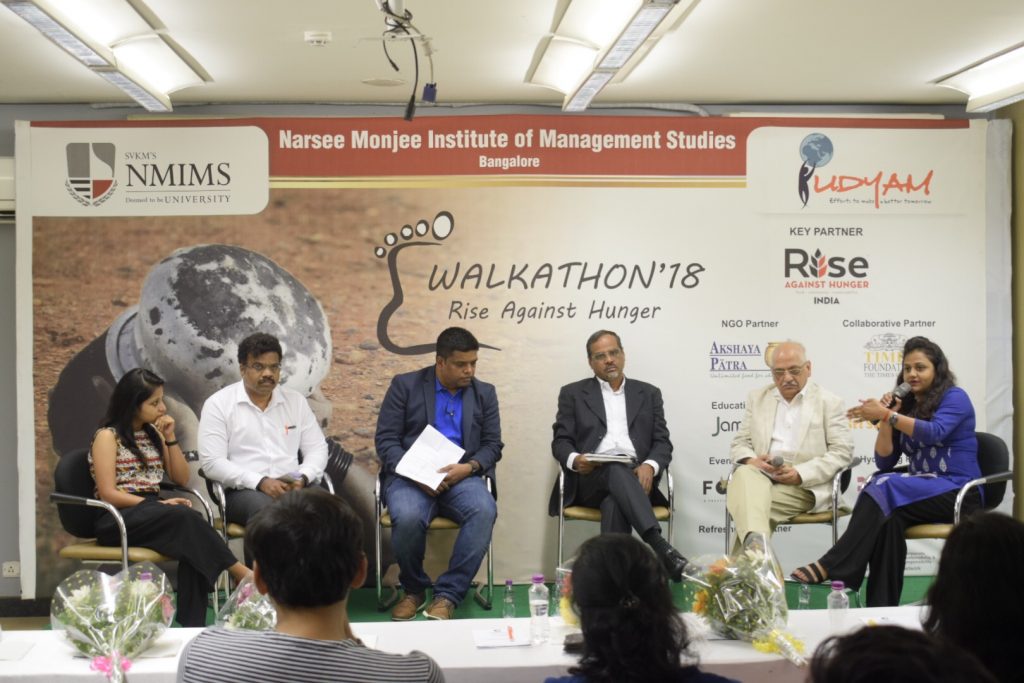 12 August, 2018
Narsee Monjee Institute of Management Studies (NMIMS), Bangalore organized a walkathon on August 12, 2018. It saw an enthusiastic group of over 300 people walking through Kormangala streets at 2 in the afternoon to support the cause of  hunger disparity. Udyam, the Social Responsibility committee of NMIMS took the lead in executing this event. The walkathon was flagged off by Dr. Vinay Kumar, Director, NMIMS Bangalore.
Enthusiasts from companies turned up to walk for the cause. The event was supported by Rise Against Hunger India (RAHI), Sri Sukh Sagar, Jamboree, Times foundation, Akshay Patra, #AP and Bazzle, with location partner being Forum Mall, Koramangala.
The walk commenced with a street play titled "Bhook" by the Dramatics Club of NMIMS.
Udyam, the CSR Committee of NMIMS, Bengaluru organised a panel discussion in association with Rise Against Hunger India on the topic " India's contribution towards meeting the SDG2, zero hunger target." The chief guest of the event was Mr. Vijay Paul (NetServ) and the discussion was moderated by Mr. Abhishek Ranjan (Brillio). The discussion gave insight on what initiatives could be taken by the government, NGOs, us as a community and us as individuals. The speakers laid stress on how food is a necessity and not a privilege and why we all should be aiming to eradicate hunger disparity through our individual and collective efforts.
The event was overall an intellectually enriching experience for both the attendees and corporate guests.