We, the E.L.I.T.E. Management Batch of 2017, entered the Capgemini Hyderabad Campus on 12th June 2017 to be a part of the inaugural Capgemini E.L.I.T.E. General Management Program – a multidimensional, leadership journey with rotations across a variety of high value assignments. The nineteen of us found ourselves welcomed into the organisation and the program with a meticulously designed and smoothly executed on-boarding program peppered with insightful interactions with Capgemini's senior leaders.
Looking back, our first week in the program held riches and insights surpassing our excitement and anticipation! We had multiple leadership sessions that focused on culture, strategy, collaboration and the need to embrace new technologies to move forward. All of us felt one of the key highlights of this week was the candid interactions with the financial services BU's senior leadership group, learning from their experiences and their openness to questions from our intrepid batch.
"It was indeed refreshing to hear senior leaders discuss the evolution of Capgemini's strategy with a class of B-school graduates – it signals that leadership has the courage to move beyond boardrooms for strategy talk, and passes the onus to us, the E.L.I.T.E. class of 2017 to prove their mettle and propel the firm to new heights." – Saurav Mahapatra, E.L.I.T.E. Trainee 2017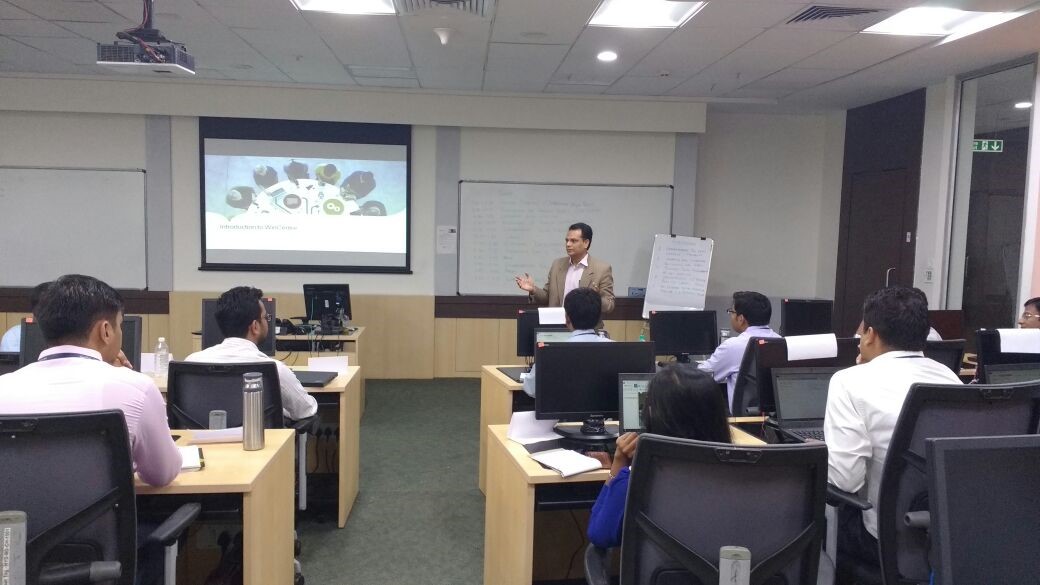 "Ashwin RaghunathaChari, Senior Director, Capgemini Financial Services said – "Never say I never asked". With so many great opportunities to interact with the senior leadership, this quote really resonates with me. This has been a fantastic platform to ask questions and get insights from people at the cutting edge." – Kartikeya Tayal, E.L.I.T.E. Trainee 2017
Another important facet of our training were the Domain Knowledge sessions by industry experts that gave key insights into the emerging trends in core business domains. Technology (e.g. – Blockchain, Big Data, API, etc.) and Business domains (e.g. – Insurance, Banking & Capital Markets etc.) were the themes around which these sessions were organised. The sessions about emerging FinTech trends enabled us to understand the market potential of new players in this space and the importance of collaborating with them to create a win-win situation.
A key learning was that – "The battle between every start-up and incumbent comes down to whether the start-up gets distribution before incumbent gets innovation". The abilities that start-ups and incumbents have are complimentary. Start-ups have the agility and speed while incumbents have the distribution- so why not collaborate? The financial services industry is dynamic and the change is rapid at present. It is very important for firms to align their strategy with the key trends and respond to be the leader. Some of these buzzwords are not just a fad, but a milestone that will drive the industry growth. If you are not acting now, then you are out of the game." - Raghi Thulaseedharan, E.L.I.T.E Trainee 2017.
The common theme running across sessions during the week was focus on Capgemini's culture and core values. Apart from leadership interactions and domain sessions we also had some interesting sessions on developing leadership skills. We learned about the importance of Emotional Quotient as a key success driver, strong cultural sensitivity in an increasingly globalized & multi-cultural environment and leveraging social media platforms to create & nurture a network of individuals with great ideas, experiences & knowledge.
"One sentence to capture my understanding of the organisation so far? Trust people, verify the results." – Nimit Garg, E.L.I.T.E Trainee 2017
Finally, Capgemini's core value of "Fun" was never far from our thoughts whether during the sessions or during dedicated activities; and we got a taste of the same during the first day of the program when we celebrated the birthday of one of our fellow E.L.I.T.E. trainees. The celebration helped us hit the ground running in terms of forging a bond among the team members and the bond has only grown stronger since.
"Meeting Executive Committee Members over video conferences across multiple continents was a rich experience. Dinner over drinks, exploring the Nizam's city and impromptu parties. Capgemini breathes #fun" – Ankur Saraf, E.L.I.T.E Trainee 2017
Dinner at Hyatt was the perfect way to end the fun-filled first day on a high note. It acted as a great platform to interact with the senior leaders in an informal setting. Listening to their journey and learning from their experiences will be one of the key drivers in our growth at Capgemini.
Our week ended with a day-long Scavenger Hunt across Hyderabad, which, hands down, was the best way to wrap up an amazing week. We explored the beautiful Hyderabad and all its flavours from Golconda Fort to Charminar, from the iconic Hyderabadi Biryani to Karachi Bakery. All in all, it was a very well-crafted first week imbibing all the core values either through interaction with senior leaders or through various social events. The below quote from Souvik (one of the E.L.I.T.E. trainees) perfectly captures the fun aspect of working here: "You know the fun has hit a homerun when the introvert socializes!"
"Each moment in this journey has shown me the meticulous planning and immense operational hard work that has gone into making this program a success" – Arjun Vijay, E.L.I.T.E Trainee 2017
Finally, a huge shout out to the organising team of Bill Sullivan, David Wilson, Chirag Thakral, Heena Mehta and other members of the Market Intelligence team for their hard work in ensuring the inaugural E.L.I.T.E. team had a grand experience – their hard work was instrumental in ensuring we had one of the best orientation programs into a new job. Overall, the first week of the E.L.I.T.E. program was a week rich in knowledge, insights, senior leadership interactions and fun. And we are all looking forward to another packed week at the Capgemini Elite Program!
Signing off until next time!