A Whole Lot Of Crazy In The World Of MBA – IIFT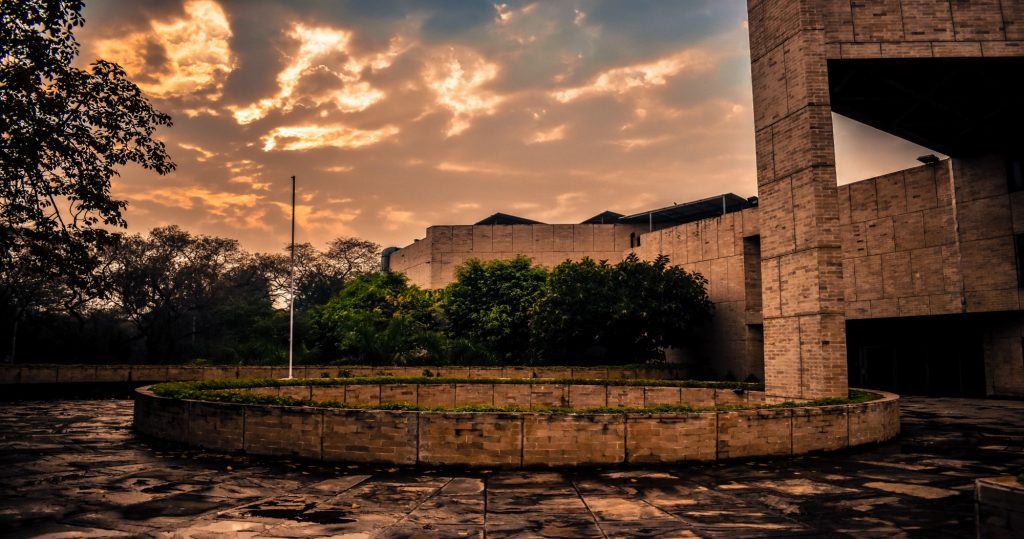 Hi, I am Dinesh Kanakala and I am going to tell you about my journey in IIFT so far. Another important thing, I have this inner Dinesh, mini me, who keeps on gabbling and talks inside my head about every situation that happens around me.
Flight landed in Delhi. The temperature was 42 degrees centigrade. Dinesh, you received a very very hot welcome from Delhi. I didn't hesitate for a second, I just followed my inner voice and kept the same as status in my WhatsApp.
I took cab and reached IIFT Bhawan. Wow! Wings of wisdom. IIFT Bhawan, a legacy of 52 years. Volley ball court… cool…. I reached my hostel. Oh man! it's so hot, no ac… uff…
I met my first friend Nikhil Singh. Baleno boy…, !!! Yes… you guessed it correct, He owns a Baleno car. He thinks he is very cool which is actually 100% wrong. He grooms his hair when he drives. Seriously dude, that is the time to groom your hair. He listens to English pop songs a lot and the saddest part is he sings too… Dinesh..,,!!! Nikhil started singing, get out of the room!
The Next guy whom I met after reaching IIFT is Rishab Daga. Sticky dude! He is a good guy. This statement is partially true. He filled the entire wall with sticky notes to keep track of everything. It looks like as if he is trying to solve a mysterious case. What's wrong with you Daga. You are here to do MBA, not to solve mysteries. Whom do you think you are? ACP Pradhyuman!
Nishant is from Delhi NCR but the first impression what I got is that he is Chinese for sure. Chang..,,!!!  because he looks like the singer Meiyang chang. This guy made me repent and think more than a thousand times why my surname is KANAKALA because he always calls me KANAKAKANAKALALALA… that too in a rhythm and he adds melody to it. Kill that idiot…, !!!! But this is life, now he is one of my best friends. Oops! I forgot to mention about another special person, his name is Ankush. He makes me feel better, not because he consoles me, the reason is that his surname is weirder than me. Chitkariaa….!!!!
Ravinder Chauhan, Schwarzenegger, is one of my best buddies in IIFT. He thinks about only two things, one is summer placements and the other one is work out. Our conversations are always like this:
Me: Bro…  do you have water?
Ravinder: Leave that, first tell me, which subject are we going to study first tonight?
Me: Bro…!!! Do you have something to eat?
Ravinder: Ohh! I forgot, tomorrow onwards we should increase the intake of protein and we should take our work out to the next level. Beast mode!
Fitness freak!!!!
The first girl whom I met in IIFT is Meghana, Weeping girl. All other girls were so dull and sluggish because of the academic pressure and stress. I saw Meghana sitting in the mess and weeping during the lunch. I asked her why was she crying? I was shocked after listening to her reply "There is no salt in the curry". WHAT…,???? Are you kidding me… That is why you are crying…???? Other students are crying as they are not even getting time to eat. Are you out of your mind. However, she has overcome this problem with the help of mango pickle.
It was our fresher's day. Yes!!! I will play guitar and will become a rock star. I asked my senior coordinator where should I connect my guitar amplifier output. My senior said you won't find any such things in IIFT. This is an auditorium right? Our auditorium is one of the best and is designed keeping all the acoustic issues in mind. Somehow we managed the show with the help of a mic and it went well. Thanks to the auditorium.
Our classes started in the academic block where we are spending 16 hours daily. To refresh ourselves there is a temple here which is nothing but NESCAFE stall. Whenever the pressure goes beyond the saturation point we start running towards it. There is a gym for guys like Ravinder and there is a yoga/dance room for dance enthusiasts. If we want to cheer our favorite football, TV room is the perfect place. We can play TT and caroms also here. To do all these things there should be an energy source which is nothing but our mess. We run there to refuel ourselves and start with our activities again.
Aww…,,!!!! Life at IIFT… This is what I call the journey of a life time…
————————————————————————————————————————————————————–
ABG Company:
I want to work for Aditya Birla Capital Limited(ABCL) because I wanted to become a fund manager. ABCL is one of the largest financial services players in India. Its business sectors include wealth management, private equity, life insurance and many more. ABCL would provide a great opportunity for me to be at a managerial role and manage some of the complex processes. It will be a great learning experience. I will be exposed to so many sectors and companies which I had never worked with before.